Why Is Alex Acosta Resigning? Trump Labor Secretary Out Amid Epstein Scandal Despite President Giving Support
Labor Secretary Alexander Acosta has resigned after being under renewed scrutiny for his role in a controversial 2008 plea deal with accused sex trafficker and business mogul Jeffrey Epstein.
President Donald Trump announced Acosta's exit on Friday. Trump insisted it was Acosta's decision to leave and that he was not forced out of his position by the White House.
Days before his resignation, Acosta held a press conference in which he defended his role as the U.S. attorney involved in Epstein's controversial plea deal. The well-connected billionaire faced prostitution charges over his involvement with underage girls but only served 13 months in jail. The Miami Herald investigated the arrangement and reported in 2018 that Acosta gave Epstein "the deal of a lifetime."
"The goal here was straightforward," Acosta told reporters on Wednesday. "Put Epstein behind bars, ensure he registered as a sexual offender, provide victims with a means to seek restitution, and protect the public by putting them on notice that a sexual predator was within their midst."
Acosta added that any rumored conflict between him and the Trump administration due to the scandal was "BS."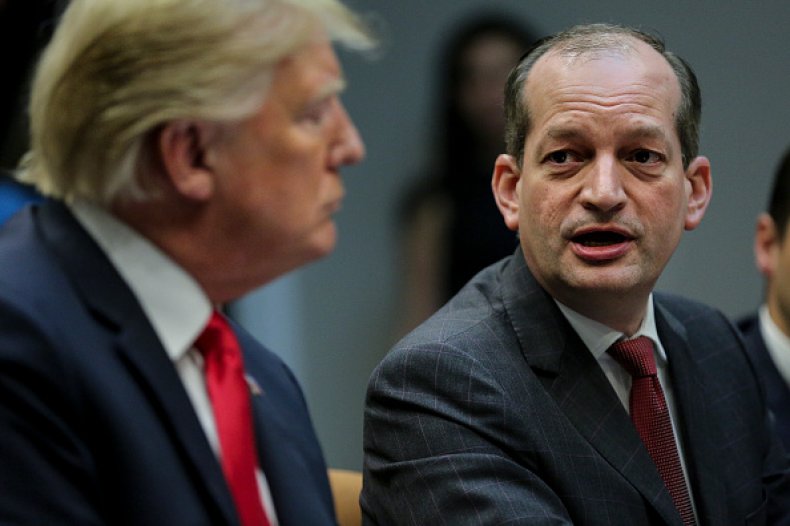 Acosta had been facing calls to resign from the Trump administration after federal prosecutors unsealed new sex trafficking charges against Epstein on Monday.
The indictment states that Epstein paid hundreds of dollars to girls (some as young as 14) to have sex with him at his residences in New York and Florida between 2002 and 2005. Federal agents said the billionaire kept a "vast trove" of lewd photographs of young women in his mansion in New York City. Epstein has pleaded not guilty to this latest round of charges.
Shortly after Epstein's arrest, lawmakers and advocacy groups called for those who were involved in protecting the well-connected mogul to be investigated. High-profile figures connected to Epstein include Acosta, Trump and former President Bill Clinton.
"[Secretary Acosta] must step down," House Speaker Nancy Pelosi wrote on Twitter earlier this week. "As U.S. Attorney, he engaged in an unconscionable agreement w/ Jeffrey Epstein kept secret from courageous, young victims preventing them from seeking justice. This was known by @POTUS when he appointed him to the cabinet."
House Democrats also demanded a briefing from the Department of Justice on Thursday about the 2008 plea agreement between Acosta and Epstein. The lawmakers reasoned that it is "of paramount importance that we learn the basis and rationale for the unusual plea deal and review source documents that shed light on the disturbing agreement."
Acosta was nominated by Trump to lead the Department of Labor in February 2017. During his confirmation process, Acosta was questioned by senators about his involvement with Epstein. He also defended the deal at the time, arguing that it was offered based on the evidence and highlighted that Epstein was required to register as a sex offender. Acosta was confirmed to the position in a 60 to 38 vote, with eight Democrats and one independent senator voting in favor of the labor secretary.
On Friday, Trump called Acosta a "great labor secretary, not a good one." The president also told reporters that Acosta had done a "very good job" and that he would be missed by the administration.