America Has 30 Million Masks, Needs 300 Million for Health Care Workers Fighting Coronavirus, HHS Secretary Says
Given estimates made by health officials, Health and Human Services Secretary Alex Azar told senators on Tuesday that America could need 270 million more face masks to fight the new coronavirus at home.
On Monday, President Donald Trump's administration requested $2.5 billion in funding for the domestic response to the new coronavirus outbreak that now includes 57 cases in the U.S. The request came under fire for being an inadequate amount of money to develop a vaccine, fund quarantine measures and secure enough preventative supplies, including masks.
The issue of masks came up multiple times during the health secretary's testimony before the Senate Appropriations subcommittee, as senators pushed for concrete information as to whether America was prepared to respond to the outbreak. Azar acknowledged that the U.S. had a stockpile of supplies, but that the current inventory was inadequate.
"We currently have 30 million N95 respirators in the strategic national stockpile," Azar said. "[HHS Assistant Secretary for Preparedness and Response] Dr. Kadlec mentioned to the Senate this morning needing approximately 300 million for health care workers."
The 300 million number isn't an accurate portrayal of the number of health care workers in the U.S. but is based on the assumption that people will need multiple masks because they will have to be replaced. If the strategic national stockpile had sufficient supplies, Azar explained there would be no reason to ask for additional money to procure the masks.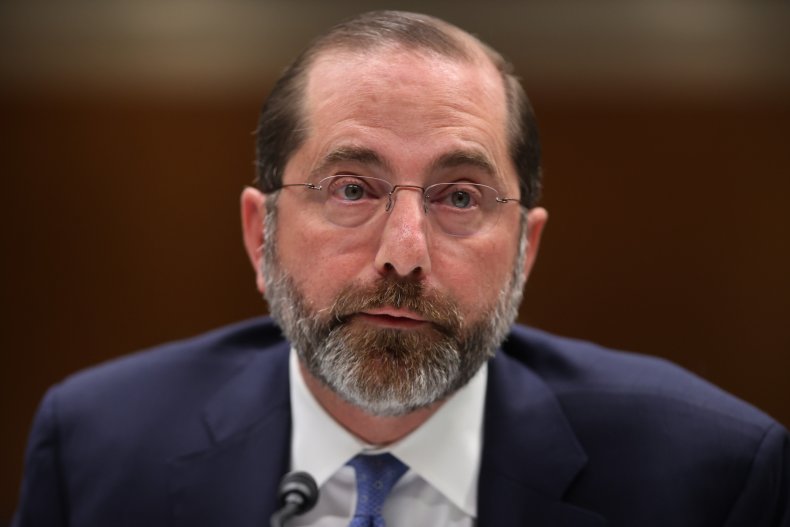 More than one billion of the $2.5 billion requested will be dedicated to developing a vaccine, according to the Office of Management and Budget (OMB). The remaining funding will be used for response measures, such as quarantine and amassing "much-needed equipment and supplies," Rachel Semmel, an OMB spokesperson, told Newsweek.
Despite senators pressuring Azar for an exact number, the health secretary was hesitant to assign a cost to gather the necessary supplies. He told Senator Brian Schatz that understanding the financial burden would require officials to determine America's manufacturing capacity and ability to source active ingredients, such as the filtration materials for N95 masks.
"If we get the money we could make that market and get that capacity built here," Azar said. "We'd be scaling up domestic production that doesn't fully exist right now."
Schatz argued that without a per-unit cost, the $2.5 billion determination seemed like it was "pulled out of a hat." Azar claimed their approximations would be "sufficient" because the average acquisition cost for one mask is under one dollar.
Aside from two people who contracted the virus from their spouses, cases in the United States have all involved people who were either recently in China or aboard the formerly quarantined Diamond Princess cruise ship, which Azar called an "incubator" for the virus. Although the United States hasn't seen the virus spread, yet, Nancy Messonnier, the Director for the National Center for Immunization and Respiratory Diseases, said on Friday that it's "possible" and "even likely" that it'll happen.
Azar applauded the "aggressive" containment efforts of American agencies, including the Centers for Disease Control and Prevention (CDC), during his Senate testimony. He credited these early measures, such as screenings at airports and barring foreign nationals who visited China from entering, for buying America time to continue preparing for a potential domestic outbreak.
"This is an unprecedented potentially severe health challenge globally," Azar said.