Alex Azar, secretary of the U.S. Department of Health and Human Services (HHS), pinned blame for the COVID-19 pandemic on the Chinese government and the World Health Organization (WHO) while speaking to reporters on Friday.
Azar made the remarks during a visit to Boston's Beth Israel Deaconess Medical Center, where he spoke about efforts to combat the coronavirus while accompanied by Massachusetts Governor Charlie Baker.
"A novel coronavirus like this, a highly transmissible but very severe disorder that spreads, now we know, no thanks to the Chinese for concealing it, asymptomatic transmission makes this a particularly perplexing and dangerous virus to be dealing with," Azar said during a news conference.
Azar also spoke out against the WHO for allegedly failing to "demand accountability" from China. President Donald Trump has repeatedly denounced the organization in recent months, cutting funding before announcing on May 29 that he intended to terminate any U.S. relationship with the WHO.
"The president has made it clear that we intend to leave the World Health Organization because the World Health Organization has failed in its responsibilities to demand accountability under the international health regulations," Azar said.
"We have, however, made clear that the World Health Organization can take steps to demonstrate its independence to China," he added.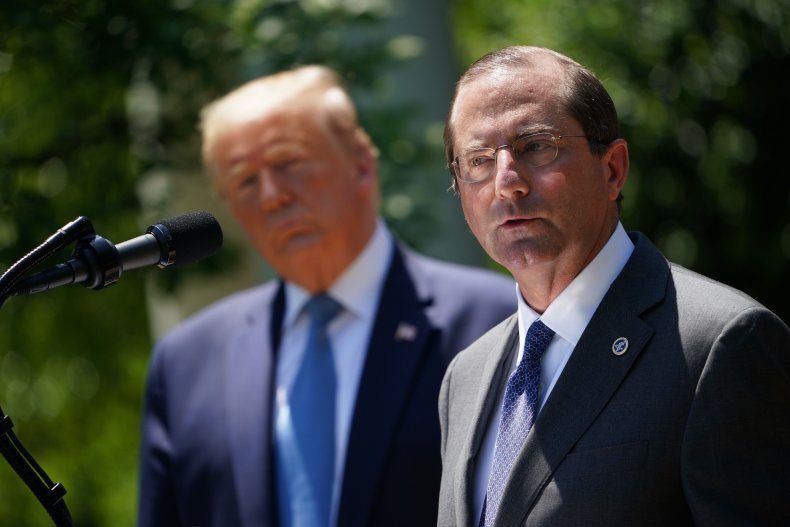 Trump and members of his administration have repeatedly tied the WHO to China. Newsweek reported last month that the CIA believes China attempted to stop the WHO from alerting the world to the impending pandemic.
The president has blamed the U.S. spread of the virus on China, beginning to often refer to it as "the China virus" in March as domestic cases mounted, after having praised the country's response in the first months of the outbreak.
On January 24, Trump tweeted that "the United States greatly appreciates their efforts and transparency," weeks after news of the Chinese government allegedly covering up the emergence of the virus was first publicly reported.
Since overtaking China in March, the U.S. has had by far the most cases and deaths due to the virus of any country in the world. Azar told CNN's Jake Tapper that it was "not factually correct" that the U.S. had been hardest hit on May 17, focusing on the mortality rate being lower than some countries regardless of the overall death count.
As of Friday evening, there were over 2.1 million cases of the virus in the U.S., with over 116,000 deaths, more than double the total of any other country in both categories.
Newsweek reached out to HHS for additional comment. This article will be updated with any response.