Alex Gonzales Police Shooting Body Camera 'Heartbreaking and Tragic', Family's Attorney Says After Release
The mother of Alex Gonzales, who was fatally shot by Austin, Texas, police officers on January 5, canceled a press conference because she was overcome with emotion after she viewed newly released police video of her son's killing.
"I think when you see the video, it's going to be heartbreaking and tragic," the attorney for Gonzales' parents, Scott Hendler, told KXAN on Tuesday. "What happened is unconscionable, in my opinion. There's no credible defense for it."
Austin Police Department (APD) released the footage to the public on Wednesday of what body and dashboard cameras recorded in the officer-involved shooting. The footage comes 113 days since the incident, which APD said is because severe winter storms in mid-February delayed the video release.
The footage shows Austin police officers shooting 27-year-old Gonzales 10 times just minutes after he was involved in a "road rage incident," KXAN reported.
Over two months ago, off-duty Austin police officer Gabriel Gutierrez shot Gonzales after he claimed Gonzales cut him off in traffic and pointed a gun at him. The officer was in his personal car, so APD's footage does not show the exchange between Gutierrez and Gonzales.
The off-duty officer then made a 911 call after he shot Gonzales, and record of the call was also publicly released on Wednesday:
911 Operator: Okay, is anybody injured?
Gutierrez: Yes, the – the driver of the other vehicle. He's shot.
Gutierrez (speaking to Gonzales): Put your gun down. Austin Police, put your gun down. Don't make me shoot you again, man. It's the police.
Gutierrez added that he wasn't sure if the other passenger in the car had been injured. It turned out to be Gonzales' girlfriend, the mother of their infant child in the back seat. She and the baby survived the incident.
Upon arrival, Austin police officers yelled at Gonzales to get on the ground, but Gonzales, bleeding, ignored the calls as he moved to check on his 2-month-old child.
"He can be seen walking very unsteadily toward the back of the car using the car to hold him up," Hendler said. "You can see him walk behind the car. He has no weapon in his hand. He doesn't brandish a weapon. He doesn't have anything in his hand. He doesn't point anything at the officers."
The attorney added: "[Gonzales] walks to the other side of the vehicle where his girlfriend and the mother of his child is lying on the ground, wounded, to check on her," Hendler said. "She asks him to check on the baby. He then opens the back door to look in and leans in to check on the baby, and that's when he's shot."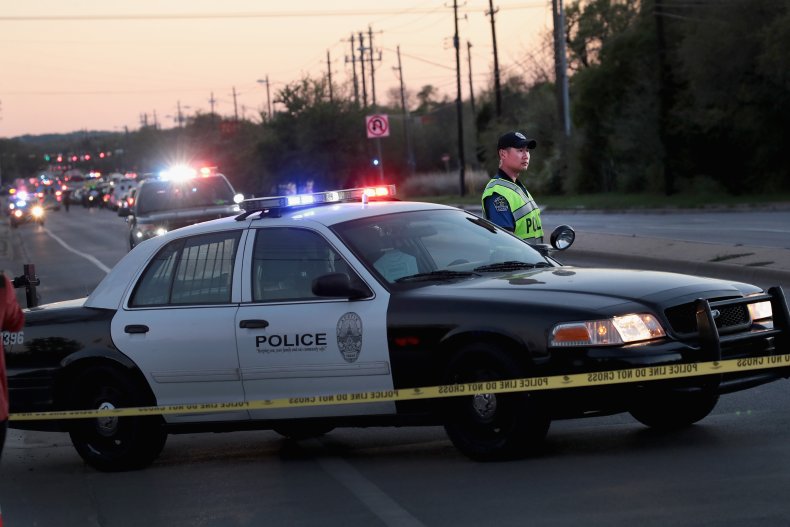 "Don't reach! Don't reach!" the officers yell at Gonzales just before he was fatally shot, according to the footage.
Officer Luis Serrato was reportedly the officer who shot and killed Gonzales. Both he and Gutierrez have been placed on administrative leave.
On Tuesday evening, Serrato's lawyers issued an open letter to Interim Police Chief Joseph Chacon and Travis County District Attorney José Garza asking them not to release the video publicly until a grand jury conducted a review.
"There is an appropriate time for evidence to be released, but tomorrow is not that time," the officer's attorneys said. "You are damaging the legal process."
The release of the footage comes just over a month after Austin police officer Christopher Taylor was charged with first-degree murder for shooting and killing Michael Ramos, a 42-year-old Black and Hispanic man, last year. The Texas Tribune reported that Ramos was shot as he drove out of a parking spot, and police body cam footage showed he complied with the officers and told them he did not have a gun. When Ramos got back into this car and proceeded to drive away, Taylor fired three rounds at the moving vehicle, killing Ramos. His death spawned weeks of anti-police protest in Austin.
Ramos' mother Brenda said watching police footage of her son's death was extremely emotional.
"I'm his mom but anyone can hear the fear and confusion in his voice [in the body camera footage]," she said to the Tribune. "They just screamed and screamed with so many guns pointing at him."
To Hendler, the most recent footage of Gonzales' death is an example of baseless violence against an innocent person.
"I think when the citizens of Austin see the video tomorrow, they're going to be very disturbed by what is plainly depicted in the video. Alex Gonzalez was shot down for, frankly, no good reason," Hendler said to KVUE.
Newsweek has reached out to APD and Hendler for additional comment.