Alex Jones Spins Anti-Semitic Conspiracy That George Soros Created Sexual Misconduct Allegations to Hurt Trump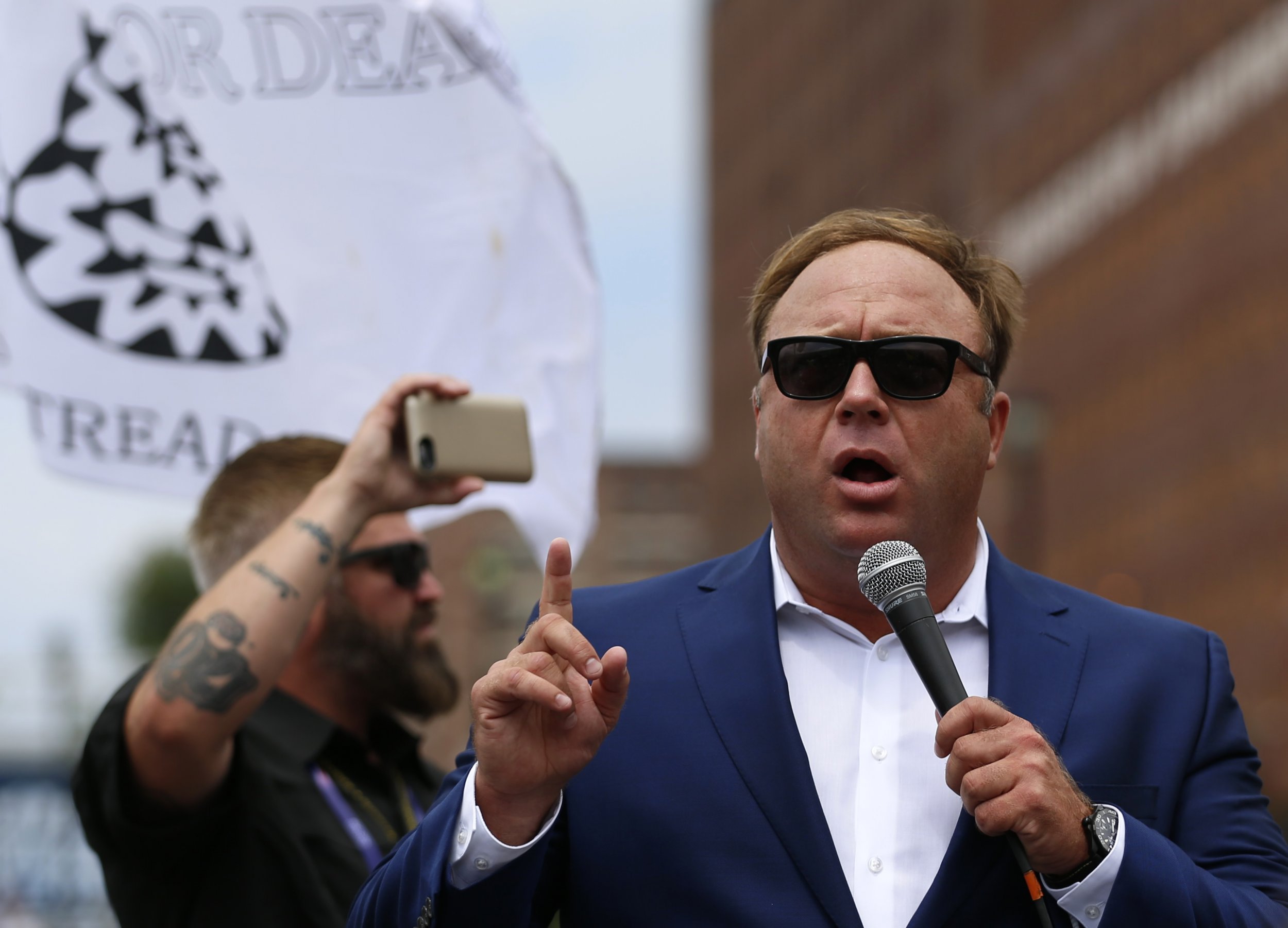 Billionaire philanthropist George Soros gets wrongfully blamed for a lot in this world. A Jewish man who survived the Holocaust as a child, Soros was blamed for the violence that took place in Charlottesville, Virginia this August at a rally that featured neo-Nazis and members of the Klu Klux Klan. Soros was also blamed for a deep state plot to take over CNN, and for backing an "antifa" civil war plot. To be clear: None of these anti-Semitic conspiracies had any basis in reality.
Now, Soros is being blamed for the allegations surrounding President Donald Trump's behavior with women. InfoWars, the conspiracy website responsible for promoting many of the other lies told about Soros, published a fake news story that he somehow funded the multitude of sexual misconduct allegations facing Trump. At least 16 women have accused the president of sexual misconduct, and even though the alleged incidents took place in the years before the president ran for office, they are somehow Soros's doing, according to Alex Jones's website.
A headline on InfoWars reads, "BREAKING, Soros bankrolls Trump sexual assault allegations."
The post, which runs at under a hundred words, mostly consists of a photo of Soros laughing superimposed over a tableau of Trump's accusers. The gist of the conspiracy is that Open Society Foundations, a grantmaking network founded by Soros, donates to Brave New Films, a company that has produced a video focusing on the sexual misconduct allegations surrounding Trump. Open Society Foundations does not typically comment to Newsweek on the multitude of anti-Semitic conspiracies that swirl around their founder, except to deny them. The organization gives grants to a number of companies that in turn use those funds in a myriad of ways. Documentation about what they do is publicly available.
Despite being outrageous, conspiracies that start on InfoWars, which hawks T-shirts that read "Deport Soros" and depict the liberal philanthropist as some kind of inhuman goblin, have had a way of percolating into mainstream discourse during the Trump era. The conspiracy about Charlottesville, for example, was given credence by Representative Paul Gosar, an Arizona Republican who voiced it to Vice News in October. Trump himself was interviewed on Infowars.com by host Alex Jones while a presidential candidate, and critics argued that the move helped to validate Jones's lies.
To be clear, before he was a candidate, Trump appeared to boast about sexually assaulting women—and it had nothing to do with George Soros. In a recording that was first obtained by The Washington Post, Trump was heard talking with Access Hollywood's Billy Bush about how he tried to initiate sexual contact with a married woman and how he treats other women.
"I just start kissing them," Trump is heard saying in the recording. "It's like a magnet. Just kiss. I don't even wait." Later on the tape, Trump is heard specifically talking about groping women's genitals, and none of this had any connection to George Soros. "Grab them by the pussy," Trump said on the tape. "You can do anything."
While Trump has repeatedly denied the allegations against him, six U.S. senators have called for the president's resignation over them. Senator Kirsten Gillibrand, who Trump called a "lightweight" in a tweet on Tuesday that claimed she would have done anything to get a donation from the former businessman, is among those senators. Gillibrand called Trump's remark "sexist."
"You cannot silence me or the millions of women who have gotten off the sidelines to speak out about the unfitness and shame you have brought to the Oval Office," Gillibrand tweeted Tuesday morning about Trump's alleged behavior.