Alex Jones Calls Charlottesville Violence a False Flag, Because Alternative Facts Are Still a Thing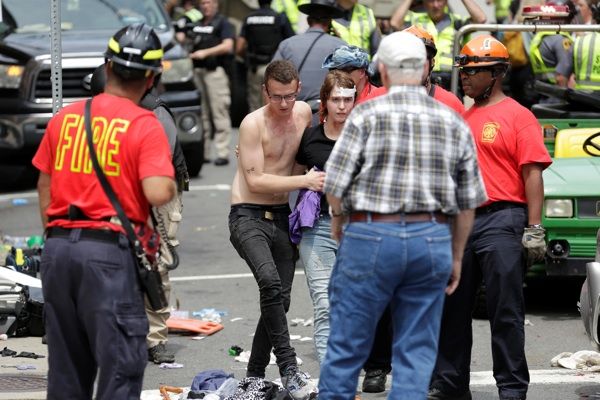 George Soros did it. Or maybe it was the Deep State. That was the reaction of the far right to Saturday's violence in Charlottesville, Virginia, which left three dead. Even as images played on television of James Alex Fields, Jr., plowing his car into a crowd protesting the Unite the Right rally, a counter-narrative was coalescing on the Internet that offered a competing reality, one that had little grounding in confirmable fact.
The disconnect between what most Americans saw or read about the events in Charlottesville, where white nationalists had gathered to protest the removal of a Confederate statue, and what the far right told itself about the very same events, suggests that nearly a year after fake news helped elect a president, alternative facts remain as alluring, and persuasive, as they have ever been.
For the extreme right, Charlottesville was not a cautionary tale about emboldened white supremacists who appear to have found troubling succor in the presidential administration of Donald J. Trump. Instead, the entire Unite the Right rally was potentially a false flag perpetrated by the Democrats and their enablers in the Deep State, a nonexistent figment of the right-wing imagination that invokes a network of career federal and military officials seeking to bring down Donald Trump. A global network of elites, many of them Jewish, may also have been involved, according to this version of events.
A false flag is a diversionary tactic employed in battle at sea. Today, it most commonly refers to a government staging a terrorist attack it subsequently uses to malign and possibly prosecute forces hostile to the establishment. The notion of pervasive "false flags" has been popularized by conspiracy theorist Alex Jones, founder of Infowars. According to Jones, the attacks of 9/11 were a false flags, as was the murder of 20 children at the Sandy Hook elementary school in 2012.
Jones presented his depressingly predictable explanation of what transpired in Charlottesville in a video posted on Saturday. "EXCLUSIVE: Virginia Riots Staged To Bring In Martial Law, Ban Conservative Gatherings," the headline read. The video was an hour-long diatribe against some of Jones's favorite targets, including liberal philanthropist George Soros, Black Lives Matter, globalists, elitists, the Democrats, the Republicans and anarchists, among many others. However, Jones failed to provide even remotely compelling evidence that anyone of these forces was directly responsible for the weekend's violence (Fields killed one woman with his car, while two Virginia State Police officers died when their helicopter crashed en route to Charlottesville).
At one point, Jones appeared to suggest that the Southern Poverty Law Center was responsible for the Oklahoma City bombing in 1995. Jones also claimed that the media had failed to cover widespread assaults on families of Trump supporters in Washington, D.C., during January's presidential inauguration.
Jones is hardly the only Charlottesville conspiracy theorist desperately trying to protect the alt-right from accusations of violence. The most far-flung of these have focused on Fields, the 20-year-old Ohio man who drove his car into a gather of counterprotestors, killing one and injuring 19. Fields was subsequently apprehended and is now being held at Albermarle-Charlottesville County Regional Jail. He will be arraigned on Monday, likely on second degree murder charges.
Some on the far right, however, have suggested that Fields was a government agent provocateur sent to cause havoc that would ultimately be blamed on Unite the Right and its constituent factions.
"The CIA drove that car into the crowd," wrote a user on 4chan, the social network popular with the far right. "The CIA crashed that Helicopter."
"Appears to be the perfect set-up to win sympathy for the violent left, while demonizing the right," another 4chan user wrote, listing a bevy of reasons for why Fields was a patsy.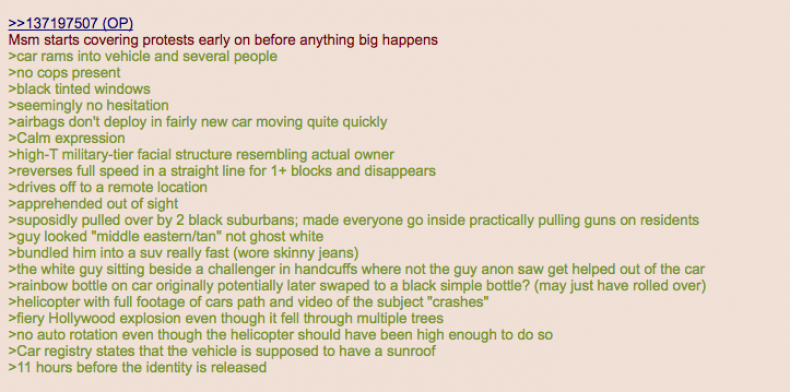 While others did not attempt to argue away Fields's culpability, they nevertheless sought to prove that the entire Unite the Right rally was an event sponsored by the left to discredit the right. Some took the coincidental fact that Saturday was the birthday of Soros, the Hungarian-American liberal philanthropist, as proof of his involvement. Soros is often invoked by conspiracy theorists as a symbol of a global, Jewish elite, one at counter with Trump and his nationalist agenda.
"I think it was a false flag. Unfortunately people were killed and injured. This is Soros' minions and our corrupt government causing civil unrest," a user identifying herself as Christine Ramirez wrote on Gab, another social media platform popular with extremist elements.
Others noted that Soros offers financial support to the American Civil Liberties Union, among many other organizations. The ACLU had filed suit to allow Unite the Right to congregate in Charlottesville, in keeping with its mission of protecting First Amendment rights. Some, however, thought the organization was acting on Soros's orders.
Varieties of this narrative were endorsed by some of the alt-right's loudest voices:
Others yet blamed the Deep State, a concept popularized in part by chief White House political strategist Stephen K. Bannon, who some have branded a white nationalist and anti-Semite. Bannon is the former chairman of Breitbart News, which he boasted was "the platform for the alt-right." (A Newsweek email query to Bannon about the events in Charlottesville went unanswered.)
"Does anybody doubt that the Deep State has the ability to take over control of cars and trucks and drive them into crowds? Not saying that happened today. But I guarantee you it will if it suits their agenda," wrote a user identified as ShareThisMeme on /r/The_Donald, a section of Reddit where supporters of the president trade memes and conspiracy theories.
The broadest of the false flag theories charges that the modern Democratic Party is grounded firmly in the principles of the Nazi party and is therefore responsible for all manner of intolerance at work in American society today. The tortured argument was recently popularized by right-wing pundit Dinesh D'Souza in The Big Lie. Earlier this month, D'Souza visited the White House, where he discussed The Big Lie with Bannon and Sebastian Gorka, a White House adviser who has also been accused of having ties to extremist groups. On Saturday, D'Souza took to Twitter to promote that argument, even as many other figures in the conservative movement were condemning Unite the Right.
The far right also rejoiced in Trump's statement that the violence in Charlottesville had come from "many sides." In failing to explicitly condemn the white supremacist, Trump proved far more effective than any false flag theory in shifting the blame away from those who seem to plainly deserve it.