Alex Jones Calls Judge 'Tyrant' for Ordering Him to Enter a Plea
Alex Jones recently paused outside of a Connecticut courthouse to tell media he believes judge Barbara Bellis is a "tyrant" for ordering him to enter a guilty plea. Jones is on trial for the second time as lawyers argue how much he owes in damages to the families of Sandy Hook Elementary School victims.
Jones, the owner of far-right conspiracy theory website Infowars, is on trial again following his claims that the Sandy Hook Elementary School shooting in 2012 was a hoax. Families of eight of the 26 Sandy Hook victims and an FBI agent are suing Jones for emotional harm caused by his claims about the shooting. In his first trial, Jones was found guilty of causing emotional harm by default on claims that he failed to provide financial and analytics data that were requested multiple times. The second trial will examine how much Jones owes in financial damages since he has already been found liable. According to ABC News, Bellis informed Jones' legal team that since requested documents weren't provided, the lawyers couldn't argue Jones didn't profit from his remarks during the second trial.
According to a video posted on Twitter, Jones said Bellis ordered him to enter a guilty plea last week during court proceedings.
"That's ordering me to perjure myself," Jones said. "I will not perjure myself under the orders of a judge.
"This judge is a tyrant," he added. "This judge is ordering me to say that I'm guilty and say I'm a liar. None of that's true. I was not wrong about Sandy Hook on purpose. I questioned it. There have been a lot of staged events in history, and I question every major event that we see."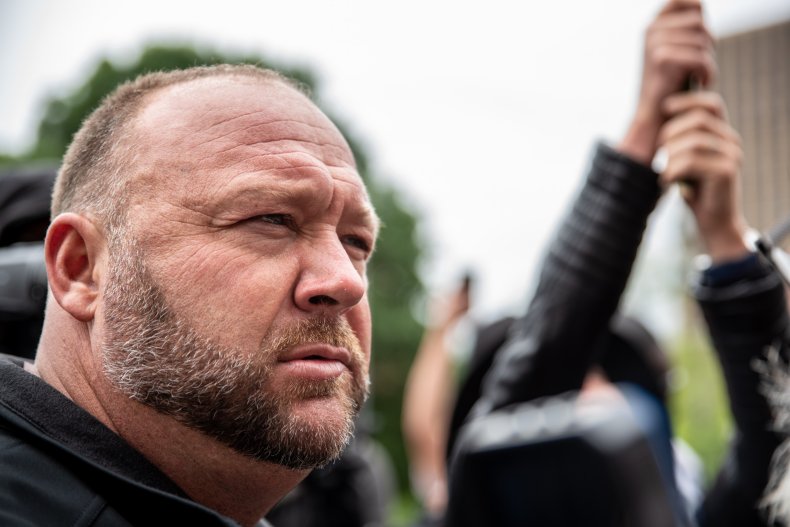 Jones claimed his team did provide the requested documents and that the prosecutors "did not have a case so they had to default me."
In the video, Jones referenced an "industry" of lawyers surrounding the families of Sandy Hook victims. He said they targeted the Second Amendment when they sued Remington in July for liability in the Sandy Hook shooting. Now, Jones accused the lawyers of targeting his freedom of speech.
Jones compared the judge's actions to "communist China" or "South Africa."
"This is serious tyranny," Jones said. "I have apologized for past things I've said that have hurt peoples' feelings. I wasn't the first person to question Sandy Hook, and I apologized years ago."
Jones said in a criminal trial, even someone found "with dead bodies" could claim they are innocent.
"I'm being told I must say I'm guilty because they've already defaulted me," he said. "This is the murder of American justice. This is extremely dangerous. And this is the judicial system on trial. They are using these families for this."
Jones criticized the prosecutors for using his name to fundraise for gun control organizations and who are now "openly launching" an anti-free speech operation.
Jones' second trial is expected to last four weeks. It began on September 13.
Newsweek reached out to Infowars for comment.