Alex Jones Documents Sent to Sandy Hook Families Contained Child Porn: Lawyers
Lawyers representing the families of Sandy Hook victims in a lawsuit against Alex Jones said on Monday that they had been sent documents containing child pornography.
Jones, who promoted the idea that the 2012 shooting was a false flag operation, is facing a defamation suit from families whose loved ones were killed in the attack. On Monday, lawyers from the firm Koskoff, Koskoff & Bieder, which are representing the families, filed a legal document saying that the InfoWars host sent them documents containing child porn.
Earlier this year, Connecticut Superior Court Judge Barbara Bellis ordered Jones to turn over some InfoWars documents. While reviewing those documents, consultants said they found child pornography and notified federal authorities, according to the documents filed Monday.
"During that process, the consultants identified an image that appeared to be child
pornography," the filing said. "They immediately contacted counsel, who immediately contacted the FBI. The FBI directed counsel to give control of the entire document production to the FBI, which was done. The FBI advised counsel that its review located numerous additional illegal images, which had apparently been sent to InfoWars email addresses.
"When the FBI indicated it had completed its review, plaintiffs' counsel advised Attorney Pattis of the matter and arranged a joint telephone call with the United States Attorney's Office," the remarks continued. "It is worth noting that if the Jones Defendants had engaged in even minimal due diligence and actually reviewed the materials before production, they would have found the images themselves. Because the Jones Defendants did not do that, they transmitted images to the plaintiffs that if they were knowingly possessed is a serious federal crime."
A representative for Koskoff, Koskoff & Bieder said that the firm would not be commenting beyond the filing.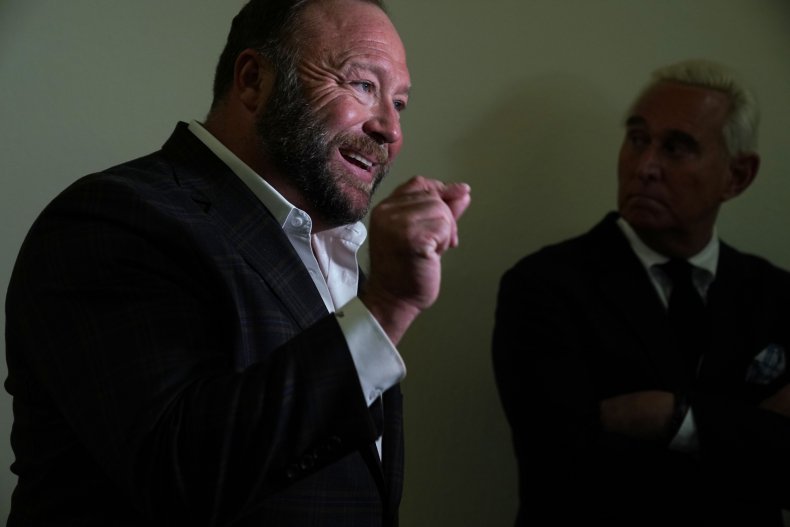 The court filing comes after Jones' lawyer, Norm Pattis, said Friday that child porn had been planted on InfoWars' servers. Jones offered a $1 million reward to anyone who could find the culprit that planted the reported malware and seemed to imply that someone linked to the defamation lawsuit was involved. He named attorney Christopher Mattei, who works at Koskoff. Jones' references to Mattei are mentioned in the legal filing.
"You're trying to set me up with child porn, I'm going to get your ass. One million dollars, one million dollars you little gang member. One million dollars to put your head on a pike. One million dollars, b***h," Jones said during a tirade on Friday. "You're not going to ever defeat Texas, you sacks of s**t."
After the mass shooting, Jones spread the conspiracy theory that the attack was a false flag operation. In March, he admitted that the Sandy Hook shooting was real and blamed "psychosis" for his promotion of false claims about it.
"And I, myself, have almost had like a form of psychosis back in the past where I basically thought everything was staged, even though I've now learned a lot of times things aren't staged," Jones said. "So I think as a pundit, someone giving an opinion, that, you know, my opinions have been wrong, but they were never wrong consciously to hurt people."