Alex Jones Addresses 'Suspicious' DWI Arrest, Talks Love of Enchiladas and Helicopters
Conspiracy theorist Alex Jones was arrested in Texas on Tuesday and charged with driving while intoxicated.
A deputy from the Travis County Sheriff's Office pulled over Jones in his black Dodge Charger in response to a family disturbance call describing a dispute between Jones and his wife. The deputy "detected a strong odor of alcohol," according to an affidavit released by the Austin-area Sheriff's Office.
According to the Sheriff's Office, Jones described drinking a bottle of sake at a sushi restaurant, then walking three miles home in response to a dinner table argument with his wife. When the argument continued at home, Jones left the house for another residence owned by the InfoWars founder.
On his own website, Jones claims to have passed a breathalyzer test, blowing below the legal limit for a DWI in Texas—0.08 percent blood alcohol content—and said he was pulled over for speeding 45 mph in a 40 mph zone. Describing the DWI limit as "in itself an incredibly low threshold," Jones admitted only to "drinking a small amount of sake."
The Class B Misdemeanor charging document, approved by Austin Municipal Court, confirmed that Jones' breathalyzer test found a result below the legal limit—0.079—but noted that the radio show host failed both "Walk & Turn" and "One Leg Stand" field sobriety tests, further describing his walk as "swaying," while noting his "glassy" and "watery" eyes.
"A field sobriety test was conducted on the scene and the arrest was made. The breathalyzer took place in our central booking facility," a spokesperson for the Travis County Sheriff's Department told Newsweek.
The court document also describes Jones as "cooperative," "talkative" and "carefree" during the traffic stop. No blood test was administered and bail was set at $3,000.
"I didn't commit a crime. How do you go to a restaurant and drink a glass of wine?" Jones said in a video statement, opening on his "incredibly cool" mugshot.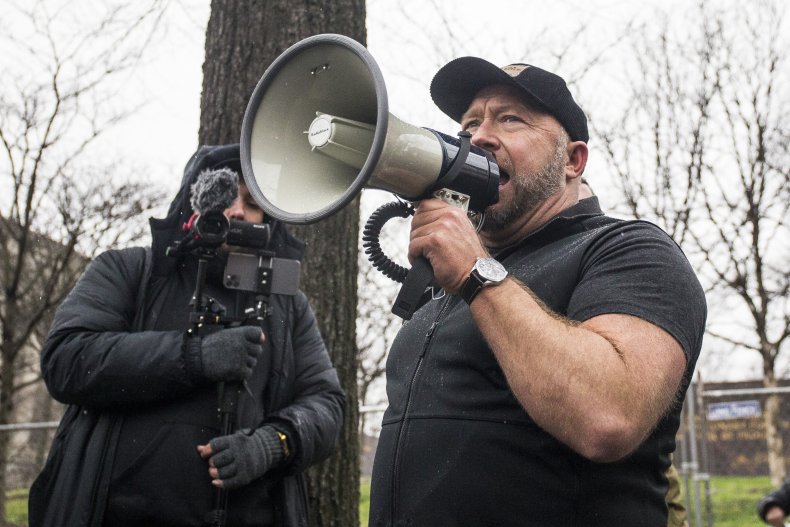 "I'm not giving the globalists power, I'm not drinking a damn drop of alcohol again," Jones said, decrying the media treatment surrounding his arrest. "I'm not accusing people of something, but, man, dude, I didn't even get a buzz in the Japanese restaurant eating sushi with my wife. So, I'm suspicious."
Jones characterized his arrest as part of a dragnet meant to increase DWI charges in Travis County, in part responsive to year-over-year increases in DWI related deaths. In 2017, Travis County had the fourth highest rate of DWI fatalities in the state, though Austin still fell behind Houston, Dallas and San Antonio in total deaths.
"I'm empowered by freedom. I have to take depressants like alcohol to suppress how empowered I am, because I'm into freedom," Jones said. "I'm a human being, man. I'm a pioneer, I'm a father. I like to fight. I like to eat enchiladas. I like to cruise around in a boat, like to fly around in helicopters, I like to kick tyrant's ass politically. So that's where I stand. And they're probably going to drop the case."
Jones and his far-right conspiracy site InfoWars spread false theories regarding white genocide, vaccines and global warming. He currently faces multiple lawsuits from the families of children killed at Sandy Hook Elementary School in 2012 in response to his claims that the mass shooting was a "giant hoax."
Jones used the arrest as an opportunity to rail against undocumented immigrants, who he erroneously claimed "can run into people, kill people, shoot them in the back, not get in trouble."
His video response ended with ad for Jones' colloidal silver supplements—rebranded nanosilver—which he claims can protect buyers from the coronavirus. Colloidal silver is a supplement long favored in alternative medicine circles, but the FDA has repeatedly warned against its use, banning sellers from claiming any therapeutic or preventative value.