Alex Jones Has Limited Options to Get Out of Paying $1B Settlement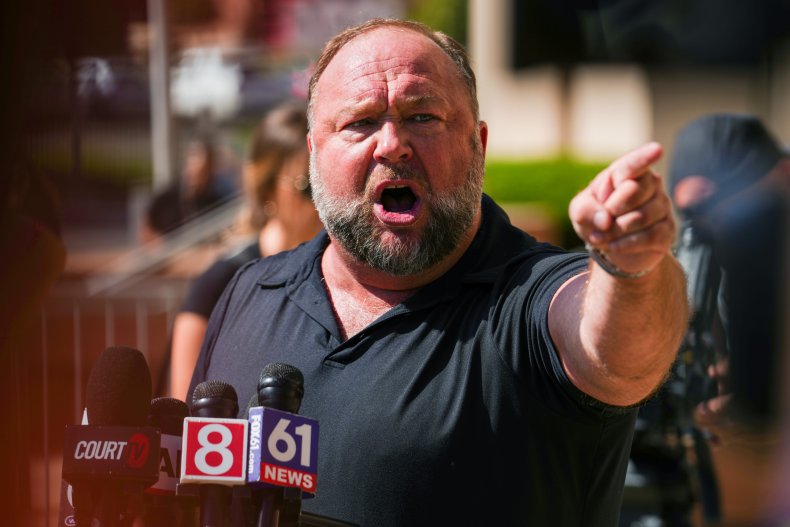 While courts have ordered conspiracy theorist Alex Jones to hand over more than $1 billion in damages to the families of Sandy Hook victims, collecting the money from the Infowars founder could prove difficult.
A jury in Connecticut on Wednesday ordered Jones to pay the families of eight Sandy Hook victims and an FBI agent who responded to the 2012 school shooting a total of $965 million for falsely claiming that the massacre was a hoax. Jones was also ordered to pay family members nearly $50 million in August following a separate trial in Texas.
The Sandy Hook Elementary School massacre in Newtown, Connecticut, is the deadliest mass shooting at an elementary school in American history. Adam Lanza, age 20, fatally shot 26 people, 20 of whom were 6 and 7 years old, along with six school staffers.
Although the net worth of Jones is not entirely clear, he likely does not have the funds to pay $1 billion. Bernard Pettingill, a forensic economist who testified during the Texas trial, estimated that Jones likely had between $135 million and $270 million, when combining his personal wealth and money from his media company Free Speech Systems.
"It's highly doubtful that the plaintiffs will recover the full amount of this nearly $1 billion judgment," attorney Joseph H. Low IV said in a statement obtained by Newsweek. "For one thing, I don't think Jones has that kind of cash. It will be an exercise in holding him accountable and making him feel some pain. The plaintiffs will accomplish that, it just won't happen overnight."
One of the ways Jones could successfully avoid paying a significant amount would be by winning an appeal of the verdict. Jones lawyer Norm Pattis claimed after the verdict on Wednesday that "the fix was in" during the trial "from start to finish" and said that "we look very much forward to an appeal in this case."
Victim's rights attorney Lisa Bloom told Newsweek that she was "delighted" about the "enormous verdict against Alex Jones," while cautioning that collecting the money from him could be "very difficult."
"It is very difficult to collect on judgments, especially against individuals like this who often hide their assets behind shell corporations," Bloom said. "I've been trying to collect on a large judgment against another odious wealthy man for several years. It is expensive, time-consuming and frustrating."
"In addition, Jones may declare bankruptcy," she continued. "In our system, sadly, many defendants like Jones cleverly avoid payment for years or forever."
Free Speech Systems has already filed for bankruptcy. While Jones may also attempt to declare personal bankruptcy, he will not be able to avoid paying the judgment entirely since bankruptcies do not discharge debts from punitive judgements. However, $965 million awarded on Wednesday was entirely for compensatory damages, which could potentially be discharged.
Still, punitive damages have yet to be decided in Connecticut and are likely to be significant. In the Texas trial, Jones was ordered to pay $4 million in compensatory damages and $45.2 million in punitive damages, although the damages could be reduced due to state limits.
Civil rights lawyer Subodh Chandra told Newsweek that Jones could only hope to partially "escape accountability" by filing appeals and bankruptcy to address the non-punitive damages, while states and plaintiffs will retain options to collect the funds.
"That's why punitive-damages awards are so important," said Chandra. "And even with appeals, in most states [Jones] would probably have to post bonds to stay collection and secure payment of the entire judgments if he loses, and it's hard to see how he could afford that. If he tries to hide or move his assets, the plaintiffs can go after him for fraudulent conveyance."
Attorney Cole Wist said in a tweet that "justice" had been served following the large judgments against Jones. Wist compared the conspiracy theorist's future to that of O.J. Simpson, predicting that he would "spend the rest of his life trying to avoid paying civil judgments."
During an MSNBC interview following Wednesday's verdict, former U.S. Attorney Harry Litman also said that Jones may try to "squirm out" of paying, but the judgments will likely follow him for the rest of his life.
"Even if he's able to bob and weave some, I just don't see how he winds up anything but basically broke now for the rest of his life," Litman said. "If he doesn't have enough, everything he does have goes to them."
Los Angeles entertainment attorney Tre Lovell said in a statement obtained by Newsweek that "not all outcomes look bleak for Jones."
"If he has the judgment discharged in bankruptcy, but uses the trial publicity to gin up his base and increase his fundraising, he could build back his coffers without the financial burden of a judgment looming over his head," Lovell said.
Immediately following Wednesday's verdict, Jones did appeal to his Infowars audience for donations. He said that collecting the $1 billion "ain't gonna be happening" for the families of the victims, claiming that he has "no money," and pledging that any money donated would "not go to these people."