Alex Jones' Lawyers Challenge Ruling He is Liable For Calling Sandy Hook Shooting a 'Hoax'
Lawyers for Infowars host Alex Jones are challenging the ruling that he is liable for damages because he called the 2012 Sandy Hook Elementary School shooting a "hoax."
Earlier this month, Connecticut judge Barbara Bellis ruled that Jones was liable by default in a defamation lawsuit filed by relatives of victims from the shooting. The judge said that Jones failed to give some documents, such as financial records, that could have shown how, and if, he and his companies, Infowars and Free Speech Systems, could have made money from spreading false information about the school shooting and other mass killings, The Associated Press reported.
A hearing in front of a jury is scheduled for August 2022 to determine how much the damages should be.
Unless a "notice of defense" is filed, defendants are restricted from presenting an argument against the claim if they are found liable by default. Last Wednesday, Jones and his lawyers filed the notice, according to AP.
Jones went on his show after the Bellis' decision, saying he'd been deprived of a fair trial.
"These individuals, again, are not allowing me to have a jury trial because they know the things they said I supposedly did didn't happen," he said. "They know they don't have a case for damages. And so the judge is saying you are guilty of damages, now a jury decides how guilty you are. It's not guilty until proven guilty."
"The ruling is founded neither in law or fact," Norman Pattis, one of Jones' lawyers, said in an email to AP. "We remain confident that, in the end, the Sandy Hook families cannot prove either liability or damages. We think their lawyers know this; hence, the desperate effort to obtain a default."
For more reporting from the Associated Press, see below.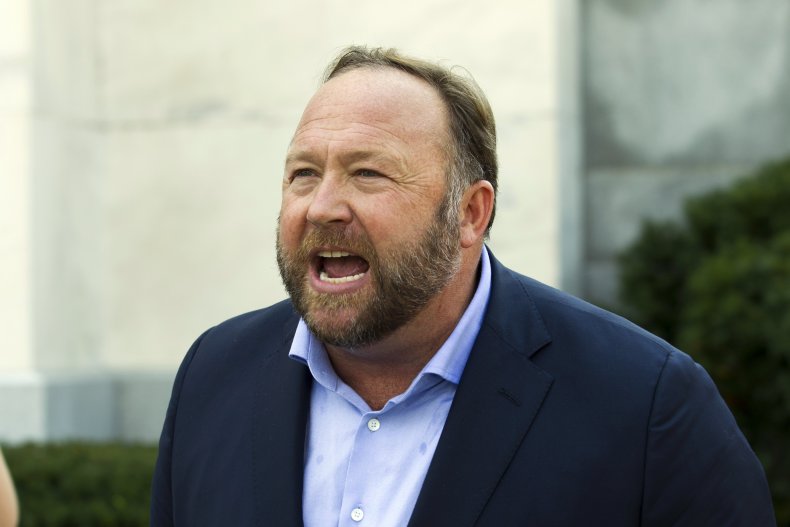 Lawyers for the Sandy Hook families, however, plan to argue the jury should not hear Jones' defenses because the default ruling was disciplinary, Christopher Mattei, an attorney for the relatives, said Monday in an interview after a court hearing in the case. He said he believes Jones lost the right to present his arguments when he was defaulted.
Bellis ordered both sides Monday to submit briefs on the issue. Jones' lawyers also plan to appeal the default ruling.
Among Jones' arguments are that his comments about the shooting were protected by free speech rights and that there isn't enough evidence to prove defamation or intentional infliction of emotional distress.
Twenty first-graders and six educators were killed in the December 2012 shooting in Newtown, which was portrayed on Jones' Infowars show as a hoax involving actors aimed at increasing gun control. Jones now says he believes the shooting occurred.
Families of the victims said they have been subjected to harassment and death threats from Jones' followers because of the hoax conspiracy.