Alex Jones Leads 'Stop the Steal' Rally at Georgia's Capitol to Protest Election Results
Conspiracy theorist Alex Jones led a "Stop the Steal" demonstration at the Georgia Capitol on Wednesday amid a manual recount of the state's ballots in the presidential election.
Footage posted to Twitter by Brendan Gutenschwager, an independent journalist, showed Jones, activist Ali Alexander and right-wing media personality Nick Fuentes occupying the rotunda of the Capitol building in Atlanta along with supporters of President Donald Trump.
"This is a major moment. You guys are the literal vanguard, and Georgia is a key battleground state in all of this," Jones told the crowd.
Jones demanded that state lawmakers call a special session to investigate alleged instances of fraud, even though Republican state officials have steadfastly defended the handling of the election and have found no evidence of widespread irregularities.
President-elect Joe Biden has been projected by multiple news outlets as the winner of Georgia's 16 electoral votes—the first Democratic presidential nominee to triumph in the Peach State since 1992. As of Wednesday afternoon, Biden was leading Trump in Georgia by roughly 14,000 votes.
The deadline to complete the audit and recount is 11:59 p.m. Eastern time on Wednesday. State officials have said they are on track to meet the deadline. Georgia must certify the election results by the end of the day on Friday.
Jones indicated he would be traveling to Georgia during a broadcast of his Infowars radio program on Monday, according to the watchdog site Media Matters. Jones told listeners that "everyone must go to the capital of Georgia now and you must surround the governor's mansion now."
Protesters were seen Wednesday waving Trump campaign flags and holding signs that read "STOP THE STEAL."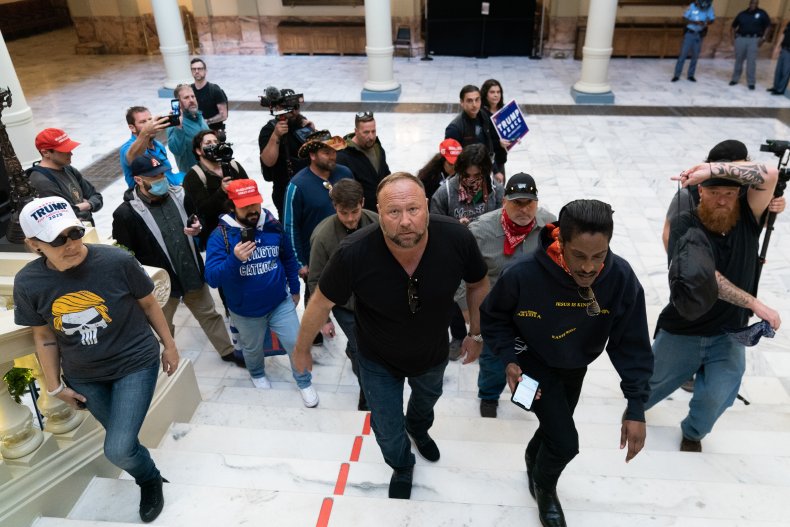 The Proud Boys, a far-right extremist group, were also in Georgia on Wednesday. A video clip posted from Gutenschwager showed Enrique Tarrio, the group's chairman, addressing the crowd.
"We're going to keep coming out until something gets fixed," Tarrio said. "And if they steal this election, we'll be out every day."
Trump has repeatedly criticized the Georgia recount, calling it a "joke." The president has also suggested, without evidence, that Georgia's signature-verification process is unconstitutional, and he spread unfounded theories attacking the election-technology vendor used by the state.
The demonstration in Georgia was not the first time Jones has attempted to boost Trump's allegations of election fraud.
On November 5, Jones appeared at a demonstration outside of a counting station in Phoenix. Speaking into a megaphone, Jones yelled, "You ain't stealing s***" as poll workers tallied votes.
"We don't know how this is going to end, but if they want a fight, they better believe they've got one," Jones told the crowd in a video posted by Randy Perez of activist group LUCHA Arizona. "We're not going to fight their little meth-head Antifa scum.... We're going to take it directly to those scumbag Nazi b*******."