Watch: Alex Jones Calls Marco Rubio Gay, Senator Threatens Infowars Host, 'I'll Take You Out Myself'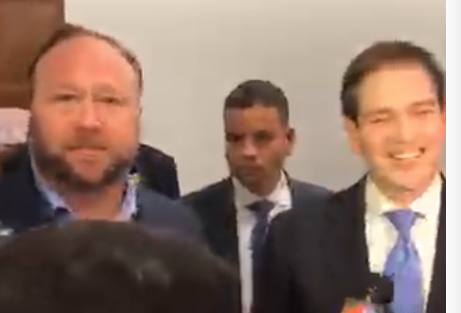 Infowars's Alex Jones and Senator Marco Rubio traded insults and nearly got into a physical altercation Wednesday outside a Capitol Hill hearing on Silicon Valley's role in aiding potential foreign influence on U.S. elections.
Jones approached Rubio outside the hearing in which the GOP senator from Florida had just ridiculed Twitter CEO Jack Dorsey and other tech companies for working with "authoritarian" governments like China and Turkey to censor dissenting voices. Rubio initially appeared to recognize the Infowars host, who was recently banned from nearly every social media platform except Twitter, before Jones began interrupting Rubio's interview with other reporters.
The exchange escalated, and the senator told Jones, "Get your hand off me, don't touch me.... I'll take you out myself, I don't need security."
Jones called Rubio "gay" after the senator departed, and the Infowars host continued his live-stream commentary privately to the camera. As Rubio left and wrapped up his interviews with other reporters, Rubio told the reporters crowded around, "You guys can talk to this clown."
At around 96 minutes into the live stream, Jones refers to Rubio's sexuality several times. "It's OK that Rubio's gay and he has to act tough," he said.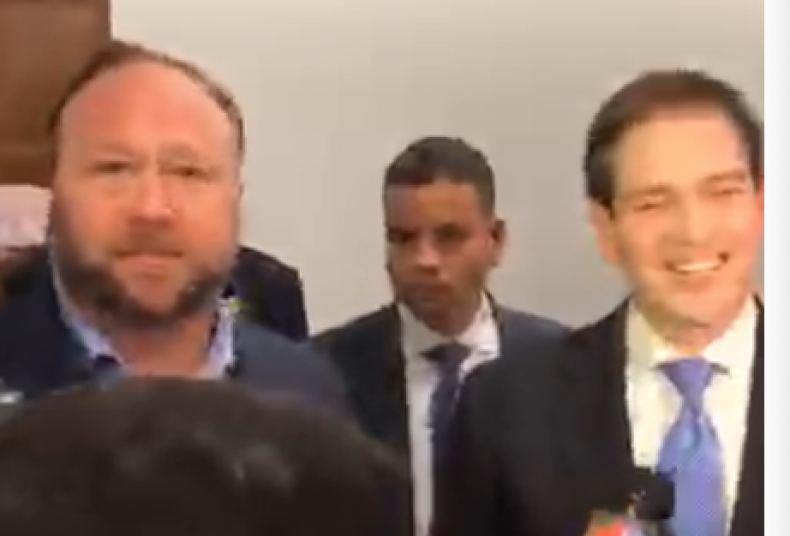 In his live stream outside the hearing, Jones repeatedly claimed that Democrats and Silicon Valley companies are censoring conservative voices in the U.S.
When Jones asked during the confrontation with the senator why Rubio was "acting like this isn't happening here," Rubio shot back, "I don't know anything about your site, man."
"The Republicans are acting like this isn't happening," Jones said. "Thank God Trump is.... That's why you didn't get elected, you're a snake boy, look at you. You are literally like a little gangster thug.... Rubio threatened to hit me, did you hear that?" Jones also called Rubio a "frat boy."
"I just don't know who you are," Rubio responded before the two began accusing each other of touching. "Don't touch me. I don't know who you are," Rubio said, physically stepping away from Jones.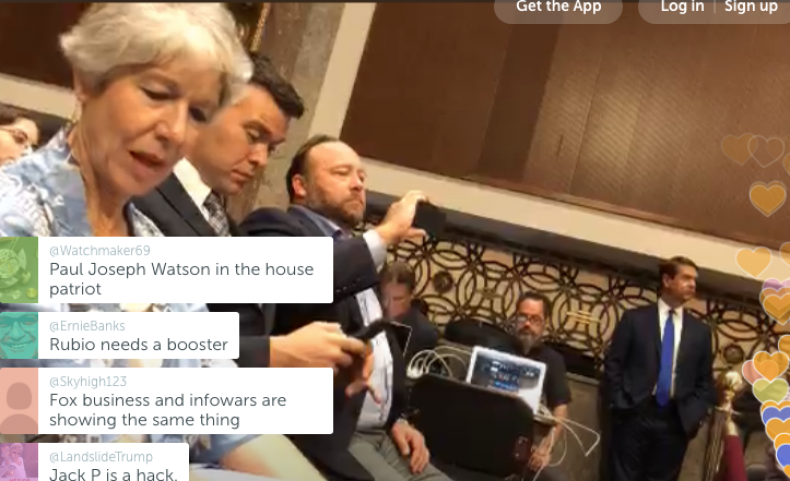 Jones, who earlier said he was looking "to face his accusers" at the Wednesday hearing, continued to bash Rubio after the senator left. He referenced a 2016 "bathhouse" story about Rubio, which Jones said indicated the senator was possibly homosexual.
"But he doesn't know about Infowars being banned. I wonder why Rubio got so mad at me he threatened to hit me. Poor Rubio.... It's OK that Rubio is gay...he's probably attracted to me," Jones said.