Alex Jones Joins Maricopa County Protest, Yells 'You Ain't Stealing S***' in Wild Rant
Conspiracy theorist Alex Jones appeared at a demonstration outside a counting station in Phoenix, Arizona on Thursday night and shouted "you ain't stealing s***" into a megaphone as poll workers continued to tally votes inside.
President Donald Trump's supporters gathered outside the election center in the hotly-contested Maricopa County and cheered the arrival of the Infowars host, who chanted "1776" while ranting about "fascist commies" and the philanthropist George Soros.
Footage posted on social media also showed Jones shouting about "the new world order" and the Microsoft founder Bill Gates as protesters with Trump campaign flags cheered him on.
"We don't know how this is going to end, but if they want a fight, they better believe they've got one," Jones bellowed to the crowd through his megaphone in one video posted by Randy Perez of LUCHA Arizona. "We're not going to fight their little meth-head Antifa scum...we're going to take it directly to those scumbag Nazi b*******."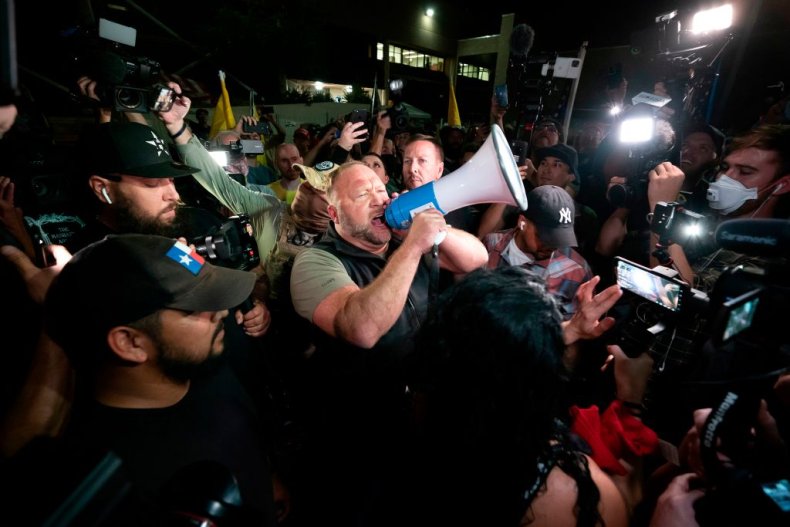 He then led the protesters in a chant of "1776," referring to the year American colonies established their independence from Great Britain in the early years of the American Revolutionary War.
In another clip uploaded to Twitter, Jones chanted "USA" and raved about "leftist scum" as he again compared Bill Gates and George Soros to King George III of Great Britain, who reigned during the years of America's split from the country.
The local news outlet AZCentral reported that the conspiracy theorist ranted for more than half an hour, even after it was announced that the next tabulation of ballots would not be until 9 a.m. on Friday.
According to the newspaper, counter-protesters also demonstrated outside the building, including one wearing a shirt portraying President Trump as a pig. One protester wearing a pro-Trump jersey reportedly threw something at a counter demonstrator in a minor altercation.
The protests took place outside the Maricopa County Tabulation and Election Center in Phoenix as the race between Trump and former Vice President Joe Biden tightened in the key swing state overnight.
In the most recent Maricopa County voting data dump, Trump was revealed to have won 57 percent of the roughly 74,000 ballot details released on Thursday night. Around 31,700 of those votes, or around 42 percent, went to Biden.
But the latest CNN vote projection still shows Biden leading Trump in the state by a little under 50,000 votes and roughly 1.6 percentage points with an estimated 90 percent of the vote counted.
If the Democratic nominee takes the state, he will win an all-important 11 electoral college votes and be within six votes of securing the presidency.