Alex Jones Refuses to Apologize for Sandy Hook Conspiracy Theory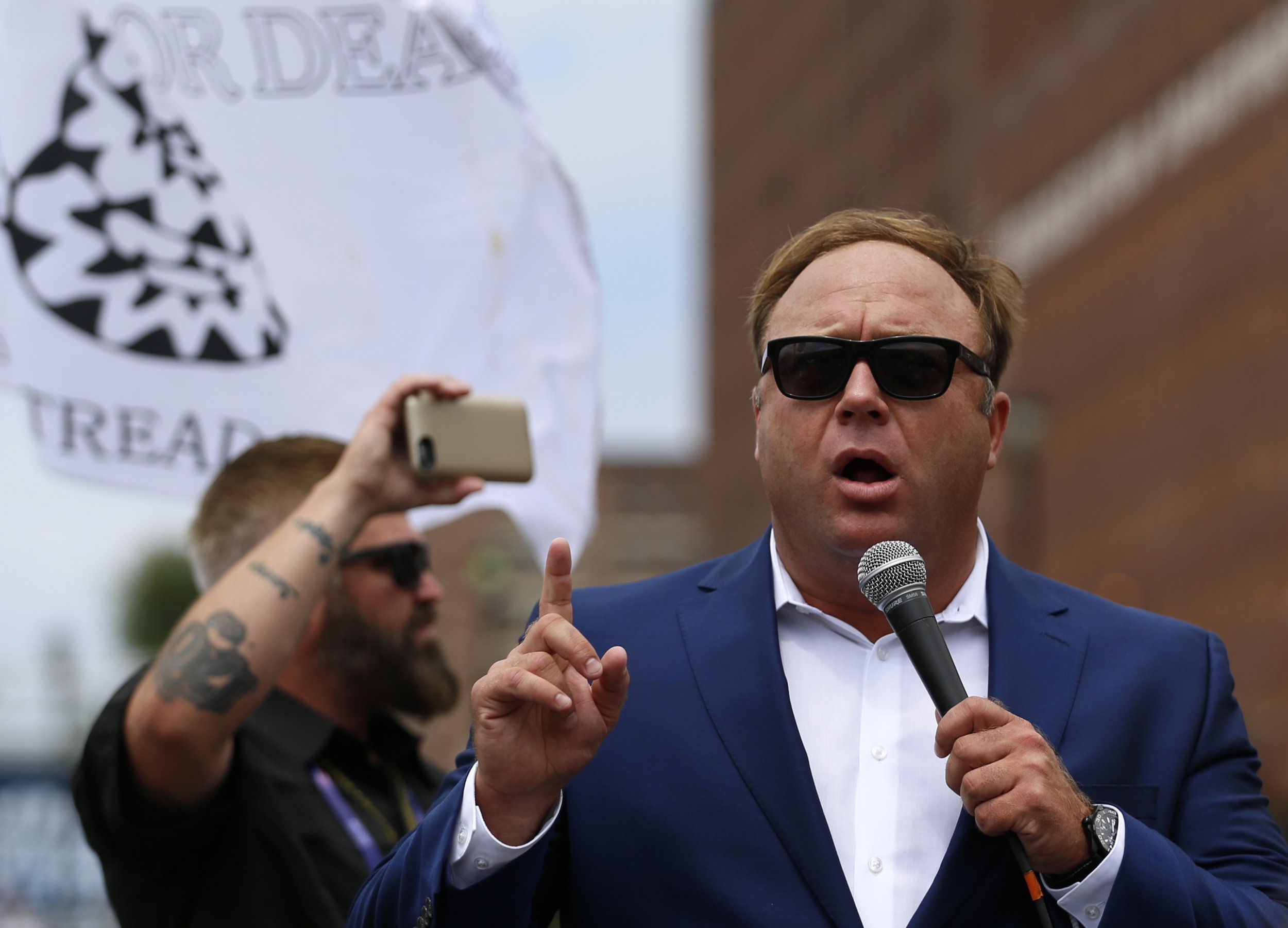 Conspiracy theorist Alex Jones was unapologetic about spreading fake news stories and calling the 2012 Sandy Hook mass shooting at an elementary school a "hoax" during a testy interview with NBC host Megyn Kelly Sunday.
"I do think there's some coverup and some manipulation," Jones said of the mass shooting that left 20 young students and six staff dead at Sandy Hook Elementary School in Newtown, Connecticut.
"I've watched the footage and it looks like a drill," Jones said of videos showing some students leaving the school with their hands on their heads. "That is pretty much what i believed. But then I was also going devil's advocate. But then we know there are mass shootings and these things happen."
Kelly called Jones out for "trying to have it all ways" and claiming the shooting was a "hoax."
"No, I'm not," he shot back. "Listeners and other people are covering this. I didn't create that story."
"I looked at all the angles of Newtown," he said. "And I made my statements even before the media picked up on it."
Finally, Jones said, "I tend to believe that children probably did die there. But then, you look at all the other evidence on the other side, I can see how other people believe that nobody died there."
The families of some of the victims say they have received threats and harassment from Jones's supporters.
Read more: Who is Alex Jones? his top five conspiracy theories ahead of NBC's Megyn Kelly interview
Kelly also took Jones to task for calling the 22 victims of the Manchester terrorist bomb attack at an Ariana Grande concert in May, some of whom were children, "A bunch of liberal trendies" who are "the same people who are promoting open borders and bringing Islamists in."
Kelly's interview proved controversial since a clip of it emerged on June 11 in which Jones states his belief that 9/11 is an inside job. In her introduction to NBC's Sunday Night with Megyn Kelly Sunday, Kelly states that Jones's "baseless allegations aren't just offensive, they're dangerous."
Jones's YouTube channel drew 83 million views in November 2016, the month President Donald Trump was elected. His website InfoWars had 5.3 million unique visitors in May and 79 percent of its traffic came from the U.S., according to website data tracker Alexa.
Kelly defended her decision to interview Jones: " Some thought we shouldn't broadcast this interview because his baseless allegations aren't just offensive, they're dangerous. But here's the thing: Alex Jones isn't going away," she said on Sunday Night with Megyn Kelly .
"He has millions of listeners and the ear of our current president,"
After the November 2016 election Jones said then President-elect Trump called to thank him for his help.
"Your reputation is amazing. I will not let you down," Trump said during an appearance on Jones's radio show in December 2015. Trump's longtime adviser Roger Stone also frequently appears on Jones's show.
"I think my influence on Trump is way, way lower than what MSM [the mainstream media] has said," Jones said, noting Trump has "just called sometimes and talked about politics and thanked me. That's it."
Jones's website InfoWars also received temporary press passes to the White House recently.