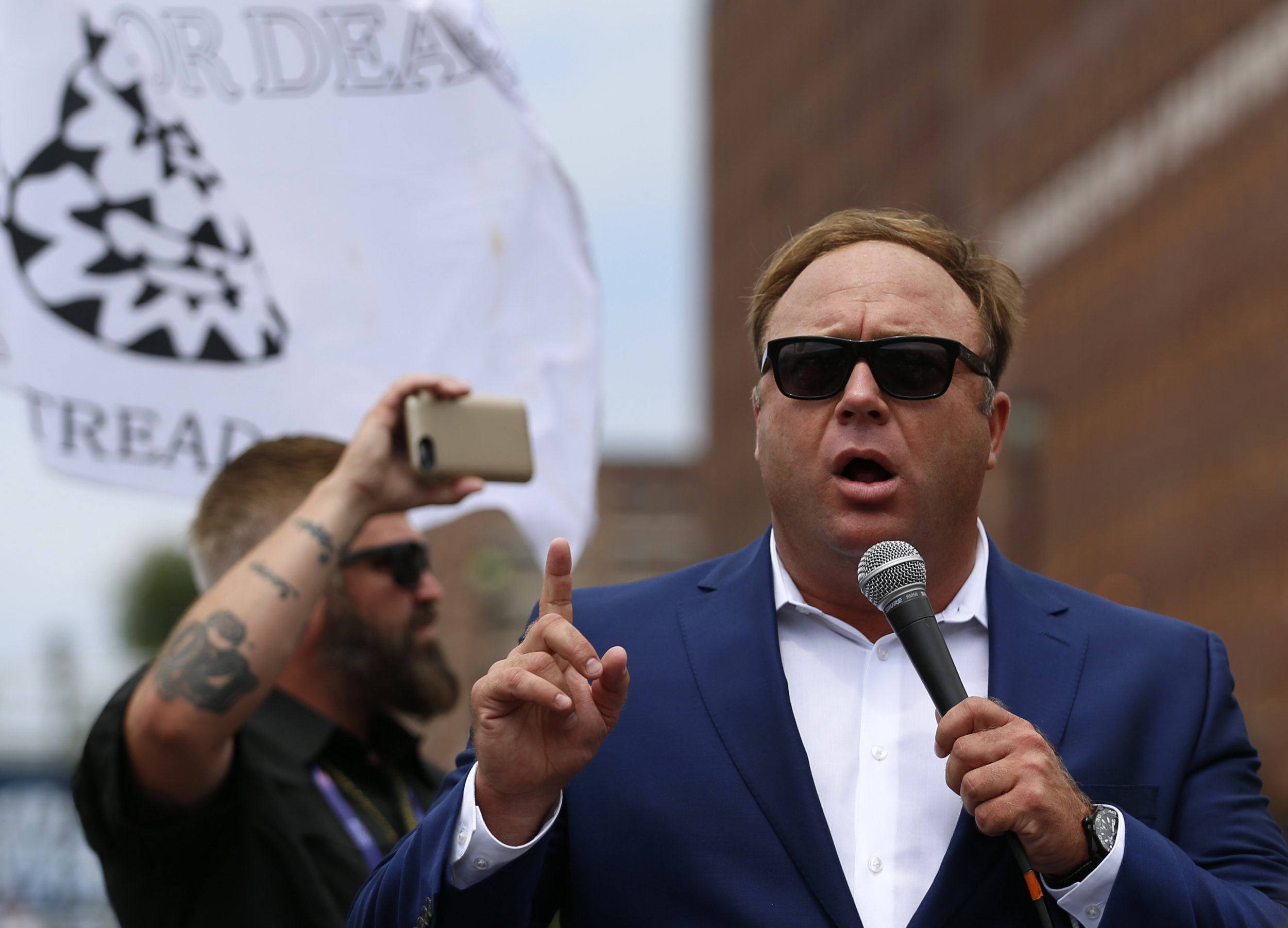 Right-wing radio personality Alex Jones said Friday that the so-called Deep State is planning to assassinate President Donald Trump.
He and others on the far right have been accusing career government employees in the Deep State, particularily those who work in national security, of conspiring against Trump and his agenda. Far-right internet personality Mike Cernovich joined Jones Friday in predicting a coup against Trump in the next couple of months.
"They're saying, 'A month or two we're going to kill the president, month or two we're going to remove him,'" Jones said. "This is so sinister."
Jones has a substantial following, with 4.8 million unique visits to his Infowars.com between June 5 and July 4, according to Quantcast. On Friday, he followed up with a call to arms, saying the Deep State is planning to kill Trump supporters as well as the president.
"If they ban us from YouTube, that's when Trump will be killed, there's no question about it," Cernovich said. "They're going to kill us, they're going to kill him, they're going to kill everybody."
In recent months, the Infowars host and other conspiratorial right-wingers have been predicting a second civil war between conservatives and liberals. Jones and Cernovich alleged they were being censored by YouTube and Google and talked about planning protests against tech giants, including one at Facebook co-founder Mark Zuckerberg's house.
"Folks, they are going to blow the president's head off, they are going to bomb him," Jones said. "They are getting ready."
Trump appeared on Jones's show during the campaign, and longtime Trump adviser Roger Stone is a frequent guest on the program. "Your reputation is amazing. I will not let you down," Trump told Jones.
Cernovich and Jones both promoted the so-called Pizzagate conspiracy theory, a false allegation that Hillary Clinton was involved in a child-sex-abuse ring. Meanwhile, Donald Trump Jr. has praised Cernovich, saying a he should win a Pulitizer for accusing Susan Rice of "unmasking" Trump associates. National Security Adviser H.R. McMaster reportedly determined that Rice did nothing improper in regard to the allegation.
More recently, the far right has focused on McMaster, alleging he is a leader of the Deep State that is trying to undermine Trump (though without any solid evidence).
"No one voted for H.L McMaster- he is a neocon quisling, helping [Special Counsel Robert] Mueller line up @realDonaldTrump for the take-down," Stone tweeted Friday.
Jones is a noted conspiracy theorist, having questioned almost every major shooting and bombing over the past decade, including the Sandy Hook Elementary School massacre. He also is a proponent of 9/11 conspiracy theories.
The discussion of a new civil war started after the election, Nate Evans, a spokesman for the liberal media watch group Media Matters for America, told Newsweek in July. Evans said the right-wing media has increasingly been advocating violence since Trump was elected, and that Jones "has been particularly crazy about it."