Alex Jones Slams QAnon, Says 'Q Is the Worst People on Earth'
Conspiracy theorist Alex Jones had a meltdown over QAnon during his Monday Infowars show, declaring that the far-right conspiracy group is filled with the "worst people in the world."
Jones, who has himself peddled false conspiracies, lashed out at QAnon during a call-in segment of his Infowars show on Monday. Caller Adam, from Oklahoma, asked "who is Q?" to which Jones replied, "a horrible thing."
QAnon followers believe, without evidence, that prominent Democrats, celebrities and business owners are members of a Satan-worshiping cannibalistic pedophile cabal conspiring against former President Donald Trump, who planned to expose them while in office.
"You understand that we lost the country because of Q? And I have to put up with the Q people all over the place, and I'm tired of it. So, I'm not mad at you, but you've hit a button here," Jones told the caller.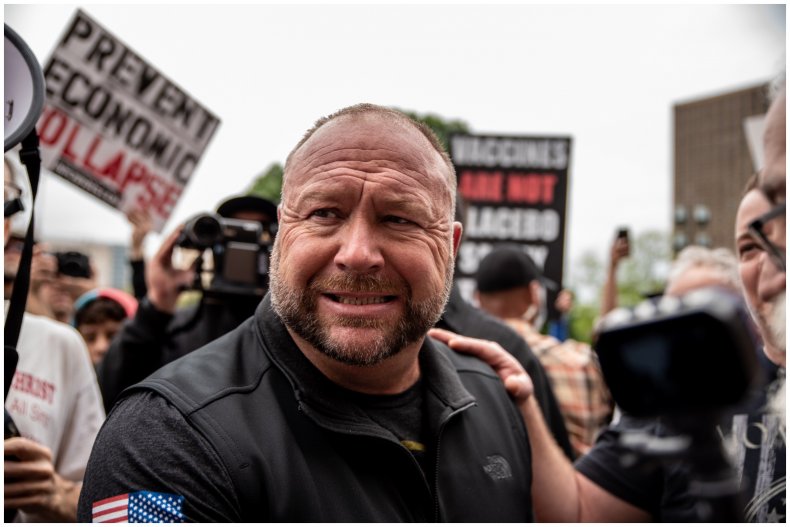 "And the damn Q people were the ones who manipulated some people to go inside the damn and worked with the feds," he continued. "Q is the worst people on Earth at the time. Q is the new world order. Q is a psyop to lead us around by our noses."
Earlier in the segment, Jones claimed—without producing evidence—that Q had been taken over by CIA disinformation agents.
Jones has previously ranted against QAnon on several occasions. But last year, the far-right Infowars host denounced the conspiracy movement despite having pushed similar theories himself.
In December 2020, Jones told protestors in Washington, D.C.: "We will never back down to the Satanic pedophile, globalist New World Order and their walking-dead reanimated corpse Joe Biden, and we will never recognize him."
Jones has landed in financial trouble after he made false claims where he claimed the 2012 Sandy Hook elementary school shooting was a hoax motivated by gun control supporters. The shooting resulted in 20 children and six staff members being killed. Jones repeatedly claimed no children were killed and that their parents were "crisis actors."
Earlier this year, the families of the Sandy Hook shooting victims rejected a settlement offer of $120,000 each from Jones, describing it as "transparent and desperate."
In filings submitted in a Connecticut state court, a lawyer on behalf of the Infowars host said: "Mr. Jones extends his heartfelt apology for any distress his remarks caused."
Jones would later fail to appear for a disposition hearing in March, claiming at the time that he was too unwell to attend. Despite this, Jones still appeared on his Infowars show in the days before and after the court-ordered hearing.
Newsweek reached out to Infowars for comment.