Alex Jones: 'Spidey Sense' Says Mueller Will Try to Shut Down InfoWars During Roger Stone Interview
Conspiracy theorist Alex Jones said on Friday his "spidey sense" indicated that special counsel Robert Mueller would try to shut down his InfoWars platform.
"They're now moving on to me and my father. And my spidey sense tells me they mean to move on us to take InfoWars out, and to take any support for the president out because they know we got President Trump elected," Jones said Friday while speaking with Roger Stone, a former Trump adviser who was arrested by the FBI in a predawn raid Friday.
Stone was charged with seven counts and accused of lying to Congress and trying to obstruct the House Intelligence Committee's investigation into whether Trump's campaign colluded with Russia during the 2016 election.
In 2016, WikiLeaks, an organization accused of working to advance Russian interests, published tens of thousands of emails stolen by Russian hackers from the Democratic National Committee. The organization later released emails taken from Clinton's campaign chairman. Members of Trump's campaign team reportedly asked Stone to reach out to WikiLeaks, according to the indictment.
The indictment said that Stone "was contacted by senior Trump Campaign officials to inquire about future releases by" WikiLeaks.
Jones repeatedly called the Mueller probe a "witch hunt" and said there was "no collusion."
"This is beyond a witch hunt. It's an inquisition," he said on Friday.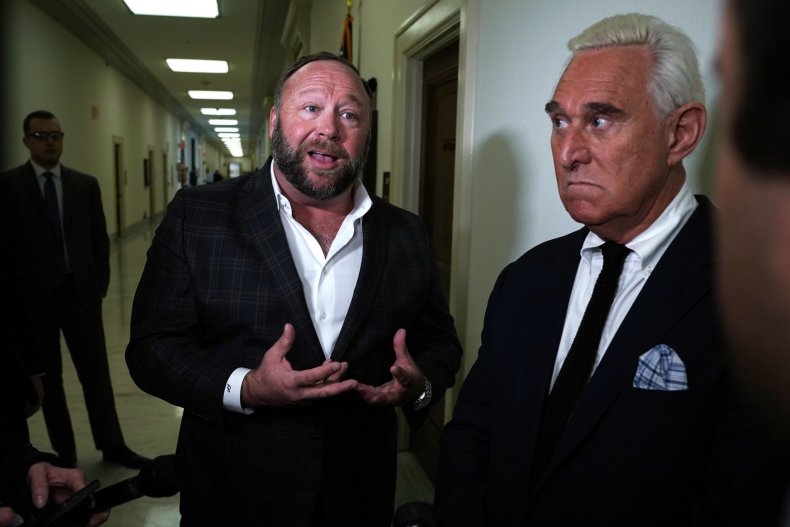 While speaking with Jones, Stone said "they seek to destroy me" and promoted a website raising money for his legal defense, which says "long time Trump advisor Roger Stone has been targeted by Special Counsel Robert Mueller. Mueller seeks to criminalize normal political activities by Roger Stone while ignoring the blatantly illegal activities of the Clinton campaign and the Obama NSA, DOJ and FBI."
The website says that the legal costs of "this epic fight could top $2 million."
After being arrested, Stone paid his $250,000 bail, gave up his passport and agreed to be present in federal court at a later date, The New York Times reported. Following his release from his brief detainment, Stone maintained his innocence in statements outside federal court in Fort Lauderdale, Florida.
"After a two-year inquisition, the charges today relate in no way to Russian collusion, WikiLeaks collaboration or any other illegal acting connection with the 2016 campaign," he said, receiving boos in response. "I am falsely accused of making false statements during my testimony to the House Intelligence Committee," he said, eliciting chants of "lock him up."