Alex Jones Suggests Reparations and Travel Advisories for White People to Protect Them From Black People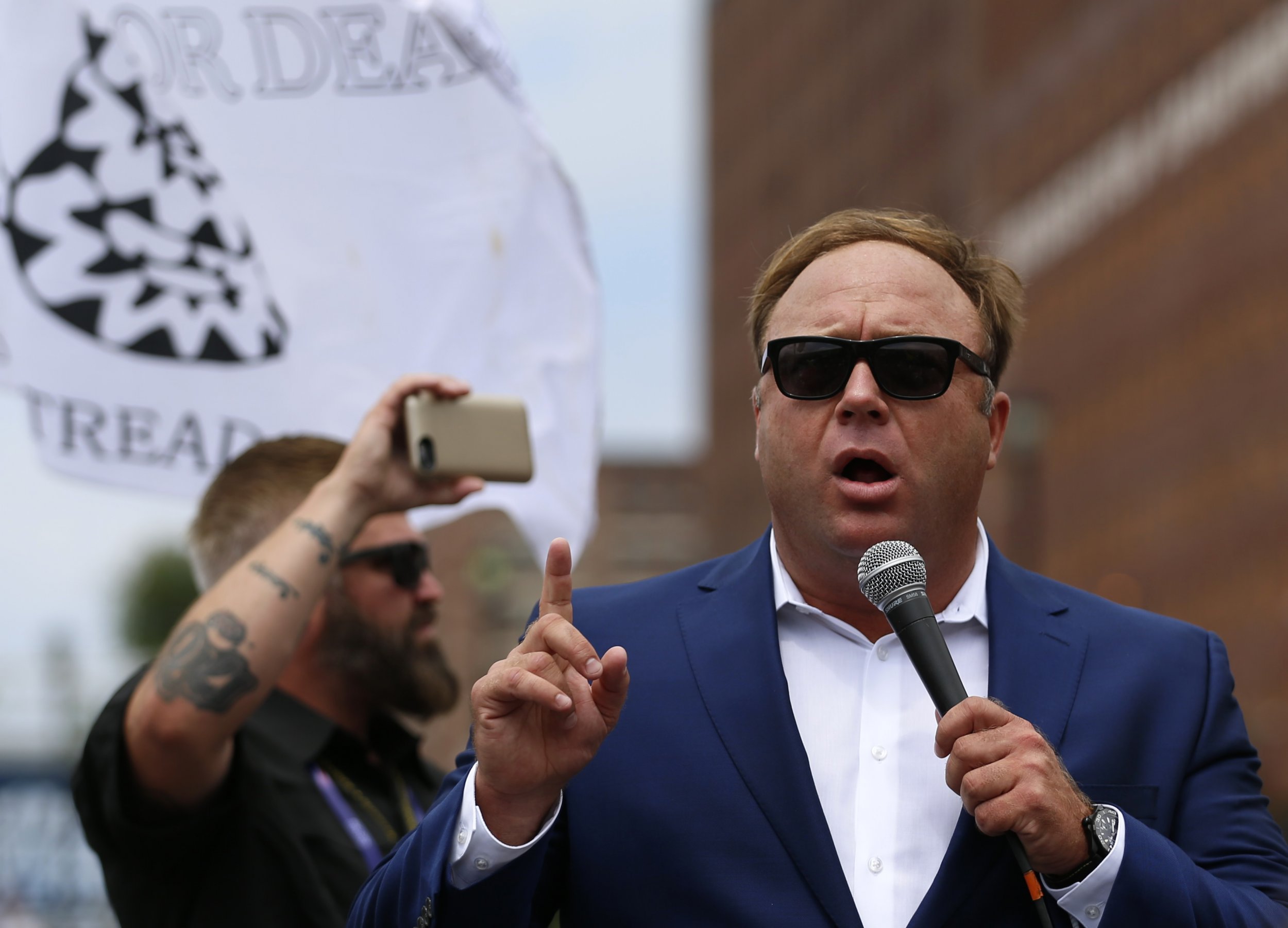 Alex Jones—the right-wing conspiracy theorist allied with President Donald Trump—supports reparations, which, at first, seems like a surprisingly progressive stance from a man who has railed against liberals as globalist demons (like actual creatures from hell) who literally reek of sulfur. But Jones this week suggested reparations are appropriate for white folks, not black people whose ancestors were slaves.
Jones began a rant on his show for Infowars—the site he heads up—by discussing the short-on-the-sides, longer-on-the-top haircut seemingly favored by neofascists.
"It doesn't matter that most of the basketball players you see who happen to be black have the same haircut, or David Beckham, or anybody else. It doesn't matter. You need to find that racism. In the eclipse. In a guy's short haircut. In whatever it is. You've got to find it. It's got to be there," Jones said in a clip posted online by the left-wing website Media Matters for America. "So that's why I've issued a travel advisory for the United States for white folks going to places like Denver, Detroit. Places like Chicago, places like Seattle, because I've been to these towns and I've experienced it."
Jones then talked about violence among African-Americans and eventually cited a wildly inaccurate graphic that had previously been debunked after Trump shared it on Twitter. The graphic—showing a bandana-clad black man pointing a gun—claimed black people accounted for 81 percent of killings of white people when the FBI actually pegs that number at 15 percent. That means 82 percent of killings of white people are actually carried out by white people.
After talking a bit about Confederate statues coming down and claiming Democrats have purposefully hurt black communities, Jones made his call for reparations for whites.
"And the statistics are all there," he said. "I mean there needs to be reparations for white people the last 20, 30 years, getting attacked and killed by the tens of thousands every year. Seriously, if you want to play this whole game, and I'm not actually asking for that. There needs to be real travel advisories. They used to have in the '60s some places like Selma, Alabama, The New York Times would put travel advisories out for black folks. Well, you know what? They needed a travel advisory. That's true. But we need real travel advisories now, that white folks need to understand that there is the promotion and the pushing of you being mugged, you being killed by the New Black Panther Party and everybody else. They're saying 'go out and kill a white person. Go out and mug a white person. Go out and commit crime in their neighborhoods, because they deserve it.'"
Jones concluded this by talking about his recent eventful trip to Seattle, during which he confronted numerous people on the street who seemingly disagreed with his often controversial stances, such as his past claims that the mass killing of children in Newtown, Connecticut, was faked. In one instance, Jones sprinted across the street to confront a man who gave him the middle finger. The Infowars host engaging the man in a cursing match. As Newsweek wrote at the time:
Jones then jumped in front of the person and said, "You wanna flip me off? You're not an intellectual, you're a dumbass."

A vulgar back-and-forth ensued.

"Fuck off," the man said.

"No, you fuck off," Jones responded.

"I am fucking off," the man said, walking away.

"Hey, fuck you," Jones said.

"Fuck you," the man responded, giving the radio host the middle finger.

"Coward," Jones said.
Trump appeared on Jones's show in late 2015 and praised his reputation, telling him he's a "a maverick" who "tells it like it is." In the run-up to the election Trump seemed to parrot many of the conspiratorial points made on Infowars and the site has remained a relatively firm ally of the president.