Alex Jones' Lawyer Admits in Trial Infowars Owner Says 'Outrageous Things'
Lawyer Norm Pattis said his client may say "outrageous things," but that doesn't mean plaintiffs filing a lawsuit against the Infowars owner should be compensated for damages.
Pattis represents Alex Jones, the owner of far-right conspiracy theory website Infowars, who is on trial for the second time following his claims that the Sandy Hook Elementary School shooting in 2012 was a hoax. Jones and his company, Free Speech Systems, could be required to pay millions in three lawsuits filed by 15 plaintiffs. The plaintiffs consist of relatives of eight of the 26 Sandy Hook victims and William Aldenberg, a former FBI agent who worked the case.
A jury began hearing evidence on Tuesday. The trial is expected to last up to four weeks. In his opening statement, Pattis said the defense believes the plaintiffs' claims are exaggerated. He compared the parents of the victims and Aldenberg to "haters" who want Jones silenced.
"They hate him because he says outrageous things," Pattis said in his opening statement. "Grave harm doesn't mean stopping Alex Jones. Our suggestion is you stop Alex Jones, you do a graver harm upon the public."
Part of Pattis' opening statement was shared on Twitter.
Jones' second trial began just a month after a judge ruled he was in violation of the Unfair Trade Practices Act, a Connecticut statute that allows someone who has endured damages due to unfair or deceptive trade practices to sue the actor to recover damages. Jones was ordered to pay almost $50 million to the parents of Jesse Lewis, a 6-year-old student who was killed in the massacre, according to reports by The Independent.
The parents and Aldenberg filed a lawsuit after they said they have been confronted and harassed by Jones' followers after Jones claimed the shooting was a hoax. Newsweek reported that the subjects have received death threats and have been subjected to abusive comments on social media. Some plaintiffs have moved out of Connecticut in hopes of thwarting the harassment.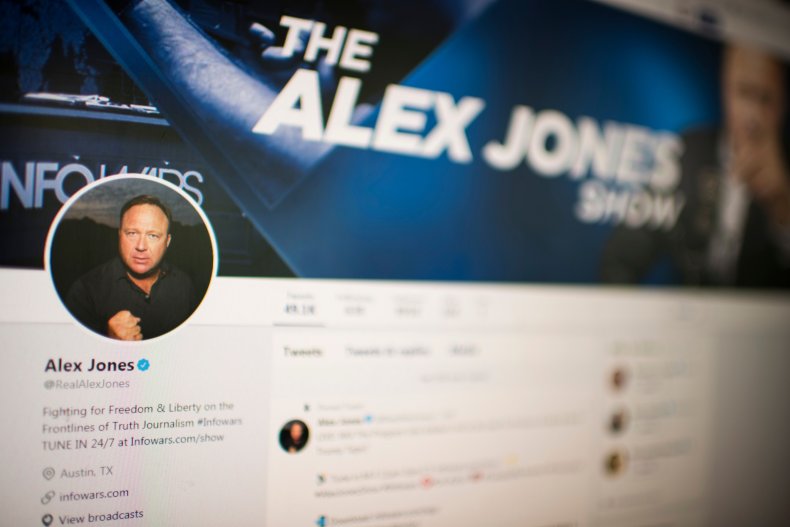 Lawyer Chris Mattei is representing the families during the trial. Law & Crime reported that he said the case was about bullies during his opening statement.
"Unless you stand up to bullies, a bully will never stop," Mattei said in his opening statement.
Lewis' father, Neil Heslin, testified during the first trial that he and others have endured "hell" because of Jones' comments.
Jones has since said he believes the Sandy Hook massacre was real, although he argues that his original comments were protected by free speech rights. Plaintiffs allege Jones and his company profited from claiming the massacre was a hoax, according to the Associated Press. Other allegations against Jones include defamation and intentional infliction of emotional distress.
It is uncertain how many damages will be awarded if the 15 plaintiffs win their cases. Reports speculate it could far exceed the $50 million Jones was already ordered to pay.
A third trial awaits Jones in Texas, where Sandy Hook parents also are suing him over the hoax claims.
Newsweek reached out to Infowars for comment.