Alex Jones Urges Supporters to Buy Supplements, Air Filtration Gear, 'Storable' Foods to Fight Back After His Bans
Sure, Facebook, Apple, YouTube and a handful of other major platforms might have barred Infowars' Alex Jones this week. But he has plan—and it involves you buying Superblue Fluoride-Free Toothpaste (now just $9.95) or Brain Force Plus (on sale for $29.95).
That's right, the way to fight back—according to the longtime conspiracy theorist—is to go to Infowars.com and spend (or simply donate) some cash.
The New York Times did a nice job of detailing this assertion from Jones in an article published on Tuesday.
"Don't forget the financial support; that is the strongest thing you can do to make sure that we continue on and are strong in the fight," Jones told his supporters on his show, the Times noted. "Go there today and send them a strong message that you stand for the First Amendment, you stand for us and get air filtration, water filtration, optics, preparedness gear, high quality storable foods, supplements that are so good for you and your family. Feed your gladiator."
Jones, however, did claim the money wasn't really for his use. "Money is the jet fuel for the jet bombers I use to drop truth bombs," he told the Times.
Interestingly enough, Quartz pointed out last year that while Jones often rails against liberals, the stuff he sells is remarkably similar to what's sold by Gwyneth Paltrow's Goop—typically seen as a left-friendly wellness business. BuzzFeed sent the supplements to a lab and found they were just pretty typical vitamins and minerals. But even if they are common vitamins, it's a lucrative business. New York magazine reported last year that Jones's hawking of supposed wellness supplements was the true lifeblood of his business. The piece estimated he could have sold somewhere between $15 million and $25 million in dietary supplements over a two-year period. So it makes some sense that Jones—who has become famous for making offensive statements such as claims that the Sandy Hook school shooting was a hoax—would focus on a pretty lucrative part of his business.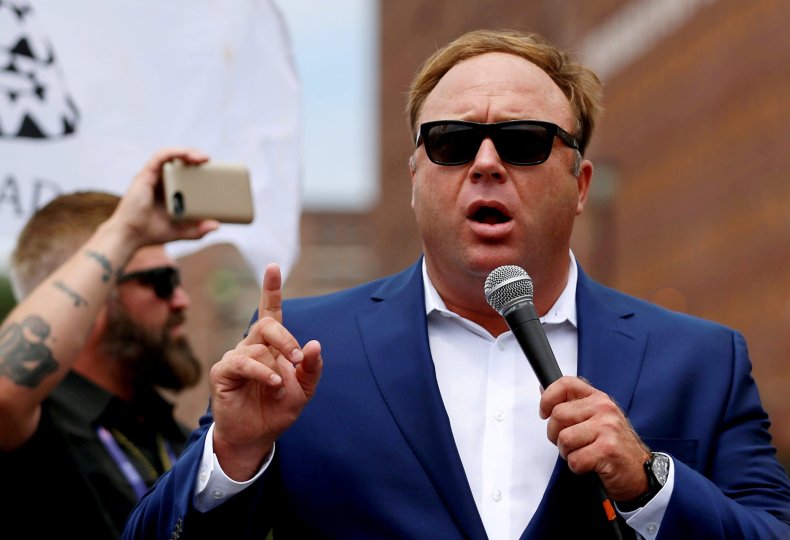 Jones and Infowars have been barred from many of the major tech platforms, but Twitter seemingly has no plans to give him the boot. The company's CEO, Jack Dorsey, himself explained why he supported keeping Jones on Twitter.
Dorsey posted in a series of tweets:
"We didn't suspend Alex Jones or Infowars yesterday. We know that's hard for many but the reason is simple: he hasn't violated our rules. We'll enforce if he does. And we'll continue to promote a healthy conversational environment by ensuring tweets aren't artificially amplified. Truth is we've been terrible at explaining our decisions in the past. We're fixing that. We're going to hold Jones to the same standard we hold to every account, not taking one-off actions to make us feel good in the short term, and adding fuel to new conspiracy theories. If we succumb and simply react to outside pressure, rather than straightforward principles we enforce (and evolve) impartially regardless of political viewpoints, we become a service that's constructed by our personal views that can swing in any direction. That's not us."
But even if Twitter did some day ban Jones, it might not really matter. It appears Jones's supporters have listened to his calls to run directly to Infowars after he was banned. The site's app was the fourth-most-popular news app in the country after the bans, rocketing all the way up from 47th.