Alex Jones Shares Video He Claims Shows Las Vegas Shooter Was Not Acting Alone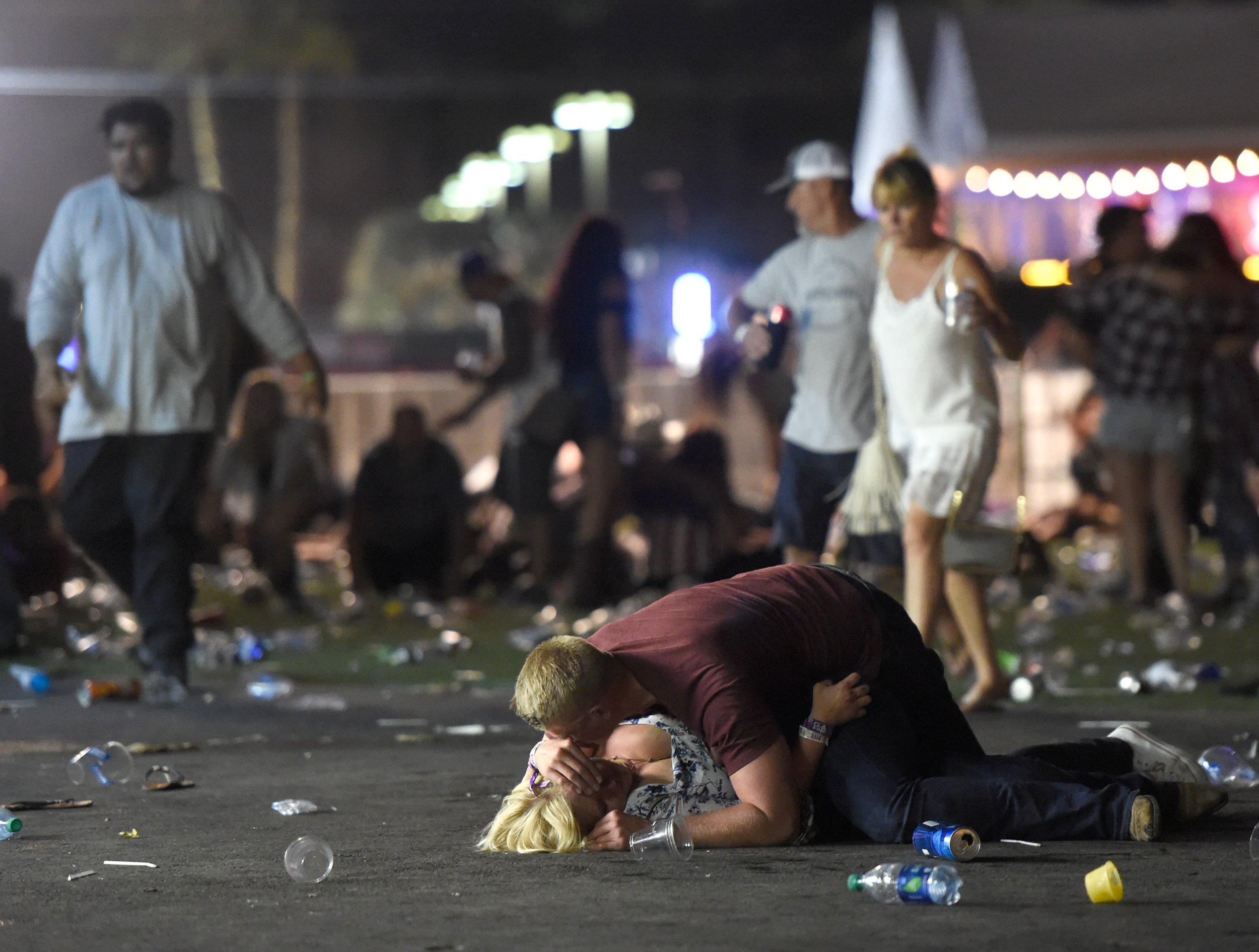 Right wing conspiracy theorist Alex Jones is insisting the Las Vegas shooter could not have acted alone, sharing a video that he claims shows a second attacker—even though law enforcement officials are rejecting the claim.
The InfoWars host has put forward several different conspiracy theories since the deadly mass shooting, including suggesting that shooter Stephen Paddock was a member of the Islamic State militant group (ISIS), and that he was a militant leftist who was against President Donald Trump.
In a video shared on Monday, Jones suggests footage of the massacre shows a gun was being fired from the fourth floor of the Mandalay Bay hotel in Las Vegas, despite there being no verification for the claim and authorities dismissing the idea there was a second shooter.
In the footage, Jones also interviewed someone who claimed to be a former neighbor of Paddock and suggested the body police found in the hotel room was not the shooter and that "it was a set-up."
"Why would an alleged Trump supporter open fire on a country music festival that is largely made up of Trump's base?" the Jones video asked.
"Could Stephen Paddock, the lone Vegas shooter, have been a patsy to kick off the left's war with the right in the streets of America and to simultaneously roll in the Rapiscan naked body scanners that profit former DHS Secretary Michael Chertoff, George Soros and a handful of lobbyists connected to the management of the Mandalay Bay Hotel and Casino?" the conspiracy theory video added.
Responding to claims in the immediate aftermath of the tragedy that there had been a second shooter in the attack that left 58 people dead, Assistant Sheriff Todd Fasulo of the Las Vegas Metropolitan Police Department told The New York Times last week: "I want to emphasize we believe Paddock is solely responsible for this heinous act. We are aware of the rumors outside of the media and also on social media that there was more than one assailant."
He added: "We have no information or evidence to support that theory or that rumor. We believe there was only one shooter and that was Stephen Paddock."
Jones last week said he had spoken with a high-ranking CIA official he refused to name, stating: "They're saying clearly he's Antifa. Clearly, it's the M.O., to trigger a helter-skelter revolution."
"All I know is, they're trying to blame gun owners when it was patriots that got targeted. They're making their move. The Democrats have said they're going to have a huge uprising in October, November. It's here," he added.
Jones, who has a history of claiming high-profile tragedies are not real, asserting the Sandy Hook massacre and 9/11 were fake news and an "inside job," respectively, is not alone in struggling to accept the Las Vegas attack was carried out by a white, Christian man whose motive has not been determined.
A number of conservative pundits and conspiracy theorists, including Fox News commentator Tomi Lahren and right wing conspiracy theorist Jack Posobiec, have suggested there is information about the shooter that has not yet been revealed to the public.
The alleged ISIS connection, which was initially played up by right-wing commentators, has been dismissed by the FBI, and Senator Richard M. Burr, who heads the Senate Intelligence Committee, also said the attack "doesn't seem to have a terrorism nexus."
Police have so far followed more than 1,000 leads and have as yet failed to find a motive behind the attack. This has not stopped Jones from insisting InfoWars is "the most accurate media operation so far" in reporting on the tragedy.