Alex Morgan Hits Out at Tokyo Olympics Organizers Over Strict Rules for Children at Games
U.S. soccer star Alex Morgan has hit out at the International Olympic Committee (IOC) over rules preventing athletes from bringing their children with them to the upcoming Olympics Games in Japan.
The IOC and the organizing committee had originally planned to bar Olympians from taking their kids with them to Tokyo, as part of a series of measure aimed at limiting the influx of foreign nationals into Japan as the country seeks to control the coronavirus pandemic.
The athletes' families will not be allowed to travel to the Tokyo Olympics, which are scheduled to begin on July 23, and neither will foreign fans.
On Wednesday, the IOC relaxed the rules, noting that athletes nursing infants faced "a unique situation" and that exceptions could be made if the circumstances warranted a rethink.
"Given that the Tokyo 2020 Games will take place during a pandemic, overall we must unfortunately decline to permit athletes' family members or other companions to accompany them to the Games," the IOC said in a statement.
"However, after careful consideration of the unique situation facing athletes with nursing children, we are pleased to confirm that, when necessary, nursing children will be able to accompany athletes to Japan."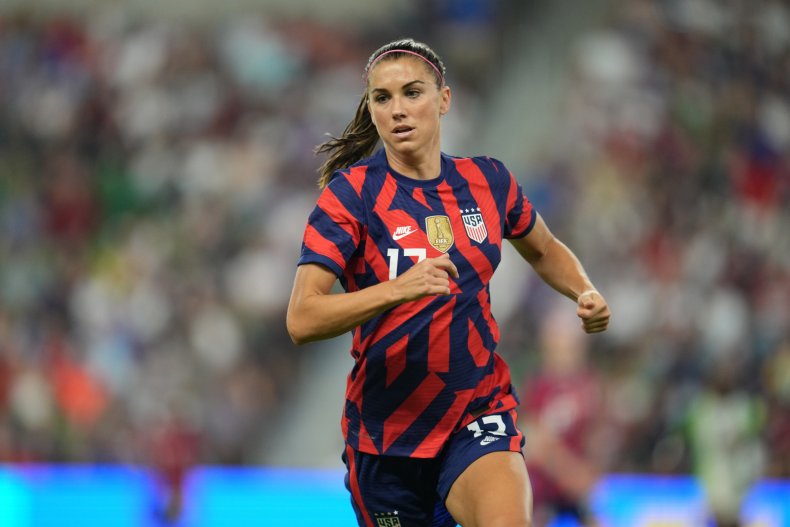 Morgan, however, criticized the IOC's statement for raising more questions than answers and lacking clarity over which athletes will be allowed to take children with them.
The U.S. Women's National Team (USWNT) forward, an Olympic gold medalist at London 2012, indicated she was still unsure whether she could bring her one-year-old daughter Charlie to Tokyo.
The USWNT leaves for Japan next week, two weeks before its opening game against Sweden on July 21.
"Still not sure what 'when necessary' even means," Morgan wrote on Twitter, in response to a tweet from ESPN's SportsCenter reporting the IOC statement.
"Is that determined by the mother or the IOC? We are Olympic mothers telling you, it is NECESSARY. I have not been contacted about being able to bring my daughter with me to Japan and we leave in 7 days."
Speaking in April, Morgan underlined the importance of allowing mothers to bring their children with them to sporting events.
"It's important to allow mothers the option to have their kids with them while they compete," Morgan was quoted as saying by The Orlando Sentinel.
"I've been lucky to be able to do that every single camp. [...] I'm just still very hopeful that I'll have my daughter with me, [and someone] who will be able to watch her during training and games."
The two-time World Cup winner took Charlie with her to USWNT training camps and even to London, during her brief spell with Tottenham Hotspur.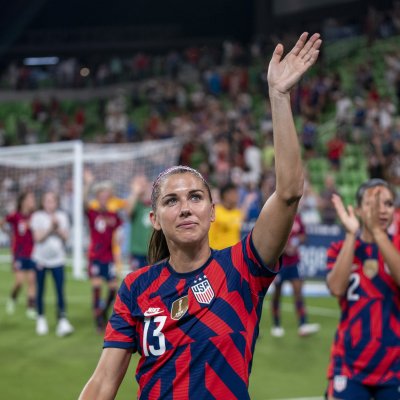 Morgan isn't the only athlete to have spoken out about the importance of being allowed to take her children to Tokyo.
In June, Canada basketball player Kim Gaucher had pleaded with the IOC to allow her four-month-old to travel to Japan with her. In an Instagram post, the 37-year-old said the protocols in place were effectively forcing them to choose between spending four weeks without her daughter, who she says is still breastfeeding, or take part in the Olympics.
In a new video posted on Instagram on Wednesday, Gaucher said the IOC's decision to relax its rules was welcome news and thanked everyone who supported her campaign to put pressure on the organizers.
Speaking to Canadian broadcaster CBC, she hailed the IOC's change of stance as a major milestone for women athletes.
"I'm just really happy. I'm just really happy that the right decisions have been made. Being a mom is really hard but it's also one of the best jobs that I could have," she said.
"To all of the working moms out there who've had to fight this fight before, I think it's just a really good day for women in sport today."
The 2020 Olympics were postponed by 12 months because of the COVID pandemic and will go ahead this summer, despite strong public opposition in Japan.
With the exception of the two world wars, the Olympics have never been canceled since they began in their modern guise in 1896.