Alex Murdaugh Cries as Graphic Footage From Murder Scene is Played
An officer who was on scene at the Murdaugh killings testified at trial Thursday that Alex Murdaugh didn't shed any tears during their encounter.
Murdaugh is accused of shooting his wife, Margaret Murdaugh, and their 22-year-old son, Paul Murdaugh, at their Colleton County, South Carolina, hunting lodge on June 7, 2021, killing both. Murdaugh's trial began this week. He pleaded not guilty.
Sergeant Daniel Greene was the first witness to testify on Thursday. Body cam footage from when Greene arrived at the scene was shared in the courtroom. Greene testified about what he saw and described the "large pool of blood" around the bodies, as well as noting that there was brain matter. Greene's testimony appeared to be distressing to Murdaugh, who visibly began crying.
Further into Greene's testimony, audio from his interaction with Murdaugh on June 7, 2021, was shared. In the audio, Murdaugh's breathing was ragged and he gasped as he talked, but Greene testified that Murdaugh never shed any tears while he was at the scene with the bodies.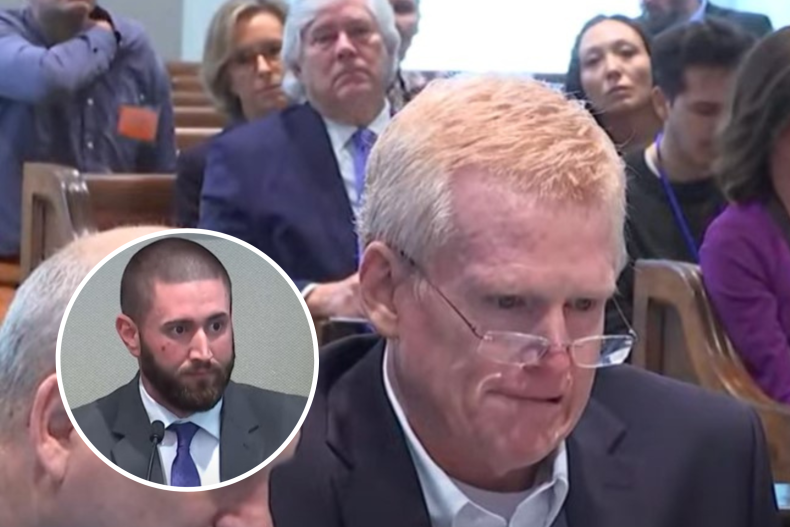 Throughout the testimony, Murdaugh rocked back and forth, shook and continued to cry.
The body cam footage played in the courtroom but was not televised.
"As the body cam is played more tears, snot and heavy breathing," tweeted Matt Johnson, a journalist and guest contributor to the Law & Crime Network. "#AlexMurdaugh is shaking. His eyes are red from crying."
When Prosecutor Creighton Waters asked Greene what Murdaugh was doing during the exchange, Greene told him that he was "on the phone pacing around talking to someone." It was later revealed that Murdaugh was on the phone with his brother.
"They aren't dead, are they?" Murdaugh asked Greene on the audio.
"Yes, sir, that's what it looks like," Greene responded.
Audio also revealed that Murdaugh explained a recent boat crash his son had been involved in, saying that Paul Murdaugh had received threats and Alex Murdaugh was certain the threats were related to the killings.
Newsweek previously reported that at the time of his death, Paul Murdaugh was awaiting trial after being charged with boating under the influence, allegedly causing a crash that killed one of his friends.
Alex Murdaugh called police after discovering the bodies in their home. Newsweek previously reported that Murdaugh, who also faces charges involving fraud, claimed he wasn't at the lodge at the time of the killings.
Alex Murdaugh claimed that he was at his mother's home at the time, but former federal prosecutor Neama Rahmani previously told Newsweek that Murdaugh's mother has dementia and likely won't be able to testify.