What Buster Murdaugh's Testimony Could Mean for Father Alex's Trial
Alex Murdaugh's surviving son, Buster Murdaugh, has taken the stand in the trial in which his father is accused of killing his wife and brother. Buster Murdaugh said his father was "destroyed" and "heartbroken" after the killings.
Margaret "Maggie" Murdaugh, 52, and 22-year-old Paul Murdaugh, the South Carolina lawyer's wife and son, were killed on June 7, 2021.
The 54-year-old Alex Murdaugh told the police that he had discovered their bodies at their 1,700-acre hunting estate in Colleton County, South Carolina.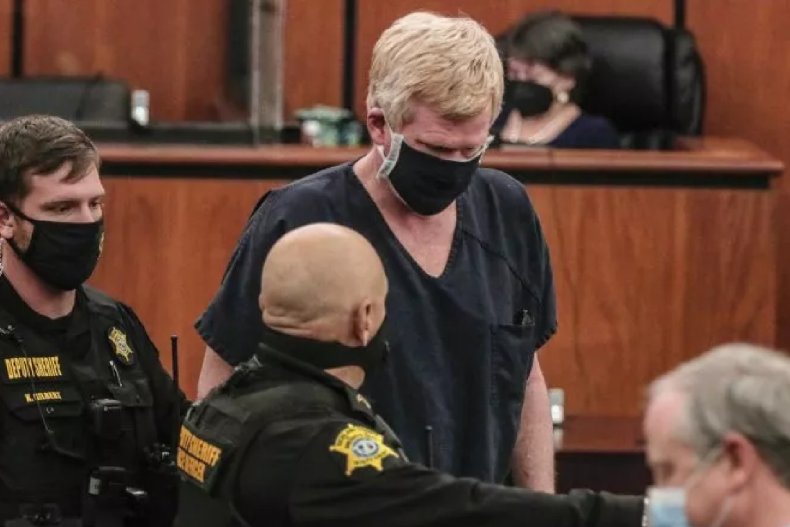 During the trial proceedings last week, the bodycam footage of the police's first interaction with the suspect at the scene of crime was played.
Police allege that Alex Murdaugh shot and killed both his wife and son and has been charged with two counts of first-degree murder and two counts of possession of a weapon during the commission of a violent crime.
He has pleaded not guilty to these crimes.
Alex Murdaugh has maintained that he wasn't at the scene of the crime and later discovered the mother and son's bodies near the dog kennels at the estate.
On Tuesday, February 21, Buster Murdaugh, 26, was called as a defense witness. He had been sitting in on the entire trial since it began three weeks ago, calling into question how he would behave during his stand. Authorities have not suggested that Buster Murdaugh is connected to the murder in any way.
He said that on June 7, 2021, his father called him, asked if he was sitting down and then told him his brother and mother had been shot, the Associated Press reported. "He was destroyed. He was heartbroken. I walked through the door, I saw him and I gave him a hug," Buster Murdaugh said.
He said that cell service in their local area was patchy and that his father sometimes misplaced his phone. Prosecutors have suggested that Alex Murdaugh left it behind so it wouldn't be where the killings took place.
He said that his father took numerous showers during the summer, apparently to address testimony from a housekeeper who found a damp towel the morning after the killings.
Following Buster Murdaugh's testimony, criminal defense attorney Rachel Fiset, managing partner of Los Angeles-based Zweiback, Fiset & Zalduendo, spoke to Newsweek.
She noted that Buster Murdaugh likely did not offer much by way of new information but may have allowed his father to receive some sympathy from the jury.
"Buster's testimony attempted to establish the Murdaugh family as a communicative and loving family. He established the family's normal communication patterns as multiple texts in a day and having a general awareness of each other's whereabouts," she told Newsweek.
"He also elaborated on a family celebration when the family was together just two weeks prior to the murders. The defense attorneys methodically took Buster through the night of the murders in a manner that allowed Buster's interpretation of his father's innocence and shock to be displayed to the jury through his eyes.
"Alex Murdaugh watched proudly as his son testified and appeared to be pleased with his testimony. At times, Alex Murdaugh became emotional throughout the testimony.
"Substantively, Buster did not offer much to the jury as he was not a witness to the crime but he did provide his insights to the time period just before the crime and the days after the murders when he lost his mother, brother and then his grandfather just days later. All told, Buster likely garnered some sympathy for him and his family for the harsh and sudden losses they suffered sequentially."
Newsnation's Ashleigh Banfield had also reflected on the possibility of Buster Murdaugh giving evidence before his testimony.
Speaking on her show on Monday night, she said: "Lots of sources are saying that Buster Murdaugh [is going to take the stand], [Buster,] who has been sitting right there in the gallery for the whole thing, all the proceedings.
"You folks who know your court watching, you have been asking the right questions.
"Wait a minute, how does a witness get to sit all through the proceedings before he gets on the stand?
"Doesn't that, perhaps, taint his testimony? Can't he massage his testimony to fit what happens on the stand before him.
"I am with you, and by the way, pretty much every state of the union kind of is with you.
"But in this jurisdiction, this judge gets to make the rules and has made the rules about this courtroom.
"Isn't just Buster who gets to sit in the gallery prior to testifying, it is every witness."
Newsweek has contacted Alex Murdaugh's defence attorney Dick Harpootlian for comment.
Update, 2/22/23, 4 a.m. ET: This article was updated with reaction from criminal defense attorney Rachel Fiset and details of Buster Murdaugh's testimony.