Alex Murdaugh Sentencing and Other Key Moments as the Trial Ended This Week
Alex Murdaugh, the disgraced attorney and scion of a South Carolina legal dynasty, was sentenced to spend the rest of his life in prison this week for killing his wife and son.
Murdaugh, 54, had denied shooting his wife Maggie, 52, and their 22-year-old son, Paul, at dog kennels near their rural Colleton County, South Carolina, home on June 7, 2021. However, a jury deliberated for less than three hours before finding him guilty of two counts of murder on Thursday, after a six-week trial at the Colleton County Courthouse. The jury also found Murdaugh guilty of two counts of possessing a weapon during a violent crime.
Prosecutors decided against seeking the death penalty, but Circuit Court Judge Clifton Newman handed down the harshest possible sentence: two consecutive life sentences without parole.
Here, Newsweek rounds up some key moments and takeaways from the trial.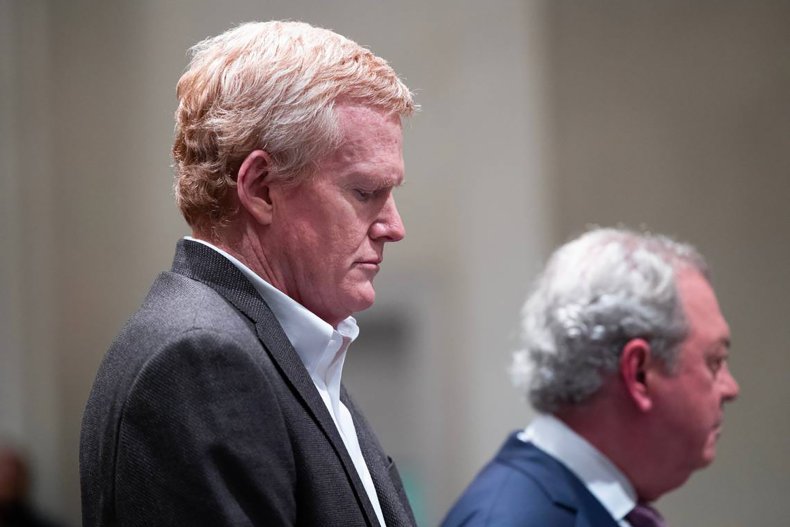 Last-minute plea
Before being sentenced on Friday, Murdaugh maintained his innocence—as he had done when he took the stand during the trial.
"I'm innocent, I would never hurt my wife Maggie and I would never hurt my son Paw Paw," he said before his sentence was announced by the judge. "I respect this court, but I'm innocent. I would never, under any circumstances hurt my wife Maggie and I would never under any circumstances hurt my son Paw Paw."
Judge calls Murdaugh a 'monster'
During the sentencing, Newman spoke to Murdaugh about the deaths of his wife and son and the lies he admitted telling during the investigation.
"Within your own soul, you have to deal with that. And I know you have to see Paul and Maggie during the night time when you're attempting to go to sleep and I'm sure they come and visit you," Newman said.
To Murdaugh's claim of innocence, the judge responded that it might have been the "monster" Murdaugh became after taking opioids who killed his family.
"It might not have been you, it might have been the monster you become" after taking opioid pills, he said. "Maybe you become another person."
During the trial, the jury heard about Murdaugh's decades-long opioid addiction. Murdaugh admitted during his testimony that he lied to investigators about where he was before the murders due to paranoia from his addiction.
Legal troubles are not over
Murdaugh's legal woes are far from over as he is awaiting trial on dozens of other charges.
They include 99 charges from 19 different indictments for a series of financial fraud schemes, including allegations that he cheated clients he represented at his former law firm out of portions of their settlement money.
Both Murdaugh and another man, Curtis Eddie Smith, were also indicted after Murdaugh allegedly tried to stage his own death so his surviving son, Buster, could benefit from a $10 million life insurance policy.
Murdaugh was shot on the side of a road in Hampton County, South Carolina, in September 2021, and was treated at a hospital for what police called a "superficial gunshot wound to the head." He later confessed to asking Smith to kill him.
Murdaugh's attorney speaks out
Jim Griffin, who represented Murdaugh in his murder trial, said he was "shocked" that the jury returned a verdict so quickly.
"To say that we were disappointed would be a tremendous understatement," Griffin said on NewsNation on Friday. "There was so much, six weeks of evidence, and there was so little evidence on the actual murders. There's no murder weapons, there's no bloody clothes, there's no motive to the murder, and so we thought the jury would have to work through a lot of that."
Griffin and his team are working on plans to appeal the jury's decision.
"We will be filing an appeal with the South Carolina Court of Appeals within the time period prescribed under the Rules," Griffin told Newsweek on Sunday in a statement. "We are cautiously optimistic that the appellate courts will overturn Alex's convictions and order a new trial."