Murdaugh Son's Snapchat Videos Fire Up Amateur Detectives
The trial of former lawyer Alex Murdaugh, who is accused of shooting and killing his wife and son, has become prominent on TikTok as self-styled sleuths try to crack the case on the platform.
Paul Murdaugh, 22, and his mother, Margaret "Maggie" Murdaugh, 52, were shot and killed on June 7, 2021. Their blood-soaked bodies were found on the family's 1,700-acre hunting estate in Colleton County, South Carolina.
Police confirmed that Alex Murdaugh, 54, reported finding their bodies and told authorities he came upon the gruesome discovery near the property's dog kennels.
Last summer, Alex was charged with two counts of first-degree murder and two counts of possession of a weapon during the commission of a violent crime. He has pleaded not guilty to the charges.
As the trial continues, social media users have homed in on the timing of Paul's final Snapchat videos. The court heard that they could have been taken and sent out just minutes before his death.
A Snapchat representative testified that a video that appeared to have been taken by Paul was first seen on Snapchat's Memories feature on June 7, 2021, at 7:39 p.m. and shared at 7:56 p.m. that same day. Memories serves as a cloud on the app, which is popular for its expiring videos.
Paul's final videos on the app included one that showed his father looking at a limp tree falling to the ground on the family's estate. In the video, a person off camera—presumed to be Paul—could be heard laughing.
Another video that Paul took was of dogs apparently in the kennels area of the estate. While none of the family members are seen, three voices can be heard in the background of the clip.
Given that police say the mother and son were killed minutes later, the video would challenge Alex's statement to investigators that he wasn't at the crime scene that evening until he discovered the bodies. He called 911 to alert authorities.
Alex said that he went to check the specific area of the property because his wife was a "dog lover" who may have been at the kennels when he couldn't locate her in their home.
The Snapchat videos were brought up in court at the start of the month, and the social media aspect of the case has been pored over by TikTok users, who have floated theories about what might have happened that night.
Some TikTok users have seen the presented evidence as damning for Alex, while others have questioned whether the killer of his wife and son acted alone.
One point raised by TikTok users is that the patriarch's attire in the tree video is completely different from what he was seen wearing in police bodycam footage when they arrived at the scene of the crime.
On Thursday, Alex, who denies involvement in the killings, decided to testify at the trial and revealed new aspects of the double murder case.
During his testimony, he admitted that he initially lied to law enforcement about his alibi on the night of the killings, citing paranoia from an opioid addiction he suffered from.
"Normally, when these paranoid thoughts would hit me, I could take a deep breath real quick, think about it, reason my way through it, just get past it," he said. "On June 7, I wasn't thinking clearly. I don't think I was capable of reason, and I lied about being down there and I'm so sorry that I did.
"I would never intentionally do anything to hurt either one of them," he said.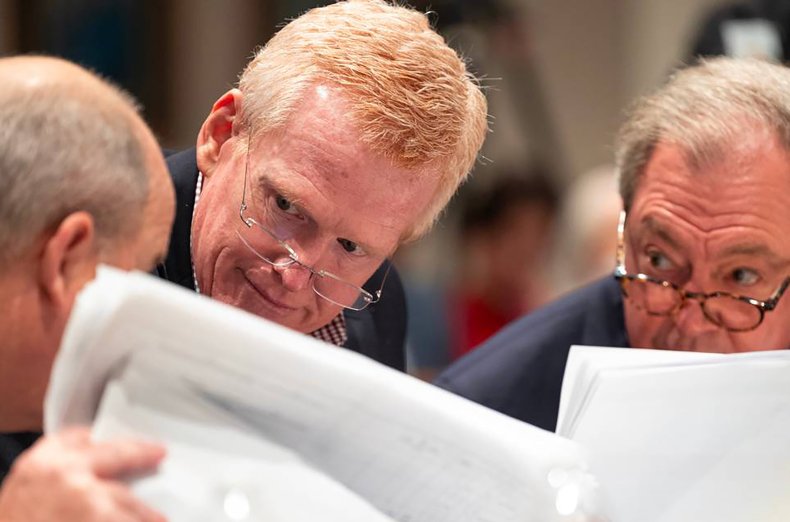 Alex also testified that he used his phone after the killings to call his brother as well as Paul's friends. However, previously shown phone records revealed that Alex searched online for a restaurant.
"I'm doing something with my phone, trying to call people, but I'm not trying to call those people. I'm not doing a Google search for any Whaley's restaurant, and I'm certainly not reading any texts," Alex said.
Earlier this week, Alex's other son, Buster, also testified in court and spoke about his father after the killings.
"He sounded odd, and then he told me that my mom and my brother had been shot," Buster said, recalling a phone call he got from his father. "He was heartbroken.... I walked in the door and saw him, gave him a hug. He was destroyed."
Alex is also facing a string of fraud charges after being accused of stealing more than $6 million from his legal clients. He has previously said his problems stemmed from a 20-year opiate addiction.
At the time of his death, Paul was set to go on trial himself for a charge of boating under the influence, after allegedly causing a fatal crash that killed a friend, 19-year-old Mallory Beach, in February 2019.
The scandal-plagued Murdaugh family, which boasted several generations of prominent lawyers, was featured in an HBO documentary series called Low Country: The Murdaugh Dynasty. A publicity blurb for the show, which debuted in November 2022, said it "questions the unchecked power of privilege—and the trail of death and destruction left in one family's wake."