Alex Ovechkin and the Stanley Cup: Here Are All the Places They've Been To
Since the Washington Capitals clinched their first ever Stanley Cup on Thursday night, they have celebrated in style.
It's hard to begrudge them, given they were responsible for bringing the franchise's 44-year wait for the trophy to an end, becoming the first Washington-based team to win a major title since the Redskins won the Super Bowl in 1992.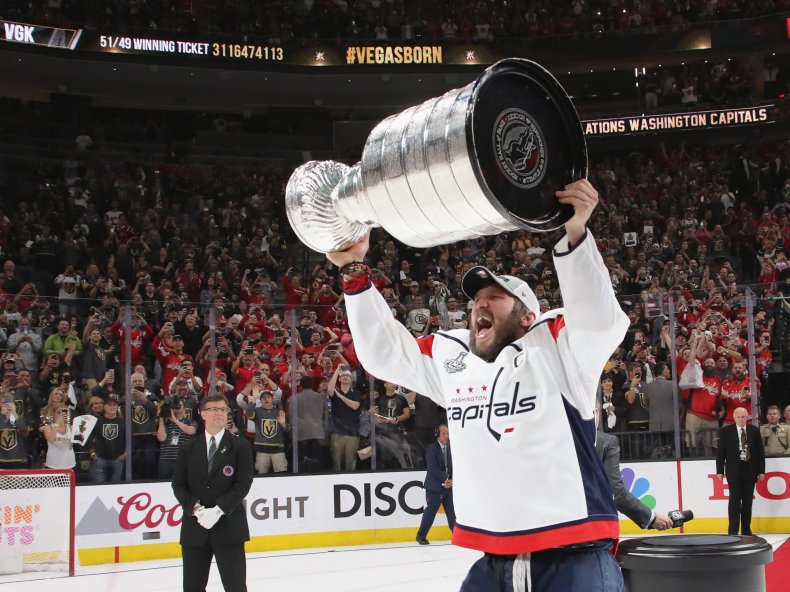 If that wasn't enough, the Caps clinched the Stanley Cup in Las Vegas, a place that knows a thing or two about celebrations. The party started Thursday night on the Las Vegas Strip, carried on into Friday as the Caps flew back to Washington, and then into the weekend, as a boisterous crowd welcomed the Capitals at Nationals Park.
From there the party made it to Georgetown. Wherever the Caps went, the Stanley Cup and refreshments followed.
Caps captain Alexander Ovechkin has certainly made the most of the revelry, drinking in every step of the victory lap—and a copious amount of beer—he must have dreamed of since he moved to Washington 13 years ago.
The Russian sang "We Are the Champions" while getting sprayed with beer, and on Friday managed the rather unique feat of bringing the Stanley Cup into a Vegas club, where he let loose alongside famous DJ Tiesto.
But the celebrations took their toll, as a picture tweeted by Nicklas Backstrom showed, with Ovechkin sleeping on the flight back to Washington while hugging the Stanley Cup.
"The Great Eight" was later spotted holding the cup aloft in the middle of the inning as the Capitals attended the Nationals' match against the San Francisco Giants.
Ovechkin probably reserved his best for the Caps' party in Georgetown, drinking beer from the Stanley Cup before swimming with his teammates in a public fountain and then meeting Ivanka Trump.
After a hectic few days, the Capitals' captain obviously felt the need to recover and get some rest, so he headed to bed with his pregnant wife, Nastya. Ovi being Ovi, he opted to take the Stanley Cup with him too, just in case he hadn't spent enough time with the trophy since first getting his hands on it Thursday night.
By all accounts it sounded as though the Capitals and Ovechkin had an incredible few days, but the real test looms large on the horizon. No, not the training camp ahead of next season, but their victory parade, which is scheduled for June 12.
It would be a huge surprise if Ovi didn't lead the party once again.