Alex Trebek's Best Quotes: Remembering the Beloved 'Jeopardy!' Host
Alex Trebek, the iconic host of the popular game show Jeopardy!, died in Los Angeles on Sunday at age 80. His passing was confirmed by a tweet from Jeopardy!'s Twitter account.
"Jeopardy! is saddened to share that Alex Trebek passed away peacefully at home early this morning, surrounded by family and friends. Thank you, Alex," the caption read.
Although he is gone, his legacy and memory will remain. Here are a few of Trebek's memorable moments and quotes.
On Jeopardy!
In 2016, Trebek told NPR that he loves to spend time with the contestants on the show when asked what it has been like hosting the game show for all these years.
"I love spending time with bright people, said Trebek. "And Jeopardy! puts me in touch with bright folks all the time."
Trebek reportedly made a habit of chatting with contestants to get a sense of their personalities during the show.
"Some of them — for want of a better term— are nerds, but most of them are just bright people," Trebek told NPR. "What I'm trying to do is get across to the viewers that these are ordinary folks — you're going to like them."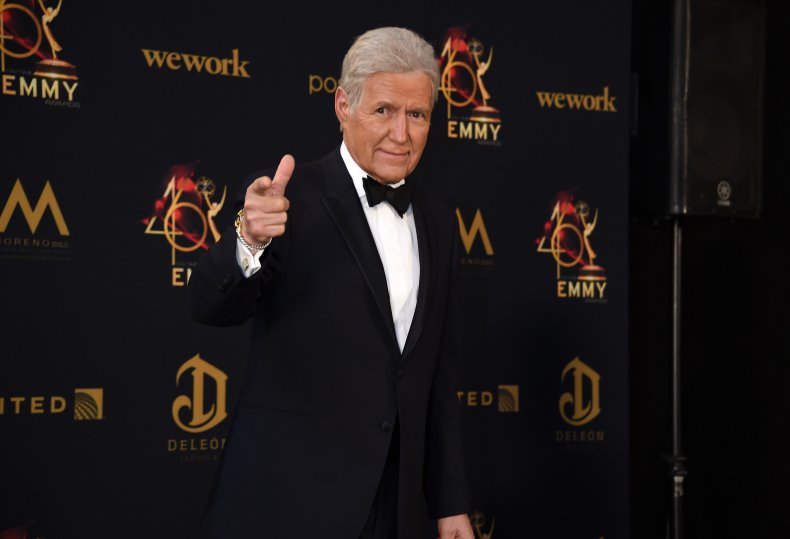 On Love
When asked about his wife Jean Currivan Trebek in a 2019 interview with People magazine, the game show host stated that he is content in his life, but the only regret was that he wished he would have met Jean sooner.
"I'm pretty satisfied with my life," Trebek said. "But my wife Jean and I have been together almost 29 years, and I was thinking about President [George H. W.] Bush when he died, and all the comments about his life about what a nice guy he is, and how he and his wife had been together 73 years. I thought, 'Oh my gosh, if I'd just met Jean in my 20s we could have had a longer life together.'"
He added: "I guess if I'd met her when I was in my 20s she wouldn't have been born yet. But hey, 29 years is pretty good."
On Cancer
Since his diagnosis of stage 4 pancreatic cancer last March, Trebek was very open about his struggles with the depression and pain associated with his illness.
"There was one day a few weeks ago when Jeanie asked me in the morning, 'How do you feel?' And I said, 'I feel like I wanna die.' It was that bad," Trebek told Good Morning America this past July. "I apologize to her and explain that it has nothing to do with my love for her or my feelings for her. It just has to do with the fact that I feel like I'm a terrible burden to her. And that bothers me tremendously."
One thing that helped him get through each day is his love for Jeopardy! He wrote a book about his life and illness titled The Answer Is...: Reflections On My Life.
On Politics
Amid the coronavirus pandemic and political unrest leading up to the 2020 election, Trebek asked Americans to be kinder to each other in a July interview with NPR this year.
"Be kinder to each other," Trebek said. "I see America in a crisis situation right now in so many ways. And I want people to open up their hearts, and open up their hands, and open up their wallets to help each other. Because if ever there was a time when we needed to do that, that time is now."
On Life
In a 2012 interview with Washington Post journalist Dan Zak, Trebek said that he doesn't waste time worrying about what might have been if he didn't host Jeopardy!.
"I don't spend any time whatsoever thinking about what might have been," said Trebek. "It is what it is. My life is what it is, and I can't change it. I can change the future, but I can't do anything about the past."
The game show host, who normally has all the answers, continued to note that he will pass with many questions unanswered.
"I will die without having come up with the answers to many things in life," said Trebek.