Alex Vindman Sues Trump Allies, Accuses Them of Intimidation, Harassment
Former Army Lt. Col. Alexander Vindman is suing former President Donald Trump's son and close allies for "unlawful intimidation and retaliation" while he was testifying in impeachment proceedings against Trump in late 2019 and early 2020.
The lawsuit filed Wednesday seeks "long-overdue accountability for unlawful actions knowingly undertaken" by Trump allies and associates to help the former president "obstruct a constitutional proceeding by intimidating and retaliating against a key witness." The lawsuit names Donald Trump Jr., Trump adviser Rudy Giuliani, and former White House communication officials Dan Scavino and Julia Hahn as defendants.
Vindman says Trump Jr., Giuliani and others tried to intimidate him before he testified in the first impeachment hearing. The suit alleges "cooperate and tell the truth at your own peril" was the message sent then, and it continues to be sent today to those being subpoenaed by the January 6 committee.
Vindman, whose family fled to the U.S. from the Soviet Union when he was a child, experienced a number of attacks from Trump allies and conspirators for his testimony, the lawsuit says. The defendants tried to stop Vindman's promotion to colonel, fired him, accused him of espionage, treason, being aligned with Ukraine, being disloyal to the U.S., committing perjury, and leaking classified information. The suit says because of this, he ultimately decided to retire, was unable to pursue a career which he had expertise in, made it difficult to find another job outside of the military, and physically feared for the safety of his family.
His twin brother, Yevgeny, who was a lawyer for the National Security Council, was also fired and escorted out of the White House, the lawsuit says.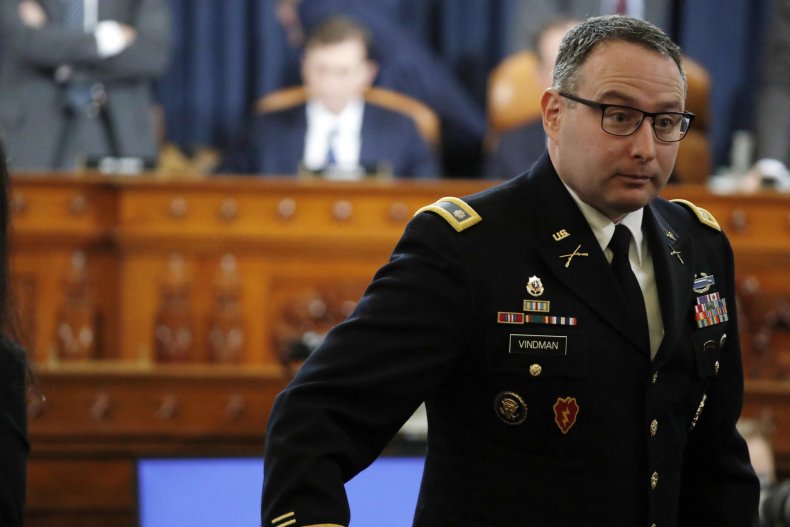 Vindman was the director for Eastern European, Caucasus, and Russian Affairs and the National Security Council. While in the position, Vindman listened to a phone call on July 19, 2019, between Trump and the president of Ukraine, Volodymyr Zelenskyy, wherein Trump tried to coerce Zelenskyy to launch an investigation into President Joe Biden and his son Hunter, the lawsuit says. In exchange, there would be an official White House visit to Ukraine and the release of vitally important security assistance funds that Congress had directed to Ukraine.
He reported the call and was subpoenaed to testify before Congress, both privately and publicly, according to the lawsuit.
In a USA Today op-ed, Vindman wrote that he filed the lawsuit because he believes "in the active role all citizens must play in upholding our democracy.
"I hope this lawsuit will shed more light on the abuses that are chipping away at our democracy, and eventually bring a measure of justice to those who are responsible," Vindman wrote in the op-ed.