How to Play 'Skyrim' on Alexa: Bethesda's E3 Joke Is Actually a Thing
Bethesda's Skyrim for Alexa isn't actually a joke. Find out how to play the RPG port, here.
Skyrim debuted in 2011 and since that time Bethesda has been faithfully porting the hit RPG to every platform imaginable -- even Amazon's voice-enabled assistant, Alexa. During the company's E3 keynote Sunday, Bethesda made light of their constant porting of the iconic game by presenting the audience with a humorous trailer, touting the benefits of a new Skyrim Very Special Edition, made just for your favorite in-home virtual assistant. The video featured comedian Keegan-Michael Key, which left the audience to assume it was all a farce. Turns out the joke was on them: Skyrim Very Special Edition truly does exist and is available to "play" as long as you own a device that can use Alexa.
Below we've put together a quick guide on how to use the Skyrim Alexa Very Special Edition and what you can expect from Bethesda's latest port of the game.
How to Play Skyrim on Alexa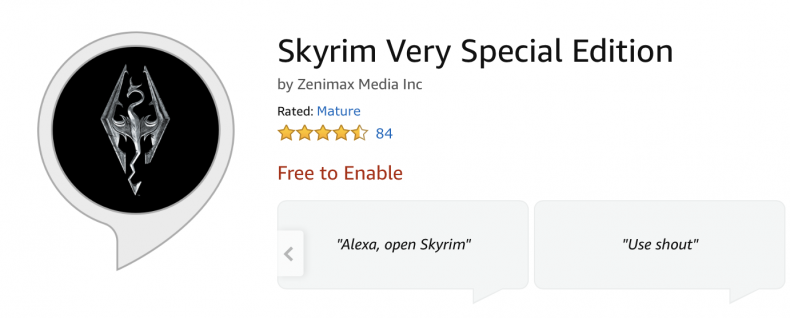 Enable Skyrim - Before you can play, you will need to enable the Skyrim Game on Alexa. You can do this by logging into your Amazon account and visiting the enable page, here.
Get Alexa - If you already have an Alexa equipped device such as the Amazon Echo or Dot, all you need to do is say "Alexa, Play Skyrim" to get started.

For those who don't have an Alexa equipped device, as long as you have an iPhone, iPad or Android device, you just need to install the Amazon shopping app. (iOS download) (Android download).
Once the app is installed, tap the circular Alexa icon. It may look like a chat bubble. On iOS devices, it's in the upper right-hand corner of the screen. On Android, it is found near the bottom of the screen.
After tapping the button say "Alexa, Play Skyrim" and the game begins.
How Does Alexa Skyrim Gameplay Work?
So the Alexa Skyrim game basically feels like reading a choose your own adventure book. As soon as you say "Alexa Play Skyrim" she'll give you a few quick stats about your player level and then will launch into a brief story scenario, which offers you two or three ways in which you can respond. The way you respond will determine where you go next, enemies you encounter and gear you find. During a battle, you'll have options such as use a weapon, spell or shout skill. After you make a decision, Alexa will let you know the outcome. In a battle, for instance, she'll let you know how much damage you took or how much you dealt to the enemy. We played the game for about 10 minutes and didn't run out of story options so there's no telling how deep it actually goes. Regardless, it's a fun easter egg every Skyrim fan should give a whirl. Be sure to check it out and let us know what you think.
Game Description (From Amazon)
Players: 1
Bethesda Game Studios is proud to present Skyrim... for Alexa. Yes, that's right, the version of Skyrim you never saw coming has finally arrived on the platform you never asked for.
For the very first time ever, take your rightful place as the Dragonborn of legend (again) and explore Skyrim using the power of your own voice...your Thu'um!
Prepare to:
Quest and explore the dungeons of Skyrim
Master your weapons, spells and shouts
Encounter people who constantly need your help
Guard your knees against arrows
Fatally harm mudcrabs
Fight dragons
Die
Fight another dragon
Eat sweet rolls
● Fus Ro Dah
● Chase butterflies
● Burn spiders
● Walk straight up a mountain instead of going around
● Vanquish malevolent evils
● There's probably mead somewhere in there
● No goblins, though
● Soul trap woodland creatures
● Victory or Sovngarde, whichever one you prefer
● Also cheese wheels and a fork
● Fail to collect all stones of Barenziah for like the 5th time
● Talk with guards
● Unleash the power of your Thu'um
● Open wooden doors
● Open iron doors
● Other epic things
● And more!