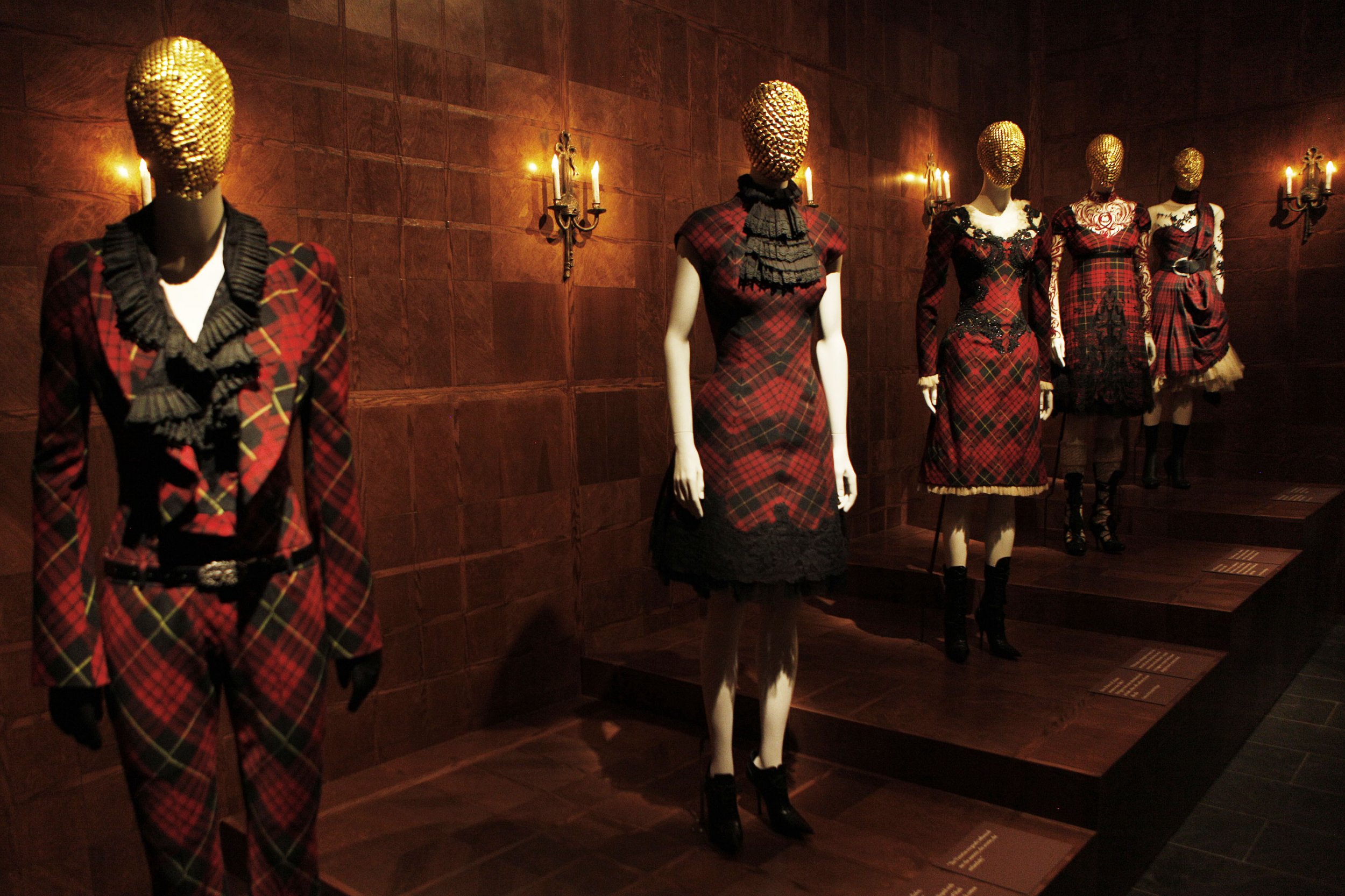 A new biography of the fashion designer Alexander McQueen by Andrew Wilson, published this month in the U.S.—it is already published in the U.K.—attempts to describe the often difficult character from humble origins who soared to become the master of sharply tailored women's fashion.
Here Wilson describes a typical McQueen fashion show, titled Voss, which on September 26, 2000 was, also typically, staged in a disused bus depot in London.
Voss was one of the highlights of McQueen's career. [This was not so much] a fashion show as a fully formed art installation that interrogated attitudes towards beauty and ugliness, sex and death, sanity and madness. Backstage, however, the atmosphere was far from gloomy.
Kate Moss, a little piqued by having her head swathed in muslin, took hold of a bandage and wrapped it around hairstylist Guido Palau. "He did not like a taste of his own medicine," she said. "There is a picture in the office at McQueen of me and Lee [McQueen] cackling, laughing our heads off because I got him [Guido] back."
Before the show started, the audience—which included some of the world's most beautiful women, including Gwyneth Paltrow, as well as dozens of style and fashion critics—were forced to look at themselves for an hour, their images reflected from the surface of an enormous rectangular box on the stage that had been constructed from surveillance glass.
Finally, with many people in the audience already feeling distinctly uncomfortable, the models started to emerge. With their heads bandaged as if they had just undergone a mass lobotomy (or face-lift), the beautiful girls, unable to see out, paced up and down the catwalk, which was designed to look like a padded cell, and around a sinister darkened box that sat center stage.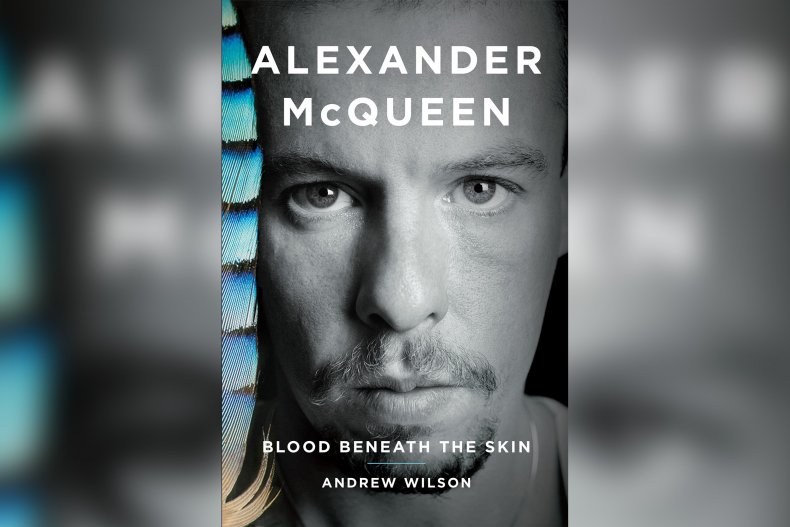 The outfits themselves were both stunningly beautiful and deeply unsettling. There was a dress made from blood-red glass medical slides. Another dress had been constructed from razor-clam shells that Lee and George [Forsyth, McQueen's lover] had found on a beach in Norfolk.
There was a coat of purple and green silk woven with a thermal image of McQueen's face on the back. A startling Japanese-inspired jacket and trousers were made from pink and gray bird's-eye cloth and twinned with a hat the size of a small coffin embroidered with silk thread and real amaranth flowers.
Finally there was an exquisite underdress of oyster shells worn below a dress constructed from a nineteenth-century Japanese screen that Lee had found in the Clignancourt flea market in Paris and which had sat in his home until six months before the show.
"The screen was so fragile that when we touched it, it crumbled," said Sarah Burton. "We fused it onto cotton so it wouldn't fall apart, then lined it with silk so it would hold its shape. The whole thing was done by hand. It was too delicate to put on a machine. Alexander did most of it himself. He didn't want any pleats or darts, he wanted it to be very flat, to show off the workmanship which is fantastic."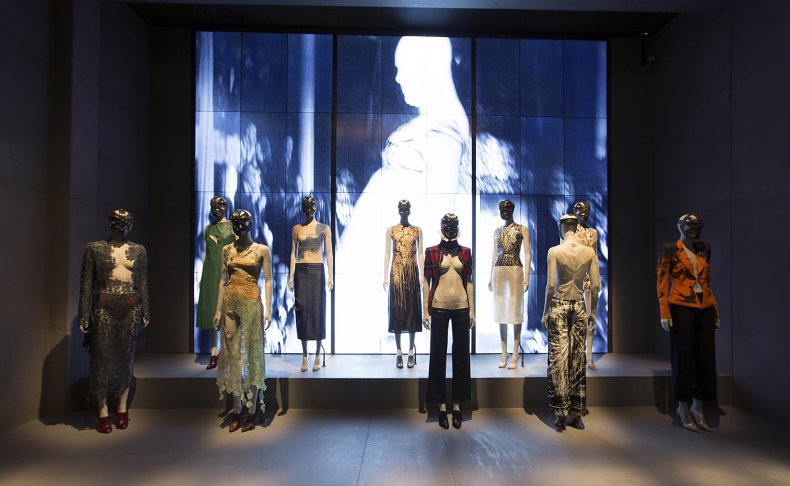 The beauty of the clothes, however, was immediately challenged by the final image. As the last model walked from the set, a light started to burn inside the mysterious dark glass box and heavy breathing emanated from the PA system.
The sides of the box opened and smashed to the ground to reveal a fat, naked woman in breathing apparatus, together with hundreds of moths fluttering in the air, a reworking of Joel-Peter Witkin's 1983 photograph Sanitarium.
"I am McQueen's pulsing mirror, fashion's greatest fear staring right back at them," wrote Michelle Olley, the model whom McQueen asked to strip off and don a gas mask, in her diary at the time. "I am the death of fashion. The death of beauty."
Excerpted from Alexander McQueen: Blood Beneath the Skin by Andrew Wilson. Copyright © 2015 by Andrew Wilson. Published by Scribner, a Division of Simon & Schuster, Inc. Originally published in 2015 in Great Britain by Simon & Schuster UK Ltd. Reprinted with permission.