Alexander Vindman Says He Has 'No Regrets' About Impeachment Testimony
Retired U.S. Army Lt. Col. Alexander Vindman said he has "no regrets" about his decision to testify in the House impeachment hearings against President Donald Trump last year, a move that later saw him fired from his National Security Council post.
Speaking to CNN on Monday night, Vindman said his departure from the Army was "unforeseen" and that he'd had "every intention of staying on," but added that he felt his decision to testify may have been "more important" in hindsight.
The former White House NSC staffer added that he believed he had defended the U.S. "in a very meaningful manner" by giving evidence to the House impeachment inquiry into the Trump-Ukraine scandal, which centered on a phone call between President Trump and his Ukrainian counterpart Volodymyr Zelensky.
Appearing on the OutFront show, Vindman said: "I have no regrets about how things turned out. Yes, I left the military unforeseen, I had every intention of staying on.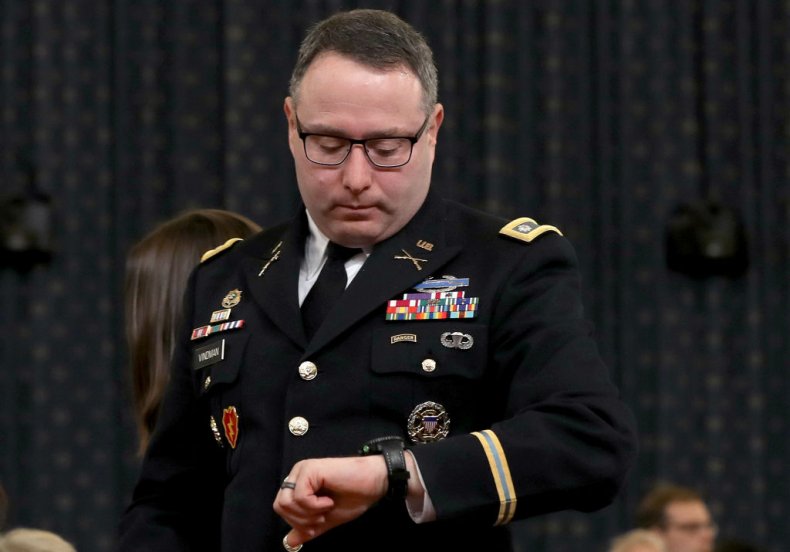 "But, I think my role, in certain ways, may have been more important, in that I was able to do my part: defend this nation in a very meaningful manner and expose corruption by the chief executive.
"I think, in that regard, I've served my nation, and have had the privilege to serve with countless military officers, civilian personnel."
Ret. Lt. Col. Vindman testified in front of the House in November last year, telling lawmakers that he had reported concerns about Trump's phone call with Zelensky, in which the U.S. president allegedly sought to pressure the Ukrainian leader into opening an investigation into his political opponent Joe Biden.
President Trump repeatedly denied any wrongdoing, and was acquitted by the Republican-controlled Senate in February.
A few days after the commander-in-chief was cleared of criminal charges, Vindman was marched out of the White House after both he and former Ambassador to the European Union Gordon Sondland were fired.
"Today, Lieutenant Colonel Alexander Vindman was escorted out of the White House where he dutifully served his country and his President," Vindman's lawyer David Pressman said in a statement released at the time. "He does so having spoken publicly once, and only pursuant to a subpoena from the United States Congress."
The attorney later added that there was "no question in the mind of any American" as to why Vindman lost his job on the National Security Council in the wake of the president's impeachment acquittal. The Lt. Col. retired from the Army a few months later.