Alexander Wang Sexual Assault Allegations—What We Know So Far
Another man has come forward to accuse fashion designer Alexander Wang of sexual misconduct.
More than a dozen people have alleged that Wang, 37, sexually assaulted them at nightclubs and various events. He vigorously denies all the accusations.
Attorney Lisa Bloom, who has worked on a number of high-profile sexual assault cases, is representing 11 of the accusers.
A 12th man, Keaton Bullen, told the BBC on February 24 that he was sexually assaulted by Wang in a New York City nightclub in 2019.
The 21-year-old student said he had encountered the designer at the Fishbowl club, where they discussed mutual friends at the Parsons School of Design. After spending time drinking at Wang's table, Bullen said the designer led him to the dancefloor and then "unzipped my trousers, put his hands in my pants and started grabbing my penis in front of a bunch of people."
Bullen added: "He then said: 'I want to take you home with me.' I felt weirded out ... and removed myself from the situation as fast as possible."
One of Wang's lawyers, Paul Tweed, said he was awaiting CCTV footage from the nightclub that "his client believes will totally disprove this allegation."
Bloom told Newsweek: "I am proud to represent 11 men with claims against Alexander Wang."
In an earlier statement to People, the attorney said: "The fashion industry is long overdue for a reckoning of its frequent, disturbing mistreatment of models. I've represented many alleging sexual misconduct in recent years.
"Models are not props, and they have the same rights to workplace respect as everyone else. I thank everyone who has reached out in support, and I'm happy to speak for free and confidentially to any others, including witnesses."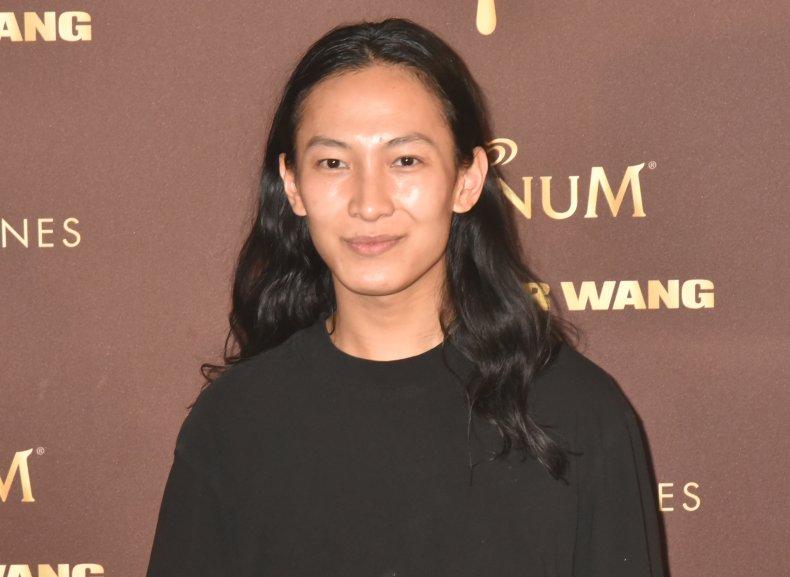 Last December, British model Owen Mooney claimed he was assaulted by Wang in a New York City nightclub in 2017.
"I was by myself at one point and this guy next to me obviously took advantage of the fact that no one could move," Mooney said in a video posted to TikTok, which went viral.
"And he just started touching me up. Fully up my leg, in my crotch. It made me freeze completely because I was in so much shock."
After facing a barrage of criticism, Wang released a statement in December denying the claims.
"Over the last few days, I have been on the receiving end of baseless and grotesquely false accusations," the designer said in the statement sent to The New York Times. "These claims have been wrongfully amplified by social media accounts infamous for posting defamatory material from undisclosed and/or anonymous sources with zero evidence or any fact-checking whatsoever."
David Casavant, a 30-year-old stylist, told The New York Times last week that Wang had assaulted him at a party in Brooklyn in 2017. Casavant said the designer pulled down his pants and underwear while he was drunk.
"I was so apparently in a vulnerable state," said Casavant. "Even if it's at a party late at night, I don't think that's normal behavior."
Wang has also denied this claim. One of his lawyers Eric George told the newspaper that Casavant had an "irrefutable years-long personal animus toward Mr. Wang."
Bloom, representing Casavant, responded: "Mr. Casavant stands by his account. Mr. Wang's ridiculous personal attacks on him say more about Mr. Wang than they do about him."
Stories about Wang's conduct have circulated for some years. After Mooney's video went viral, Diet Prada—an Instagram account that acts as a fashion industry watchdog—compiled a list of accusations against him.
Gia Garrison, a 24-year-old DJ, posted on Facebook about a similar experience with Wang at a New York club in February 2017.
Garrison told the BBC: "I was dancing near him when he reached out his hand, grabbed my bikini bottoms and dragged it downward in front of everyone.
"As a trans woman with discomfort about certain parts of myself that I've since grown to love, I don't want someone to expose my entire body like that."
Wang's representatives have also denied this allegation, saying he had "never grabbed any woman" in this manner.
In 2019, rapper Azealia Banks shared on Instagram a series of anonymous allegations of groping by the designer.
Nick Ward claimed on Twitter four years ago that Wang had grabbed his genitals at a Brooklyn concert in September 2017. The designer has denied Ward's claim.