Alexandria Ocasio-Cortez Invites Activist Who Protested Brett Kavanaugh Nomination as Her State of the Union Guest
A woman activist and sexual assault survivor who confronted former GOP Senator Jeff Flake in an elevator last year during the confirmation process of then-Supreme Court nominee Brett Kavanaugh will be the guest of Congresswoman Alexandria Ocasio-Cortez, Democrat from New York, to the State of the Union on Tuesday evening.
Ana Maria Archila, the co-executive director of the Center for Popular Democracy, and another woman confronted the now-retired Arizona senator after he came out in support of Kavanaugh. At the time, the nominee was accused by several women of sexual misconduct. Archila told Flake about her own prior experience with sexual assault and pleaded with him not to support Kavanaugh.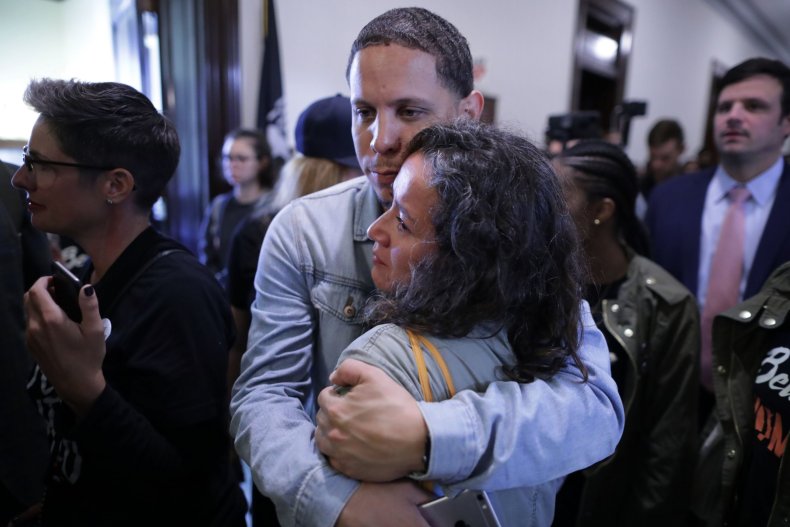 "I didn't tell anyone, and you're telling all women that they don't matter, that they should just stay quiet because if they tell you what happened to them you are going to ignore them," Archila said as she and others prevented the elevator doors from closing. "Look at me when I'm talking to you. You're telling me that my assault doesn't matter, that what happened to me doesn't matter, that you're going to let people who do these things into power."
Archila has welcomed the invite from Ocasio-Cortez, a 29-year-old self-described democratic socialist who has already made waves since being sworn in last month as the youngest woman ever to serve in Congress.
"I just feel particularly moved that in her first participation in the State of the Union she is inviting me to join and inviting that moment of the elevator, my confrontation with the men who do not understand the life of women and the lives of people who are not in power, that she's inviting that into the imagination of people again," she told The Intercept
"Had it not been for the courage that I watched, the courage of the people that had been protesting for weeks, the courage of women who were telling their stories," Archila said, she "would not have ever told my story otherwise—I hadn't in 30 years."
Flake, who sat on the Senate Judiciary Committee, said he would vote to advance Kavanaugh for a final confirmation vote. But following the encounter, Flake called for a brief FBI investigation into the sexual assault claims made by Christine Blasey Ford, a woman who alleged Kavanaugh assaulted her at a high school party in the 1980s.
Ultimately, Flake voted to advance and confirm Kavanaugh.