Alexandria Ocasio-Cortez, Chelsea Clinton Back Ilhan Omar's Apology, Ask Where Donald Trump's Is
A pair of high-profile liberal figures on Tuesday embraced an apology from Democratic Minnesota Representative Ilhan Omar, while wondering when we might get a "sorry" from President Donald Trump.
After being condemned by Democratic leadership—who said "Congresswoman Omar's use of anti-Semitic tropes and prejudicial accusations about Israel's supporters is deeply offensive"—Omar apologized on Monday for the tweets criticized by some as anti-Semitic, thanking "Jewish allies and colleagues who are educating me on the painful history of anti-Semitic tropes." Omar had posted a tweet that suggested the American Israel Public Affairs Committee (AIPAC) bought influence over politicians.
Democratic New York Representative Alexandria Ocasio-Cortez threw her support behind Omar in response to a tweet from The Forward, which quoted a story that read: "If you denounce Ilhan Omar but support Donald Trump, you don't really oppose bigotry. You don't even really oppose anti-Semitism. What you oppose is criticism of Israel."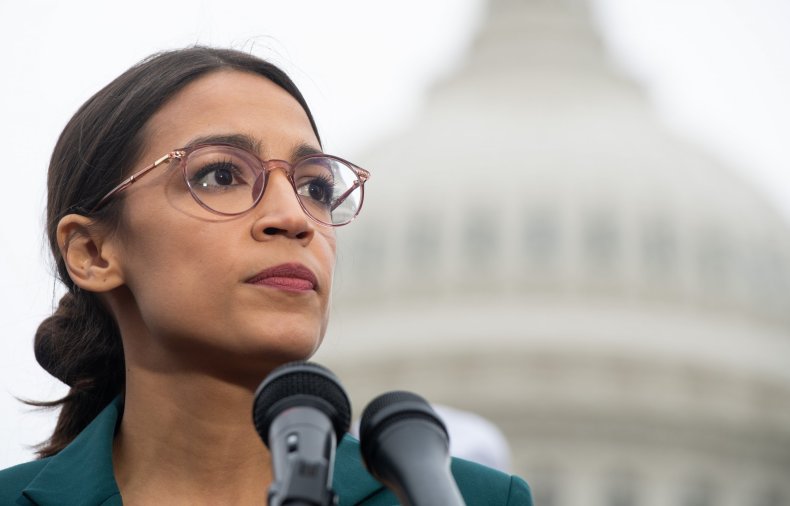 Ocasio-Cortez tweeted in response: "Unlike this President, Rep. [Omar] demonstrated a capacity to acknowledge pain & apologize, use the opportunity to learn abt history of antisemitism,+grow from it while clarifying her stance. I'm also inspired by Jewish leadership who brought her in, not push her out, to heal."
She followed up in another post: "Lots of people here proclaiming to be "woke" trying to police communities on what they are/aren't allowed to be upset by. I'm proud [Omar] raised the issue of lobbyist in politics & equally proud of her sensitivity to communities. Both are possible."
Chelsea Clinton, who criticized Omar for her tweets, expressed a sentiment similar to that of Ocasio-Cortez. In response to a tweet that noted Trump called for Omar to resign from Congress or the House Foreign Affairs Committee, Clinton tweeted: "Mr. President, Congresswoman [Omar] apologized for using an anti-Semitic trope & demonstrated leadership. When have you ever apologized for your embrace of white nationalism & your exploitation & amplification of anti-Semitic, Islamophobic, racist, xenophobic, anti-LGBTQ hate?"