Democratic Congressman Delivers Message to Alexandria Ocasio-Cortez: 'Don't Attack Your Own People'
Freshman congresswoman Alexandria Ocasio-Cortez has already made some enemies on the right, but some members of her own party are also expressing concern over her progressive refusal to fall in line with House Democrats.
"I'm sure Ms. Cortez means well, but there's almost an outstanding rule: Don't attack your own people," Representative Emanuel Cleaver told Politico. "We just don't need sniping in our Democratic Caucus."
In the report published on Friday, Politico cited nearly 20 lawmakers and aides who described Democrats as anxious when it comes to Ocasio-Cortez's ability to unite newcomers and progressives against establishment members of Congress.
"She's new here, feeling her way around," Representative Kurt Schrader told the news outlet. "She doesn't understand how the place works yet."
Despite a government shutdown that has effectively shuttered Washington D.C., Ocasio-Cortez has already proved to wield more influence than most freshman lawmakers. In her first few weeks in Congress, she has challenged Democratic leadership on a new set of House rules and a committee on climate change.
Ocasio-Cortez broke with House Speaker Nancy Pelosi by voting against the package of new legislative rules over the "pay as you go" requirement, which would allow for challenges to any bill that adds to the federal deficit.
Ocasio-Cortez slammed the proposed rule change on Twitter as "not only bad economics" but also a "a dark political maneuver designed to hamstring progress on healthcare+other leg."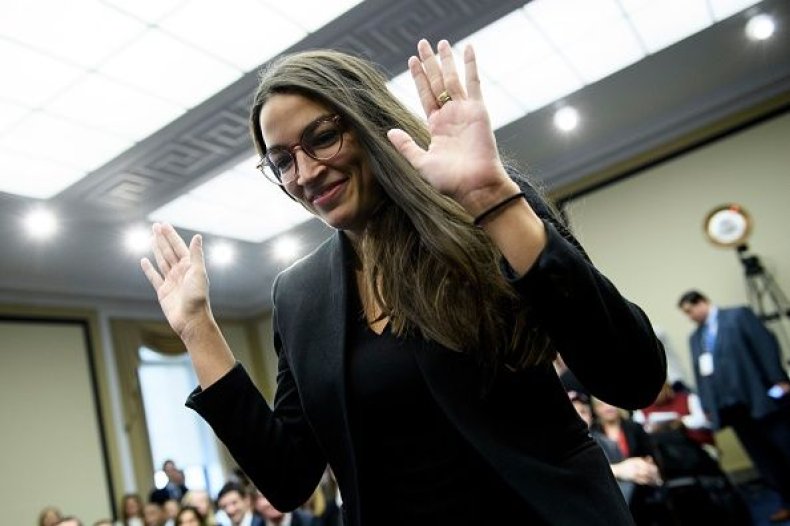 Ocasio-Cortez also took aim at House leadership when it was announced that a new climate change committee, championed by the freshman lawmaker, would not have subpoena power. In response, she criticized the committee as "weak" on Twitter.
"Our goal is to treat Climate Change like the serious, existential threat it is by drafting an ambitious solution on the scale necessary—aka a Green New Deal—to get it done," she wrote. "A weak committee misses the point & endangers people."
But most of all, the Democratic lawmakers and aides consulted for the Politico report expressed concern that Ocasio-Cortez was trying to push out established members of the party by backing primary opponents. They pointed to Ocasio-Cortez's hiring of two former organizers from Justice Democrats, the progressive group that helped her beat Democratic incumbent Joe Crowley and get elected.
In a November conference call, Ocasio-Cortez also urged progressive activists to run for office. "That's really what we need to do to save this country," she told them.
Ocasio-Cortez declined to comment to Politico, but she recently told the news outlet that she wasn't trying to back progressive candidates against incumbent lawmakers. "I'm focused on my job," she said.
Ocasio-Cortez was recently criticized by former independent Senator Joe Lieberman, who said that he hopes she is not the future of the Democratic Party. Lieberman added that while Ocasio-Cortez has gotten a "lot of attention," he sees House Democrats moving in a more centrist rather than progressive direction.
Ocasio-Cortez fired back at Lieberman in a tweet, writing: "New party, who dis?"