Alexandria Ocasio-Cortez Accepts Chrissy Teigen's Twitter Invitation to Watch Grammys at Pizza Party
Rep. Alexandria Ocasio Cortez (D-N.Y.) and model Chrissy Teigen are planning a Grammys-watching pizza party together.
On Saturday, Ocasio-Cortez accepted Teigen's invitation to join her and some friends on Sunday night to watch the 61st Annual Grammys Awards ceremony while feasting on pizza.
"@AOC hello my hero, do you wanna come over and watch the grammys with us? There will be pizza," Teigen tweeted to Ocasio-Cortez on Friday.
Modern Family actor Jesse Tyler Ferguson, who will also apparently be at the party, then offered the New York congresswoman his pizza slices. "She can have my portion!" he wrote.
"Yes! We can live-tweet me burning something in the kitchen," the congresswoman responded.
"Perfect!" Teigen replied later. "We have extremely different strengths except I still sometimes burn things."
The duo's exchange quickly drew a barrage of comments from other social media users who couldn't be happier about the match-up.
"This is the crossover I didn't know I needed but can't wait to witness," one user wrote.
Another added: "Omg this friendship is something I desperately wanted but didn't know until right now."
Widely considered the fastest rising star in the Democratic party, Ocasio-Cortez made history as the youngest female ever elected to Congress last November at age 28 after she beat Rep. Joe Crowley in the New York Democratic primary.
On Saturday, Ocasio-Cortez blamed Republican critics for conspiracy theories on social media after rumors began spreading online that accused her of being secretly wealthy. Shortly after a Facebook user called Donn Johnson accused Ocasio-Cortez of closing two checking accounts, having a credit score of 430 and being evicted by two sheriffs, Snopes.com debunked the claims and found they carried a "lack of evidence."
"This stuff is really sad," Ocasio-Cortez tweeted on Saturday, referring to the rumor. "The GOP is so intellectually bankrupt that they no longer engage to debate issues in good faith, but instead seek to lie, distort, name-call, target, & destroy people/communities w any means possible. It's a virus and a race to the bottom."
Ocasio-Cortez frequently uses Twitter to reach out to her supporters and take on critics of her "socialist" policies.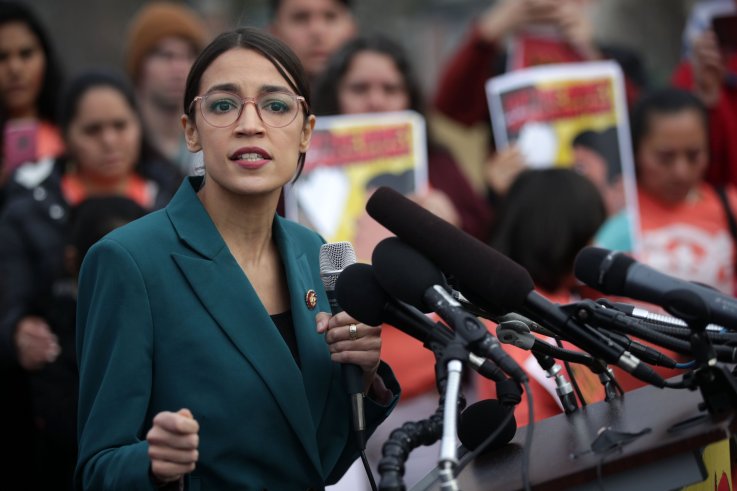 Alexandria Ocasio-Cortez Accepts Chrissy Teigen's Twitter Invitation to Watch Grammys at Pizza Party | U.S.