Congresswoman Alexandria Ocasio-Cortez, a New York Democrat, responded to a Wall Street Journal op-ed authored by Senator Joe Manchin, a West Virginia Democrat, on Thursday, criticizing the centrist for balking at a spending bill while pandering to corporate lobbyists.
Manchin, whose vote in the 50-50 Senate is imperative to Democrats' legislative ambitions, came out against President Joe Biden's ambitious $3.5 budget bill, citing poor foresight on the bills' economic consequences.
"I, for one, won't support a $3.5 trillion bill, or anywhere near that level of additional spending, without greater clarity about why Congress chooses to ignore the serious effects inflation and debt have on existing government programs," Manchin said in the op-ed.
The piece warned Democrats to dial back their plans to legislate the largest roll-out of social programs since the New Deal. But the progressive Ocasio-Cortez, a champion of the bill, fired back at Manchin, calling out his relationships with fossil fuel giants.
"Manchin has weekly huddles w/ Exxon & is one of many senators who gives lobbyists their pen to write so-called 'bipartisan' fossil fuel bills," Ocasio-Cortez said on Twitter. "It's killing people. Our people. At least 12 last night. Sick of this 'bipartisan' corruption that masquerades as clear-eyed moderation."
Senator Kyrsten Sinema, an Arizona Democrat, has said she will not vote for the $3.5 trillion spending level. No Republicans have said they would vote to pass, leaving Congress mostly split along party lines.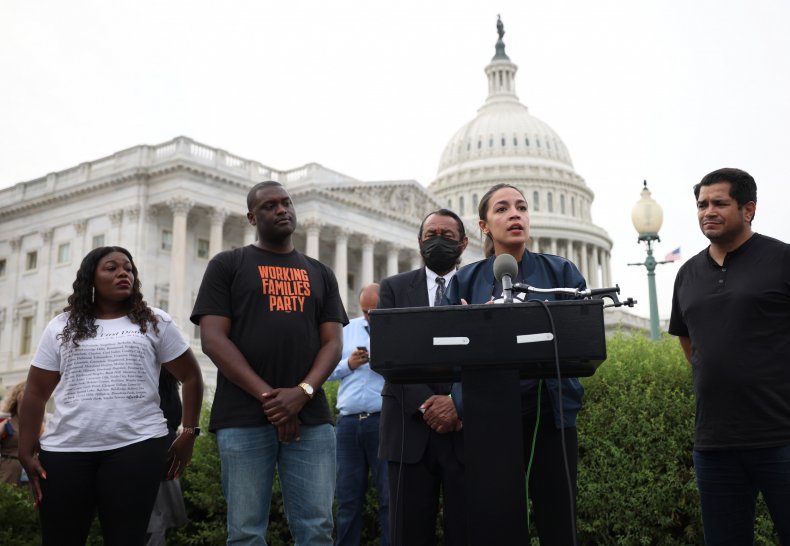 The spending bill, hailed by progressives as a necessary measure to move the U.S. forward, includes priorities like climate-proof infrastructure, Medicare expansion, clean energy investment, and paid child care and sick leave.
The House set a September 27 deadline to vote on the Senate-passed infrastructure bill, which progressives said they will only support in conjunction with the reconciliation package. Lawmakers proposed bankrolling the spending plan by raising taxes on the wealthy and corporations.
Manchin's op-ed indicated that may be difficult: He called for "debt" six times and "inflation" numerous times in order for him to feel confident voting "yes."
Another Democratic New York lawmaker, Jamaal Bowman, echoed Ocasio-Cortez's comments, Tweeting photos of a Hurricane Ida-ravaged New York City as evidence of the country's need for extreme weather preparations.
"Hey Joe, these are the homes in my district after last night's storm. How much destruction do we need to see before it's worth investing in our climate?" Bowman said.
"Climate change is real y'all. If we don't turn things around, it's gonna get much, much worse. The 3.5 trillion dollar reconciliation package is an urgent first step," the congressman said in another tweet.