What Is ActBlue? Alexandria Ocasio-Cortez Fundraising for These 'Risk-Taking' Democratic Candidates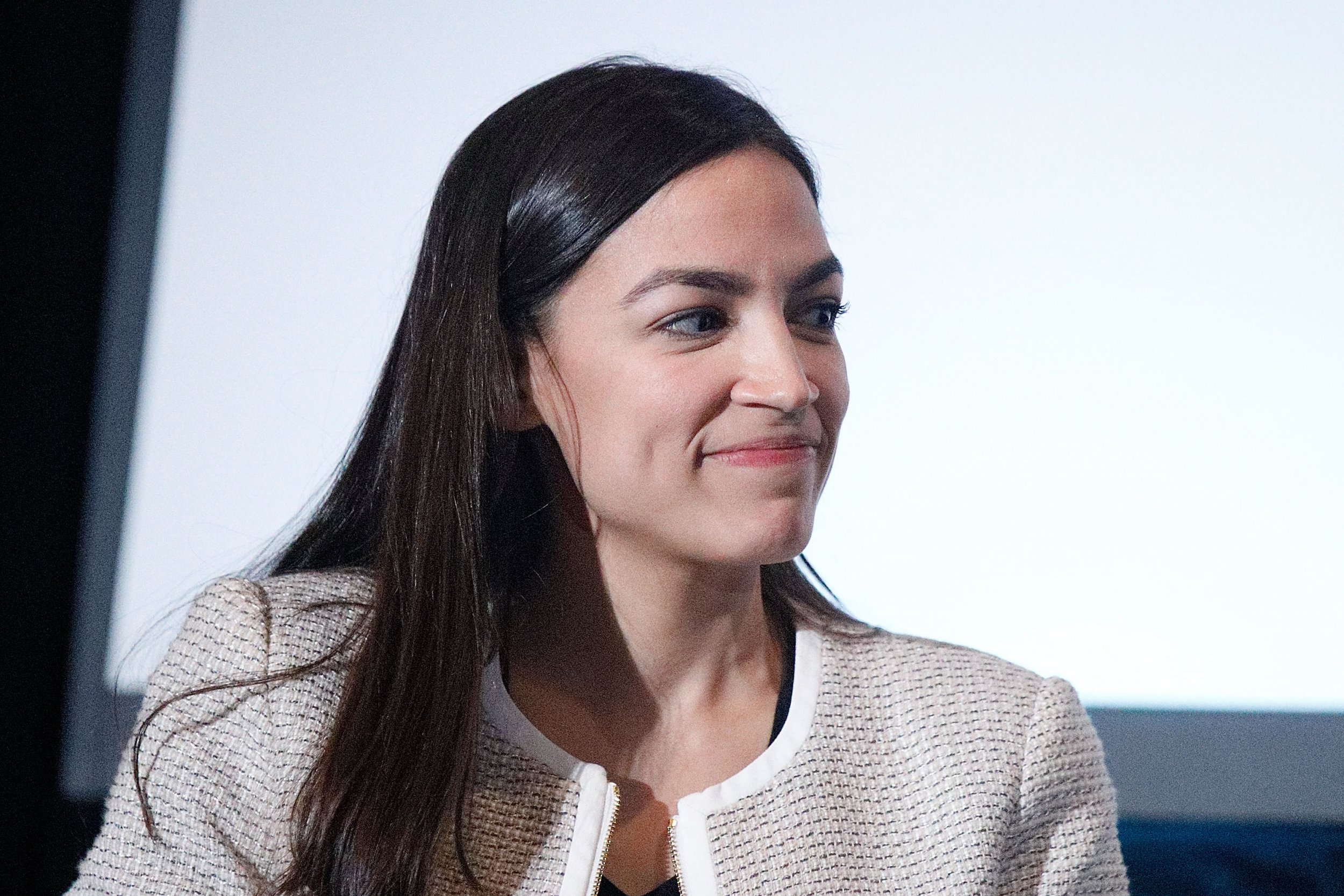 Representative Alexandria Ocasio-Cortez is continuing to promote ActBlue—the fundraising platform used by Democrats to raise small dollar donations for their campaigns and organizations.
This weekend, Ocasio-Cortez called on her Twitter followers to donate more to the fund before the quarterly Federal Election Commission deadline at midnight on Sunday.
"We are blowing through our FEC goal tonight —$50,000—in just a few hours," Ocasio-Cortez wrote. "All of it goes straight to cands who stood strong for working people, climate, gun safety, immigrant youth & more. Thank YOU all for proving that a different politics is possible."
The ActBlue website link Ocasio-Cortez provided lists three "risk-taking" Democratic representatives from swing districts—Jahana Hayes from Connecticut and Katie Hill and Mike Levin from California—whose campaigns will benefit from the money raised.
"It isn't easy being a progressive from a swing district, but these three candidates have stuck to their principles by supporting progressive bills like Medicare-for-all or a Green New Deal," the website explains. "Show them that you have their back," it urges, noting donations will be divided equally among all three representatives.
Founded by two Massachutsetts engineers in 2004, ActBlue grew significantly in the run-up to the 2018 midterms, and, according to The New York Times, facilitated some $1.6 billion in contributions to Democratic candidates and projects. This total was 80 percent higher than the online service managed in the 2014 midterms. ActBlue has secured more than $3.3 billion in donations since it was founded.
More than 14,500 candidates, committees and organizations have benefited from using the platform, The Times reported. Free for all registered Democrats and Democratic organizations to use, beneficiaries must only pay credit card processing fees. ActBlue can send donations to campaigns and organizations within a day. Its staff—numbering about 100 at the end of last year—is paid through donations.
The graphic below, provided by Statista, illustrates contributions to Democratic causes through ActBlue.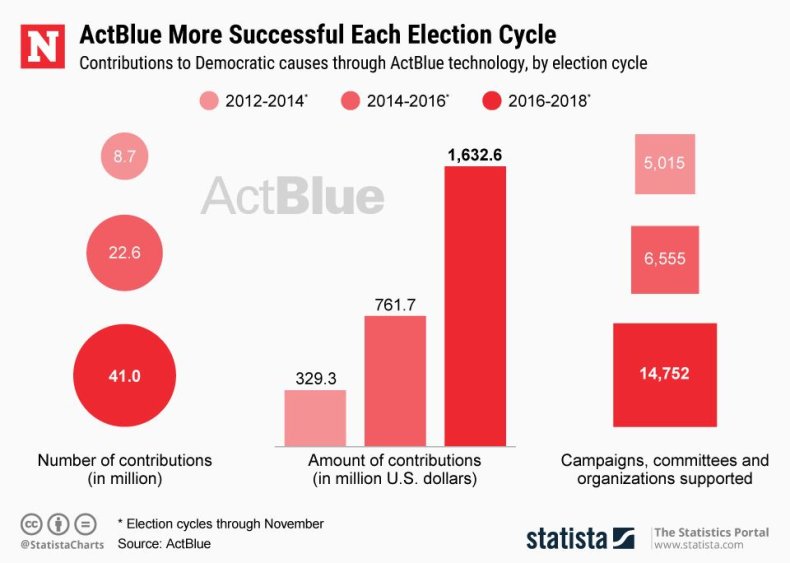 The Republican Party has so far not established its own version of ActBlue, relying instead on mega-donors such as the Koch Brothers, Sheldon Adelson and Richard Uihlein.
After the GOP lost the House last November, Republican Senate Majority Leader Mitch McConnell warned his party that it had fallen badly behind when it came to online fundraising. The Kentucky senator has charged his political team with finding a way to create a Republican version of ActBlue ahead of 2020, Politico reported.
Josh Holmes, a top McConnell adviser, said the GOP has "a helluva problem" with fundraising. "The question is whether we can get everybody to set egos and business considerations aside to solve it. I'd certainly like to try."
This article has been updated to provide further information on ActBlue's donation process, and to include an infographic.