Rep. Alexandria Ocasio-Cortez Will Get Her Own Action Figure After Company Raises Thousands of Dollars in Just Hours
Rep. Alexandria Ocasio-Cortez (D-NY) may soon have her own action figure, allowing the freshman lawmaker to join the likes of several high-profile political figures.
A Kickstarter fundraising campaign launched Tuesday morning by product design company FCTRY had already raised more than $18,000 from more than 600 backers by that afternoon—surpassing its goal of $15,000.
Once it hits the market, the Ocasio-Cortez action figure will stand 6 inches tall and about 1 inch wide while sporting the now-famous outfit she wore when she was sworn into Congress: an all-white pant suit, heels, a small congressional pin on her lapel, large gold hoop earrings, bright red lipstick and hair pulled back into a ponytail. Made from PVC and ABS plastics, which is similar to the composition of LEGOs, the figure's arms will be bendable.
"AOC went from bartending and waiting tables to becoming one of the most influential politicians of our time, all in the span of three years. If Hollywood made a movie about her life, you'd probably say it was too far-fetched to believe," FCTRY CEO Jason Feinberg said in a statement. "Adding her to our collection of political action figures was a no-brainer. AOC is the face of the future."
The company has reached out to Ocasio-Cortez's office in hopes of providing her with one of the figures after they go to production, a company spokesperson told Newsweek.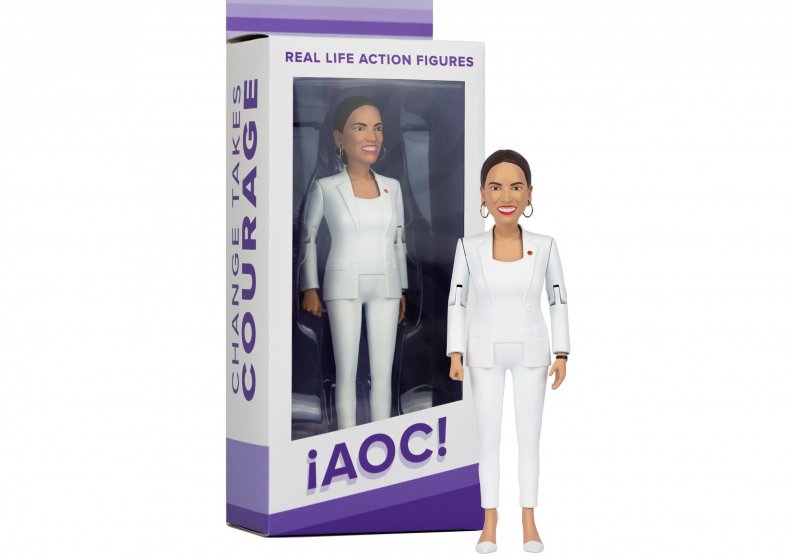 The 30-year-old member of Congress will become FCTRY's latest political figure to be added to their line of "Real Life Action Figures," joining the likes of mainly prominent, liberal political figures and presidential candidates who've been at the center of Washington politics in recent years. They include former special counsel Robert Mueller, Supreme Court Justice Ruth Bader Ginsburg, former President Barack Obama, former Vice President Joe Biden and Sens. Bernie Sanders (D-VT), Elizabeth Warren (D-Mass.) and Kamala Harris (D-Calif.).
FCTRY also makes President Donald Trump, former Secretary of Sate Hillary Clinton, Pope Francis and professional tennis player Billie Jean King action figures, which all go for $20 each.
Past Kickstarter campaigns for the company's figures have also proved fruitful, raising more than $600,000 when it first came out with Ginsburg last year. FCTRY said they've donated portions of the proceeds from past figures to non-profit organizations like She's The First, Border Angels and the American Civil Liberties Union.