Alexandria Ocasio-Cortez and Ted Cruz Agree to Write Bill Banning Members of Congress From Becoming Lobbyists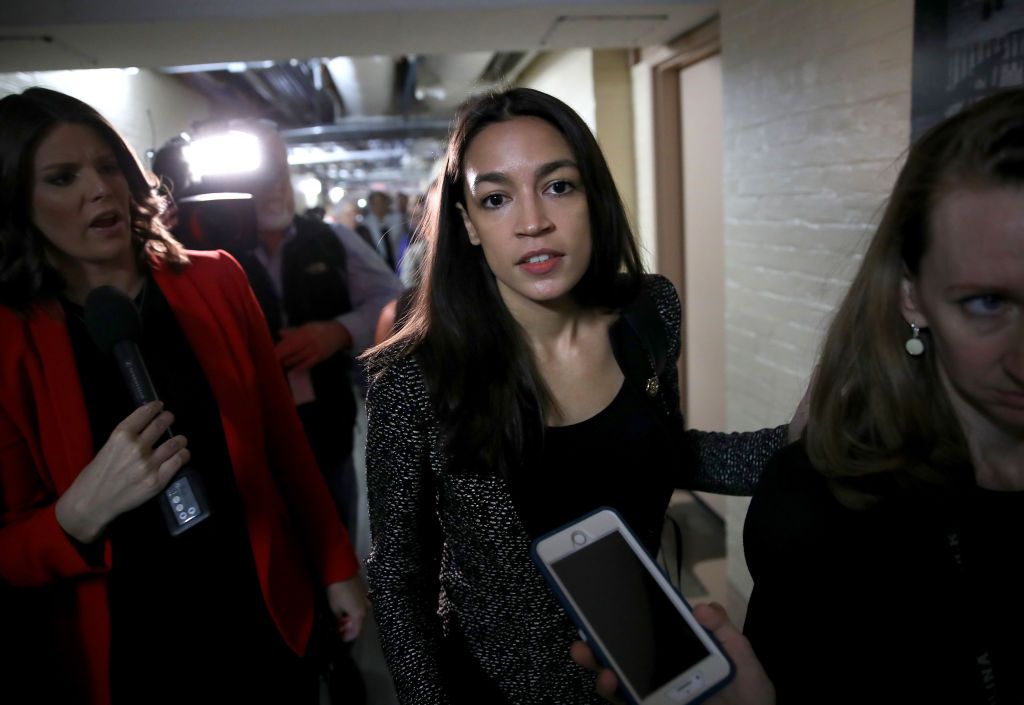 Representative Alexandria Ocasio-Cortez and Senator Ted Cruz have found something to agree on.
The two congressional members engaged in a Twitter exchange on Thursday where Ocasio-Cortez challenged the Texas Republican to draft a bill that would ban former members of Congress from becoming lobbyists after their terms have ended.
The conversation between the New York congresswoman and Cruz began after Ocasio-Cortez retweeted an article from Public Citizen, a consumer advocacy group and think tank, which reported that two-thirds of the 115th Congress' former lawmakers now work in Washington D.C. as lobbyists or for other groups "working to influence federal government activities."
The analysis by the group found that 59 percent of those lawmakers are employed by lobbying firms, consulting, business and trade groups while 14 percent were employed in television. Another 5 percent were working for lobbying firms and other groups on a state level with 7 percent working in academics or in the corporate world and 9 percent in law.
"If you are a member of Congress + leave, you shouldn't be allowed to turn right around and leverage your service for a lobbyist check. I don't think it should be legal at ALL to become a corporate lobbyist if you've served in Congress. At minimum there should be a long wait period," Ocasio-Cortez tweeted with a link to the article.
Cruz responded an hour later, retweeting Ocasio-Cortez to say, "Here's something I don't say often: on this point, I AGREE with @AOC. Indeed, I have long called for a LIFETIME BAN on former Members of Congress becoming lobbyists. The Swamp would hate it, but perhaps a chance for some bipartisan cooperation?"
Cruz used breaking up lobbyist influence as a campaign talking point in 2015, calling the group the Washington Cartel.
A couple of hours later, Ocasio-Cortez replied, telling Cruz that if he was serious, she would work with him and co-sponsor a bill.
"If you're serious about a clean bill, then I'm down. Let's make a deal. If we can agree on a bill with no partisan snuck-in clauses, no poison pills, etc - just a straight, clean ban on members of Congress becoming paid lobbyists - then I'll co-lead the bill with you," she said.
Cruz later responded by retweeting the Democrat with two words, "you're on."
However, Massachusetts Senator Elizabeth Warren introduced a bill in 2018 that sought to do what Cruz and Ocasio-Cortez discussed on Twitter Thursday. Warren's Anti-Corruption and Public Integrity Act would place a lifetime ban on former presidents, vice presidents, federal judges, Cabinet members and members of Congress from becoming lobbyists after the end of their political careers. All other government officials would have multi-year bans set that would prevent an individual from lobbying for at least two years after leaving a government post.
The bill also would have prevented government officials from owning individual stocks and require the president and vice president to place any "conflicted assets" in a blind trust, which would then be sold. Senior government officials and White House staff members would also be required to eliminate any privately-owned assets that could generate a conflict of interest, the bill says.
Warren's bill, as well as a companion House Bill introduced by Reps Pramila Jayapal (D-Wash.) and John Sarbanes (D-Md.), did not advance out of committees during the 115th congressional session.