Alexandria Ocasio-Cortez Rated Unfavorably, Fewer Democrats Than Republicans Know Who She Is: Poll
Outspoken freshman Congresswoman Alexandria Ocasio-Cortez may be making waves, particularly on social media, with her statements, but a new poll shows that more Americans have a negative than positive view of her, and fewer members of her own Democratic Party have heard of her than Republicans.
Only 27 percent of Americans adults had a favorable opinion of Ocasio-Cortez, while 32 percent had an unfavorable opinion of her, a CNN poll released on Monday revealed.
Interestingly, 45 percent of Democrats said they had never heard of Ocasio-Cortez or had no opinion of her, topping the 33 percent of Republicans who said the same.
In less than a month in the House of Representatives, democratic socialist Ocasio-Cortez has drawn massive attention for criticizing those who oppose her progressive platform. One of the Bronx-native's progressive policy proposals that has drawn particular attention is a 70 percent marginal tax rate on income of more than $10 million.
But the youngest woman to be elected to Congress, at age 29, has made plenty of headlines for her scathing remarks about her opponents and counterattacks from Republicans.
Close to 6 in 10 Americans had a view of her, either positive or negative, in the short time she has served.
Unsurprisingly, 58 percent of Republicans had a negative view of Ocasio-Cortez, and nearly half—49 percent—of Democrats had a favorable opinion of her. But Ocasio-Cortez does not appear to be winning with independents either, with 35 percent holding an unfavorable view of her and only 23 percent having a favorable view.
In late 2018, outgoing Democratic Senator Claire McCaskill questioned Ocasio-Cortez's quick rise to fame.
"I'm a little confused why she's the thing," McCaskill told CNN in her exit interview. "She's now talked about a lot. I'm not sure what she's done yet to generate that kind of enthusiasm, but I wish her well. I hope she hangs the moon."
Meanwhile, Fox News host Laura Ingraham in mid-January said it was "really impressive" how Ocasio-Cortez went from "working at a coffee shop" to unseating the No. 3 Democrat, Congressman Joe Crowley, in New York's 14th district primary.
Appearing in late January on CBS's The Late Show with Stephen Colbert, Ocasio-Cortez was asked to comment on criticism she has received from Democrats.
"On a scale from zero to some, how many f***s do you give?" Colbert asked.
"I think it's um, zero," Ocasio-Cortez said with a laugh.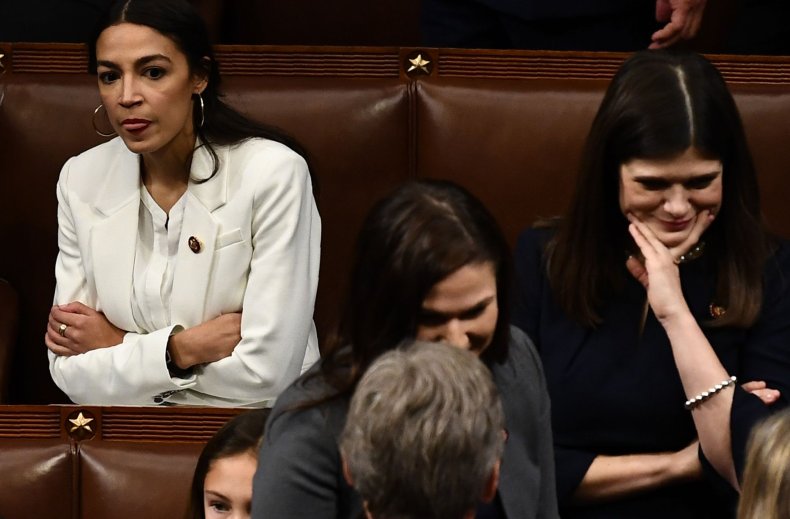 The CNN poll was conducted by SSRS from January 30 to February 2 with 1,011 American adults, and had a margin of error of plus or minus 3.8 percentage points.