Alexandria Ocasio-Cortez and Abortion-Rights Group Target Incumbent Texas Democrat After 'Dishonest' Attack Ad Against Challenger
Alexandria Ocasio-Cortez and an abortion-rights group backed a Texas primary challenger looking to unseat an anti-abortion Democrat on Thursday night, attacking his record and accusing him of wanting to "maintain the status quo" after he launched an attack ad against his opponent.
In a letter sent to progressive activists in the MoveOn advocacy group, Ocasio-Cortez took aim at Rep. Henry Cuellar of Texas' 28th district for receiving an "A" rating from the National Rifle Association and opposing her Green New Deal proposal.
The abortion-rights group NARAL also accused him of launching a "dishonest" ad campaign against the progressive primary challenger Jessica Cisneros, who they dubbed "the champion who should replace him."
Rep. Cuellar released an advert earlier this week portraying Laredo-raised Cisneros as an outsider who wanted to "shut down the oil and gas industry."
The eighth-term congressman will face his 26-year-old challenger at the Texas 28th district's Democratic primary on March 3 amid a series of Super Tuesday races.
In a message to supporters shared by the progressive activist group MoveOn yesterday, Ocasio-Cortez wrote that Cisneros would be a "strong ally in the fight for Medicare for All, getting corporate money out of politics, and fixing our broken immigration system" if she were elected to Congress.
"Jessica is running against Representative Henry Cuellar, an eight-term congressman in a deeply blue district, who votes with Donald Trump about 70% of the time," she added.
"He's known as 'Big Oil's favorite Democrat,' boasts about his 'A rating' from the National Rifle Association, opposes abortion, and has referred to undocumented immigrants as 'rapists and murderers.'"
According to FiveThirtyEight's Congress tracker, Rep. Cuellar has voted in line with President Trump just 44.5 percent of the time.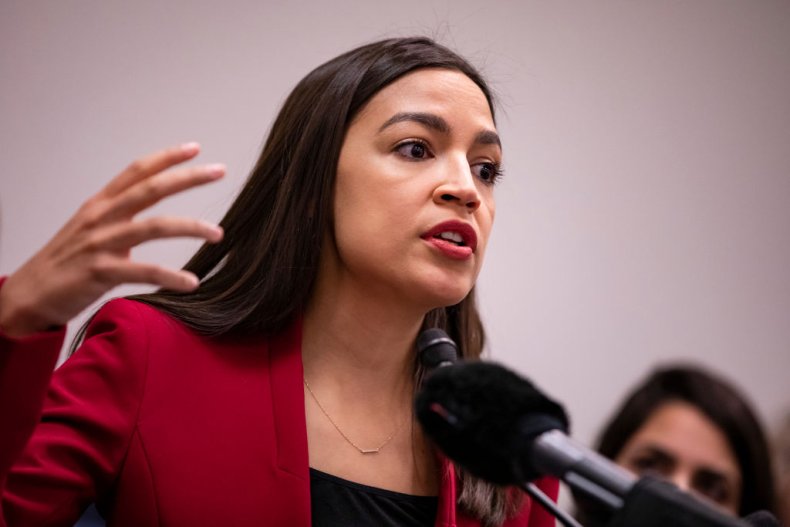 Speaking to The Young Turks in 2018 about donations he received from the private prison company GEO Group, which works with the Immigration and Customs Enforcement (ICE) agency, Cuellar said: "I have never allowed a contribution of any size to influence my opinion, period. The fact is that GEO is one of the largest employers in my district and plays an important role in maintaining our public safety.
"Because ICE does not own detention centers, they rely upon private contracted facilities to accommodate the large population of adult criminal aliens. Without them, rapists, murderers, and other offenders would not be incarcerated and instead present a clear threat to our communities."
Ocasio-Cortez went on to criticize the incumbent for wanting to "maintain the status quo," and highlighted his criticism of the Green New Deal proposed by the freshman congresswoman.
"The people of South Texas deserve a Democrat like Jessica who is going to fight for the interests of real people, not of big corporate donors like ExxonMobil and the private prison industry," Ocasio-Cortez added.
Her message then encouraged activists to donate $3 split between MoveOn and the Cisneros campaign. She first endorsed the challenger candidate in October last year.
NARAL also released a statement hitting out at a "dishonest" Cuellar ad campaign, and described Cisneros as "the champion who should replace him."
"She understands that women, not politicians, should be the ones making personal decisions about pregnancy, free from political interference," the campaign said.
Newsweek has contacted the office of Rep. Cuellar for comment and will update this article with any response.
The congressman has split with the liberal Democratic leadership on several votes, backing a ban on federal funds for abortion and voting against extensions of union worker rights.
But he still received an endorsement from House Speaker Nancy Pelosi in September, with the California Democrat saying: "I'm very proud of Henry's work in the Congress, and I'm proud to support him."
Rep. Cuellar won reelection with 84.4 percent of the district vote at the 2018 midterms.
As campaign finances stand heading into the 2020 races, the incumbent $2.9 million on hand while his challenger has a little more than $615,000, according to Open Secrets.
Update 2/16/20, 05:12 ET: This article has been updated to note that FiveThirtyEight's Congress tracker records Rep. Cuellar voting in line with Donald Trump's position 44.5 percent of the time. A 2018 statement provided by Cuellar to The Young Turks about detention centers and donations he received from a private prison company has also been added for clarification.