Bernie Sanders Likens Climate Change to World War II As He and Alexandria Ocasio-Cortez Unveil Emergency Resolution
Senator Bernie Sanders, Representative Alexandria Ocasio-Cortez and Representative Earl Blumenauer will introduce a joint resolution to Congress Tuesday calling for a national emergency to be declared around climate change. The act is largely symbolic, but will draw attention to the cause.
On a press call Tuesday, Blumenauer said he was inspired by President Donald Trump's national emergency on the border. "The national emergency is not at the border, it's the climate. It's time for Congress to formally acknowledge the scale and depth of climate change, and time for Congress to make an impact," he explained.
Ocasio-Cortez told reporters that declaring a national emergency is a good first step that would make way for large policy packages like her Green New Deal to be enacted. "This is a political crisis of inaction, and it's going to take political will and courage to treat this with the urgency that the next generation needs in order to preserve our way of life," she said. "We have less than 12 years to enact a global solution. This is a first step, and declaring a climate emergency is a good idea, this is what we need to do to start pursuing the plan we need."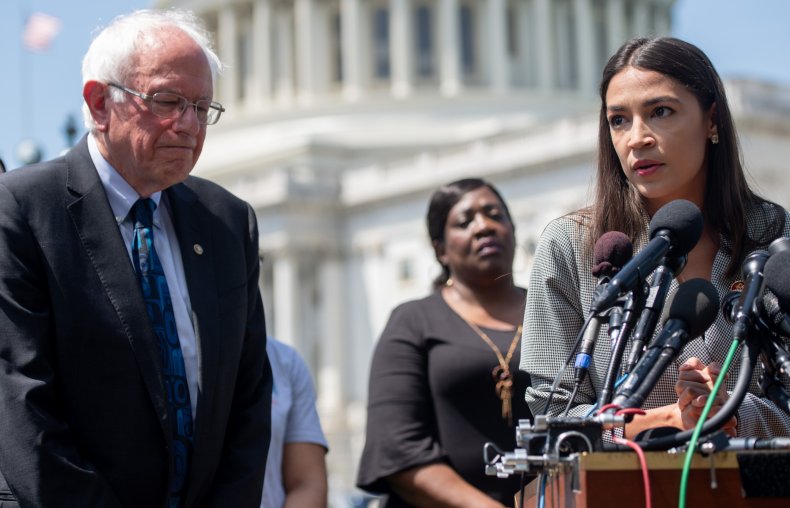 Senator and 2020 presidential candidate Sanders used the resolution to discuss the significance of coming together around a solution to climate change, and compared the efforts to those made as the U.S. entered World War II. In the 1940s, he explained, the U.S. was fighting in Asia and Europe and still managed to create an "armaments program to win the war within three years." The country can address this problem, he said, "the problem is the lack of political will. We have a president who is dangerously ignorant and fossil fuel industry...This is a moral imperative, there is no choice, we are going to have to take on the greed of the fossil fuels industry and the ignorance of Donald Trump and transform our energy system in a bold way."
The call and resolution come just one day after President Trump held a press conference where he touted his administration's efforts to provide the country with clean air and water. His administration he said, had likely done more than any other to protect the environment. Critics accused the energy-first president of "greenwashing" his policy decisions.
"Donald Trump is resorting to greenhouse gaslighting the public to try and cover-up the fact that he is the worst president in history for the environment, climate and public health," said Sierra Club Executive Director Michael Brune in a statement. "Trump's relentless attacks on our clean air, clean water, climate and public lands threaten the health and safety of millions of Americans and no speech he gives can ever change the reality of his actions."
Still, any discussion around climate change brings attention to the issue and makes people more receptive to the science around it, found a new study led by the Yale Program on Climate Change Communication.
"Discussing climate change with friends and family led to enhanced understanding of the extent of scientific agreement about human-caused climate change," wrote Anthony Leiserowitz, director of the program, in an email. "In turn, better understanding of the scientific agreement led to increased belief that climate change is happening and is human-caused and to increased worry about it."