Alexandria Ocasio-Cortez Outraged by Border Agents Posting Sexist, Xenophobic Threats Ahead of Border Visit
Alexandria Ocasio-Cortez has hit out at U.S. Border Patrol Agents after a report that several of them had made xenophobic and sexist threats against her on a secret Facebook group ahead of her visit to a migrant detention center in Texas on Monday.
The group, reported on by ProPublica Monday, features 9,500 current or former Border Patrol agents. In multiple posts published by ProPublica, agents made light of the deaths of migrants and posted offensive comments and memes about Ocasio-Cortez and fellow Hispanic Caucus member, Representative Veronica Escobar.
"This just broke: a secret Facebook group of 9,500 CBP officers discussed making a GoFundMe for officers to harm myself & Rep. Escobar during our visit to CBP facilities & mocked migrant deaths," Ocasio-Cortez tweeted. "This isn't about 'a few bad eggs.' This is a violent culture."
In a separate tweet, she added: "9,500 CBP officers sharing memes about dead migrants and discussing violence and sexual misconduct towards members of Congress. How on earth can CBP's culture be trusted to care for refugees humanely?
"PS I have no plans to change my itinerary & will visit the CBP station today."
Among the posts was one calling on fellow members to start a go fund me for one CTX agent brave enough to throw a 10-15 burrito at one of these bitches. Who ever [sic] does it takes the pot of $$$" The Facebook group is named "10-15" in reference to the Border Patrol code for "aliens in custody."
Another group member shared a photo illustration of Ocasio-Cortez, who has been a frequent target of Republican attacks since becoming the youngest congresswoman in history earlier this year, being forced to perform oral sex on President Donald Trump. The photo was accompanied by the text: "That's right bitches. The masses have spoken and today democracy won."
A staffer for Escobar told ProPublica the posts "vile and sexist," adding that "the comments made by Border Patrol agents towards immigrants, especially those that have lost their lives, are disgusting and show a complete disregard for human life and dignity."
Other posts mocked migrants who had died, including responding "Oh well," to a news report of a 16-year-old dying in Border Patrol custody. Another questioned whether a widely shared photograph of a father and his young daughter face down in the Rio Grande after dying trying to cross into the United States was fake.
"OK, I'm gonna go ahead and ask......have ya'll ever seen floaters this clean. I'm not trying to be an a$$ but I HAVE NEVER SEEN FLOATERS LIKE THIS," the person wrote. "Could this be another edited photo. We've all seen the dems and liberal parties do some pretty sick things..."
Ocasio-Cortez's visit to a detention center in El Paso, Texas, comes after reports of migrants at the facility being kept in deplorable conditions without even basic amenities. A Trump administration lawyer recently argued in court that it was not necessary to provide migrant children with soap or toothpaste.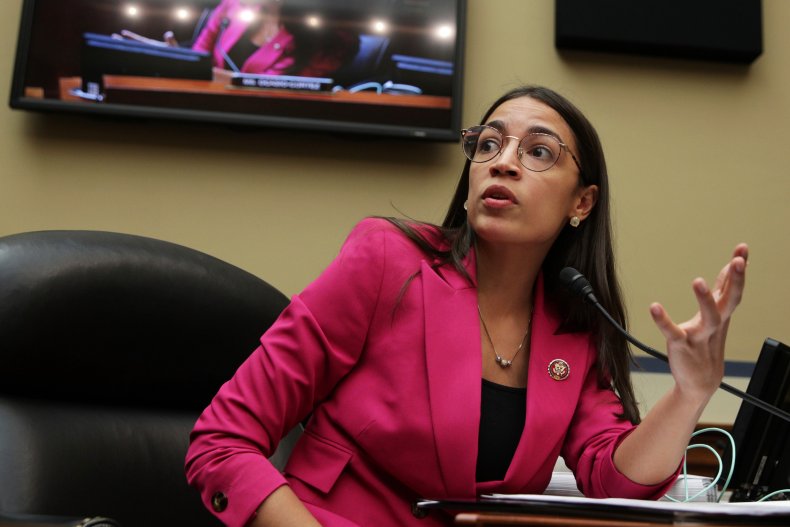 In a statement after the story was published, Border PAtrol Chief Carla Provost called the posts "completely inappropriate."
"These posts are completely inappropriate and contrary to the honor and integrity I see—and expect—from our agents day in and day out. Any employees found to have violated our standards of conduct will be held accountable," she said in a statement in which Border Patrol said it had informed the DHS Office of the Inspector General and started an investigation.
In response to what he described as "appalling behavior," Democratic Representative Dean Phillips said the Commissioner of U.S. Customs and Border Protection Kevin McAleenan should also appear before Congress.
Update: This story was updated to include a statement from Border Patrol and a tweet from Representative Dean Phillips.