Democratic Representative Alexandria Ocasio-Cortez is questioning why Lauren Boebert is even in Congress after the Republican representative suggested mass shootings can't be solved with legislation.
The New York progressive on Wednesday excoriated Boebert a day after an 18-year-old gunman fatally shot 19 students and two teachers in an elementary school in Uvalde, Texas. The exchange between the two representatives, who sit at opposite ends of the political spectrum, reflects a broader debate about how the federal government should respond to mass shootings.
The gunman, who was killed by law enforcement, purchased two military-style rifles after turning 18, the legal age to purchase long guns in Texas.
After the school shooting, the worst since the 2012 Sandy Hook massacre, congressional Democrats have revived their push for HR 1446, which is designed to close background check loopholes for private and online sales while allowing more time to scrutinize gun purchases.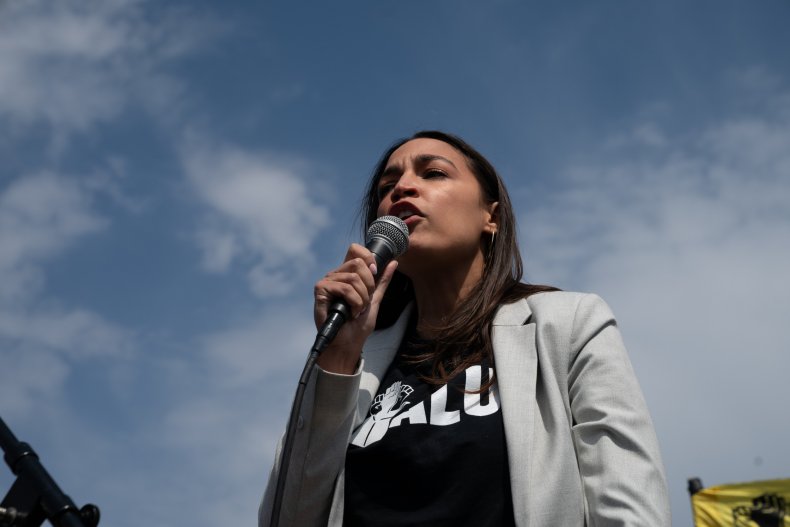 The bill, currently before the Senate, passed the House last year on a 219-210 vote. Ocasio-Cortez voted in favor of it. Boebert voted against it.
"You cannot legislate away evil," Boebert, whose district includes much of rural western Colorado, tweeted Wednesday.
"Why even be in Congress if you don't believe in doing your job?" responded Ocasio-Cortez. "Just quit and let someone who actually gives a damn do it instead of acting like a useless piece of furniture when babies are shot with AR15s that we let teen boys impulse buy before they can legally have a beer."
Similar lines of debate have played out elsewhere. Following the shooting, President Joe Biden expressed incredulity at the ease in which the Texas shooter was able to acquire guns.
"The idea that an 18-year-old kid can walk into a gun store and buy two assault weapons—it's just wrong," Biden said in a speech.
Utah Senator Mike Lee on Wednesday questioned the effectiveness of stricter gun laws, suggesting fatherlessness and social isolation were driving shootings.
Other Republicans have called for increased security at schools to deter shooters. But studies have cast doubt on the idea.
A 2021 study in the Journal of the American Medical Association found that "the data suggest no association between having an armed officer and deterrence of violence" at schools. Instead, the study found the rate of deaths was higher in schools with armed guards. The study also pointed out that armed guards aren't a deterrent because many school shooters are suicidal.
"The majority of shooters who target schools are students of the school, calling into question the effectiveness of hardened security and active shooter drills. Instead, schools must invest in resources to prevent shootings before they occur," reads a summary of the study.
Another 2020 study by the Rand Corporation found "deaths that take place on school property make up a small portion of all violent deaths among youth aged 5-18," making it difficult to study the effectiveness of armed guards.
Boebert echoed the idea of armed officers at schools Wednesday in another tweet directed at Ocasio-Cortez, saying "our schools can have certified armed teachers to protect our children from deranged maniacs who wish to do them harm."
"Ms. Defund the Police," Boebert wrote in another tweet to Ocasio-Cortez, mocking a slogan used by progressives to reallocate law-enforcement funding. "Gun Free Zones have proven to be deadly. Let me know when you're ready to do your job and effectively protect our schools with armed security. Let's meet and solve this."
Newsweek has reached out to Ocasio-Cortez and Boebert for comment.