Alexandria Ocasio-Cortez Blasts Trump Officials Over Census Question: 'Unspeakable Horrors' Done in 'Name of Citizenship'
Representative Alexandria Ocasio-Cortez lit into the administration of President Donald Trump on Wednesday, criticizing top officials for allegedly failing to follow protocol when attempting to push through a citizenship question on the 2020 census and accusing them of acting in a partisan manner.
The New York Democrat made the remarks during a contempt hearing for Commerce Secretary Wilbur Ross, who congressional leaders requested hand over documents relating to the Trump administration's decision to add a questions about citizenship to next year's census.
"I want to know why this question was magically added after we have seen that a political operative knew and detailed an intent to intimidate racial and immigrant communities for a partisan purpose, saying this will hurt Democrats and help Republicans," Ocasio-Cortez said. "I want to know about racism and the very disturbing history that we're seeing here."
The progressive congresswoman also explained that the normal vetting procedure to add any question to the census takes five years, while this attempted change has been pushed through in just two years.
"Unspeakable horrors have been executed by the United States in the name of citizenship, in the name of determining who is a citizen, and by citizen we mean who is a person in our democracy... It is an acknowledgment of person-hood in American democracy," Ocasio-Cortez said during her Wednesday remarks.
The congresswoman later clarified her remarks on Twitter, pointing to the historic Supreme Court cases Korematsu v. United States (1944) and Dred Scott v. Sandford (1857). In the Korematsu case, the top judicial body allowed the U.S. government to transfer people of Japanese ancestry into internment camps during World War II. The Dred Scott decision ruled that the Constitution did not grant citizenship to black Americans.
"Party aside, the Supreme Court has gotten things horrifyingly wrong in the past," Ocasio-Cortez wrote on Twitter. "That's why Congress must preserve our power and independence: we are part of the check + balance."
The House Oversight Committee voted on Wednesday to hold Secretary of Commerce Wilbur Ross and Attorney General William Barr in contempt of Congress for refusing to comply with subpoenas related to administration decisions about the citizenship question.
Documents recently found on the laptop of deceased Republican operative Thomas Hofeller revealed a strategy that suggested redrawing political maps based on citizens of voting age instead of by total population. Hofeller's research showed that this would give the GOP an advantage in elections, as it would exclude many Hispanics from the population count. The plan posited that this would help the GOP gerrymander the election map more easily in its favor.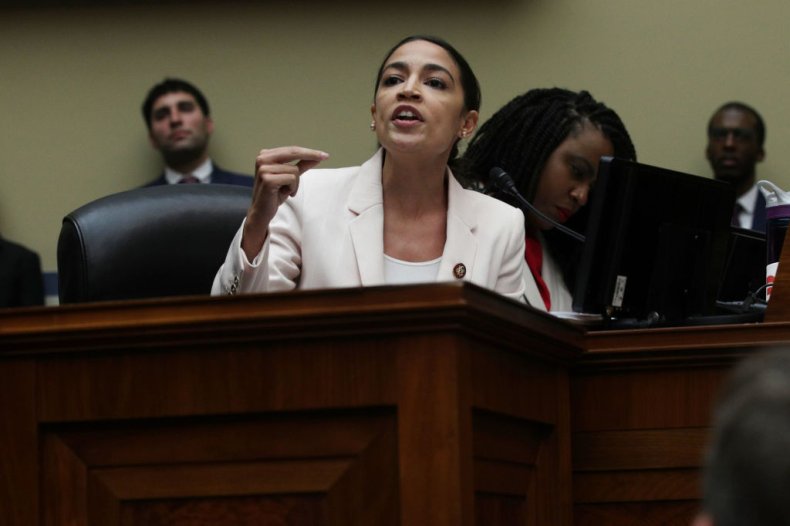 The Justice Department has dismissed Hofeller's documents, saying the operative's plan had no bearing on the Trump administration's decision. "There is no smoking gun here; only smoke and mirrors," the department said in a brief to the Supreme Court, which is currently deciding on the legality of the question.
Legal experts, such as Thomas Wolf and Brianna Cea of the Brennan Center for Justice at the New York University School of Law, have explained that adding the citizenship question is "historically unprecedented." They wrote in an analysis published in early April that the census has never asked such a question of every person.
Even some conservatives have criticized the addition of the question, arguing it would be counter to the First Amendment of the Constitution. "The First Amendment prohibits Congress from abridging the freedom of speech. It also prohibits Congress from compelling people to speak," Fox News senior judicial analyst Andrew Napolitano said earlier this month. "Just like you have a right to remain silent when you're arrested, you have a right to remain silent when the census comes," he added.
However, Napolitano also said he believes the Supreme Court, which is currently controlled by a conservative majority, will rule in favor of the Trump administration's position.