Alexandria Ocasio-Cortez Claims CBP Officers Told Women To Drink Out of Toilets in Detention Facility
Freshman Democrat Alexandria Ocasio-Cortez claimed Customs and Border Protection officers ordered women to drink water out of toilets at a migrant detention center along the U.S.-Mexico border.
Ocasio-Cortez joined more than a dozen House members in a visit to detention centers in Texas on Monday. The trip was organized by the Congressional Hispanic Caucus following news reports of inhumane living conditions at some facilities.
After leaving the first detention center, Ocasio-Cortez tweeted that she could "see why CBP officers were being so physically & sexually threatening towards me." Hours before her visit, ProPublica reported that a secret Facebook group for current and former Border Patrol agents posted a vulgar drawing showing her engaged in oral sex with a detained migrant. In the group, agents also discussed making a GoFundMe page for officers to harm the freshman representative.
"Officers were keeping women in cells w/ no water & had told them to drink out of the toilets," she wrote. "This was them on their GOOD behavior in front of members of Congress."
In a series of tweets, Ocasio-Cortez continued to describe the behavior of the Border Patrol agents and their treatment of detained migrants. She described how CBP officers were "laughing" in front of lawmakers touring the facility and claimed when she brought up the issue to their superiors, they said, "officers are under stress & act out sometimes."
"After I forced myself into a cell w/ women & began speaking to them, one of them described their treatment at the hands of officers as 'psychological warfare' - waking them at odd hours for no reason, calling them wh*res, etc," Ocasio-Cortez wrote. "Tell me what about that is due to a "lack of funding?"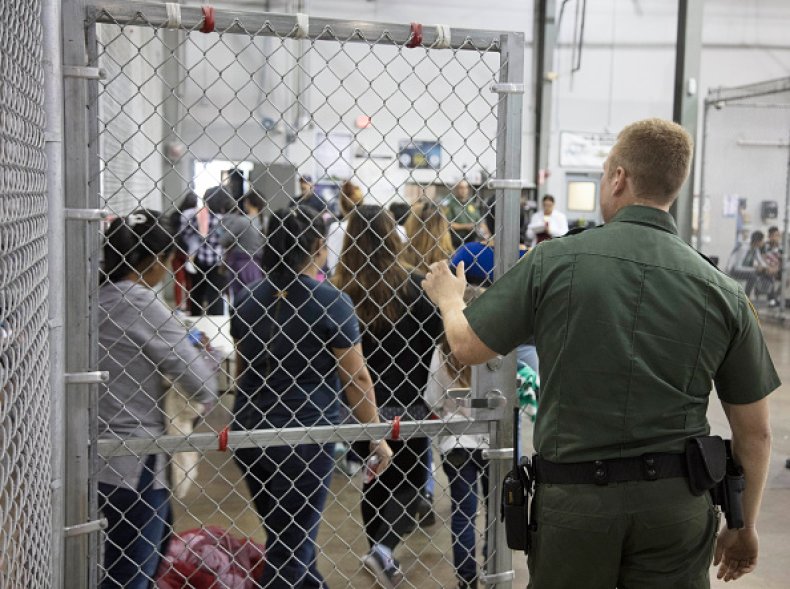 Ocasio-Cortez said her next visit was to a facility in Clint, Texas. Last month, over 300 children were removed from a detention center in that area after reports that they were not being allowed to shower for days or even weeks and were given inadequate food.
The Associated Press reported that a Texas facility was neglecting migrant children, describing how a 2-year-old boy was handed off to be looked after by a group of young girls. Lawyers also warned the outlet that there was also inadequate food and water for the children.
ABC News also noted that migrant children in at least two Customs and Border Protection facilities were forced to sleep on concrete floors with the lights on and had no access to hygiene products. One doctor wrote that the conditions were comparable to "torture facilities."
News reports of inhumane detention centers emerged as the Trump administration argued in court that migrant children being held in U.S. custody do not require basic hygiene products like toothbrushes and soap in order to be held in "safe and sanitary" conditions. Lawyers with the Department of Justice also claimed that forcing migrant children to sleep on concrete floors in crowded cells also met the "safe and sanitary" requirements.
Congresswoman Lori Trahan also visited detention facilities on Monday, tweeting that the migrant children being held at these centers "will have suffered significant harm and trauma after being in these facilities for months at a time. I am horrified by the treatment of migrant children I just witnessed. They are not equipped for this."
A CBP spokesperson issued the following statement to Newsweek following the congressional visit:

"This visit offered an open, frank and transparent discussion regarding our facilities and the challenges we face regarding the continuing humanitarian and border security crisis. They asked questions and heard directly from El Paso Sector leadership on how U.S. Border Patrol is managing the more than 650 percent increase in apprehensions in the sector. Representatives visited two locations (El Paso Station and Clint Station), where migrants in custody receive three meals a day and have access to clean drinking water. Local leadership highlighted investments in additional restroom and shower facilities, hygiene products, increased medical support and expanded transportation capabilities.
Even with these investments, El Paso officials emphasized to members of Congress that USBP facilities were not designed for long-term holding. Officials also explained the critical challenges to USBP operations when ICE/ERO and HHS/ORR are unable to move those in custody as quickly as they are processed.
It was also reiterated that CBP takes allegations of mistreatment of individuals in our facilities seriously, and reports all allegations to both the DHS Office of the Inspector General and the CBP Office of Professional Responsibility. Any employee found to have violated our standards of conduct will be held accountable."
Update (7/3/2019): This story has been updated to include a statement from a CBP spokesperson.