Super AOC: See Alexandria Ocasio-Cortez as a Superhero in New Comic Book Satire That 'Takes Aim at Washington'
Representative Alexandria Ocasio-Cortez is set to star in a comic book as a "Washington Warrior" style superhero.
Devil's Due Comics have announced that the one-off commemorative comic Alexandria Ocasio-Cortez and the Freshman Force will be available to buy on May 15.
The comic will have two different covers, which have been designed by Tim Seeley and Devil's Due Comics owner Josh Blaylock. The first shows Ocasio-Cortez in a white suit, holding a cellphone in her hand on top of a defeated GOP red elephant while a blue Democrat donkey nervously looks on in the background.
The second cover shows the same scenario, but features Ocasio-Cortez in a Wonder Woman–style costume.
The cover also makes reference to the 29-year-old's "new party, who dis" tweet Ocasio-Cortez sent last year in response to comments made by former Senator Joe Lieberman suggesting she is "not the future" of the Democratic Party.
"It's no secret that AOC has become the unofficial leader of the new school, and has sparked life back into Washington and that's reflected in the enthusiasm on display by the men and women contributing to this project," Blaylock told Comic Book Resource.
"While we all don't agree on everything, we share a common excitement for the breath of fresh air the new Congress brings. I hope this is as much a cathartic release for readers as it has been for us creators."
The Chicago-based publisher said that some of the proceeds from the comic will be donated to United Service Organization and RaicesTexas.org, a nonprofit organization that provides legal services to immigrant and refugees.
"Grab a hamberder and cup of covfefe and prepare to enjoy this read!" the website description page for Alexandria Ocasio-Cortez and the Freshman Force reads. The publisher also said the comic features "more creators than there are payments on your student loans," including Jill Thompson, Jose Garibaldi and Marguerite Dabaie.
Speaking to HelloGiggles, Blaylock said that the "kick in the butt the new Congress is giving to both sides of the aisle is so needed."
"Personally, I wanted a way to not only entertain, but to get my own cathartic release and vent some frustrations I think a lot of people share," he added. "And when you're a comic book creator, that means it's time to make a comic.
"What's been overwhelming though is the amazing response from our fantastic, diverse group of contributors. The energy of everyone's art shows that I'm not alone."
As noted by The Guardian, while Ocasio-Cortez has not endorsed nor has any affiliation with the comic, she has shown herself to be a fan of the art form. In January she tweeted the line "None of you understand. I'm not locked up in here with YOU. You're locked up in here with ME" from Alan Moore's classic Watchmen in a reply to an article about how the Democrats are hoping to "rein" her in.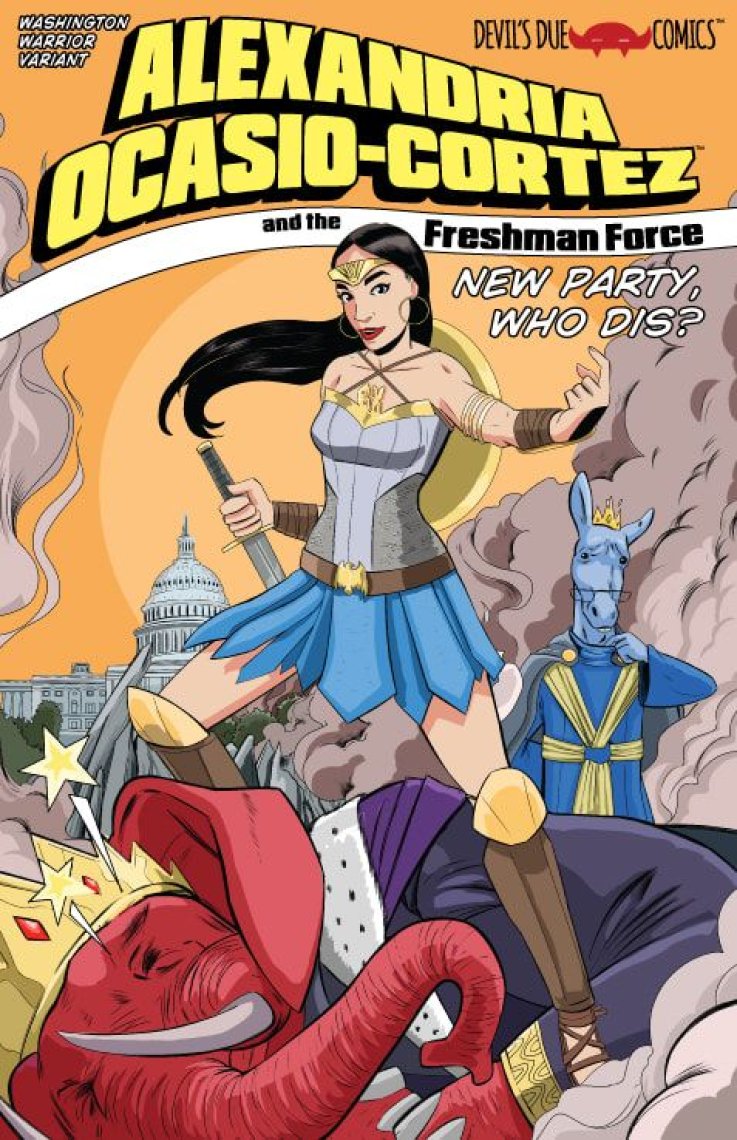 Super AOC: See Alexandria Ocasio-Cortez as a Superhero in New Comic Book Satire That 'Takes Aim at Washington' | U.S.